Product: Sujiman Kupa Lolinco
Manufacturer: Magic Eyes
Measurements: length – 20cm, weight – 450g
Retailers: NLS / Kanojo Toys* / Toy Demon* / otonaJP / Otona-Sekai
Artwork: Atahuta
– Retailers marked with * are affiliate links
This it is, the big day is finally here. Friends and family have gathered, slightly confused at the message left in their voice mail earlier that day: 'Oi, wife's arrived, get over here'. Standing at the makeshift altar with a printout of Radar from M*A*S*H as your authentic marriage celebrant, the postman is ushered forth with frantic hand waving and a concerning underbite.
"Can you please just sign for this package alrea-oof!" – He trips. All eyes focus on the box he was carrying, now tumbling down the aisle. A moment's panic. But it's alright, the bride-to-be is a tough one, well cushioned by her natural rubber. The box settles at your feet. Opening it up, you gently hold its contents in your arms. "Everyone, I'd like you to meet Sujiman Kupa Lolinco, we're getting married today".

Taking the continued silence as positive news, you lean in towards the front row. "She's also the wedding ring if you know what I mean" – winking and pointing down at the throbbing bulge in your pants. A beautiful ceremony, Grandma is moved to tears.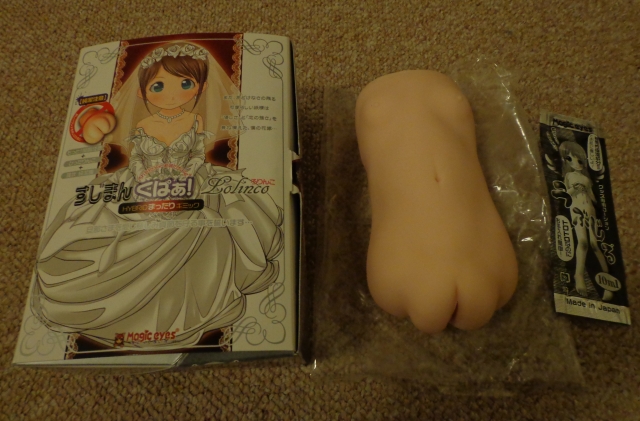 From Magic Eyes, Sujiman Kupa Lolinco is themed around marriage. Not… not sure why I needed to point this out after the mind-numbing spew above. Relive your pretend wedding night with Lolinco (the girl on the box, in her sex toy existence) over and over again. You could just eat pizza and watch TV though, nobody has to know.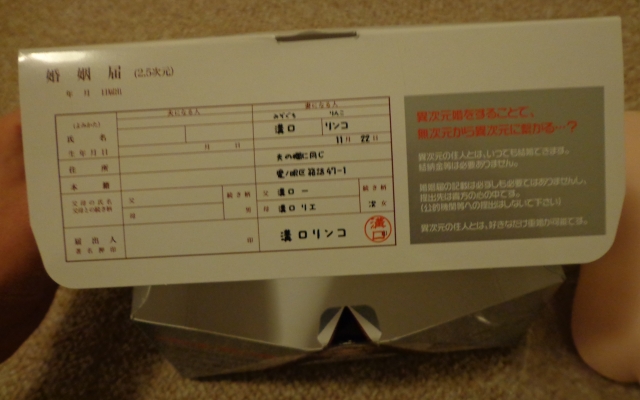 There's even a Japanese marriage registration form (a 'konin todoke') printed on the box. Fill in ya details and put that guy who married Nene from LovePlus to shame; nobody can beat tying the knot with an onahole! Nobody.

Okay, so this is the first time I've used anything from Magic Eyes, but this is an incredible first impression. Basically, Sujiman Kupa Lolinco is one of the best onaholes I've ever purchased. Everything about it just feels like pure fucking quality.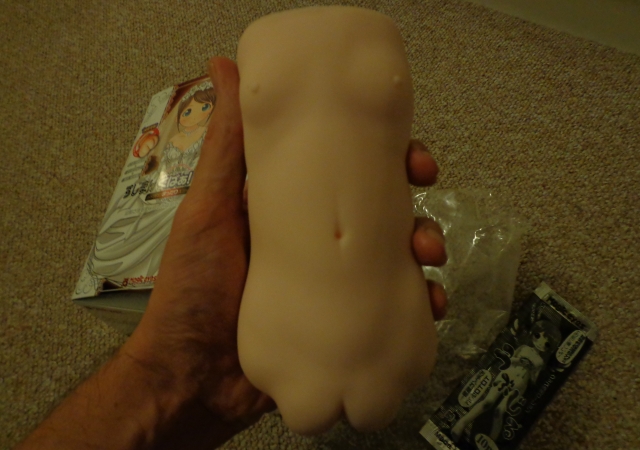 Taking on the torso design, this toy is just great to hold – I want to carry it around everywhere I go. Magic Eyes use their own version of the soft-skin material ('Hybrid Mattari Gimmick' – sounds legit) which feels nice and smooth, but allows for a solid grip without getting slippery or jellybean-ish. So far it's retained this exact texture even after being thoroughly washed a few times.

There's also a big deal made about the material being AG+ graded goodness, which essentially means this shit is safe from bacteria and other unwanted goons. Killin' them off before Rita Repulsa even gets a chance to make these monsters grow. This is fully explained on the box.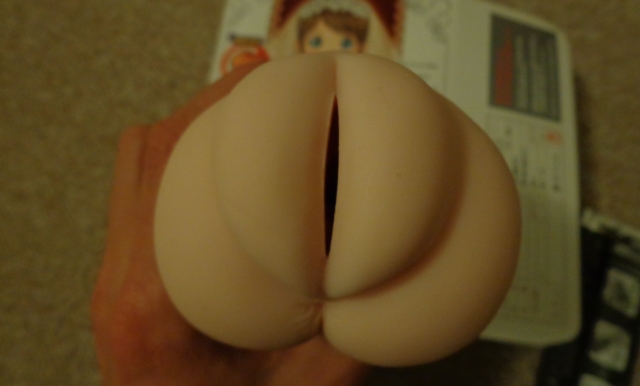 The initial entry looks a bit silly (seems to be a running theme with torso designs), but once you part those lips…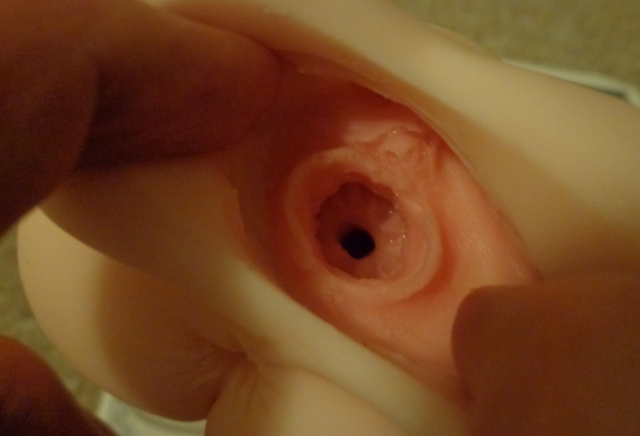 You get another one of my crap photos and a glorious inner design. Visually, for the sheer attempt at detail, it far surpasses any other onahole I've used so far. Hang on, Magic Eyes did a much better job in their promo.

I like how they felt the need to censor the image. "We've got pixels, son. It's about as real as it can get!" Also yeah, that little wrinkle bit is supposed to be the anus. It's just there for decoration. Could take over the leading role of putting an angel on top of the tree at Christmas.
Diving in and pushing through the thick puffy lips, Sujiman Kupa Lolinco immediately attempts to crush your dick in the most pleasant way possible. There are two instant checkpoints of impact that latch onto your shaft and assault it with thick grooves and nubs. A dance-off. This onahole is tight as hell, and merely getting your penis through the door is rewarded by lovable aggression. Oh yeah, don't half-arse it in advance. This doesn't let up, and might just spit you right back out.
Once you're well in there, the design twists a bit and offers a steady amount of nubs with the occasional ribbed area. The ribs get thicker right at the end to keep your head happy and there's a slight vacuum chamber effect, but that first half continues to steal the show.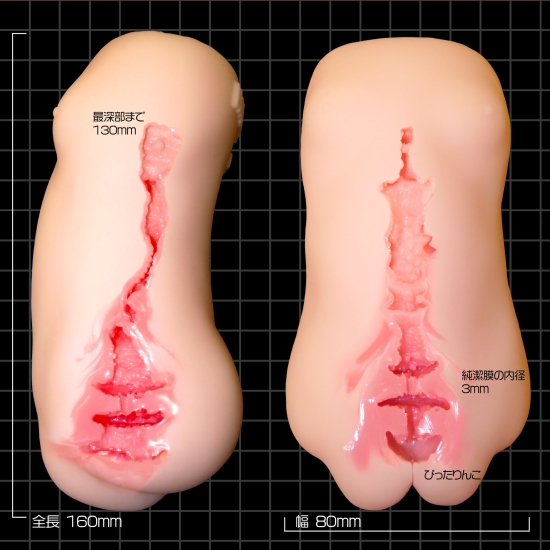 Nice background, Magic Eyes. Genesis does what Nintendon't.
Unlike the last torso-type onahole I explored, Sujiman Kupa Lolinco will stretch with no issues. You might find yourself rubbing up against her back, but I've had no concerns with the build quality. It doesn't feel like it's going to break or burst into flames anytime soon.
Helping add to this, it actually offers some weight in your hand. I mean, there are some seriously heavy onaholes out there and this obviously doesn't compare, but those ones also cost about sixty billion dollars (just in shipping) for the luxury of pulling a muscle outside of your penis.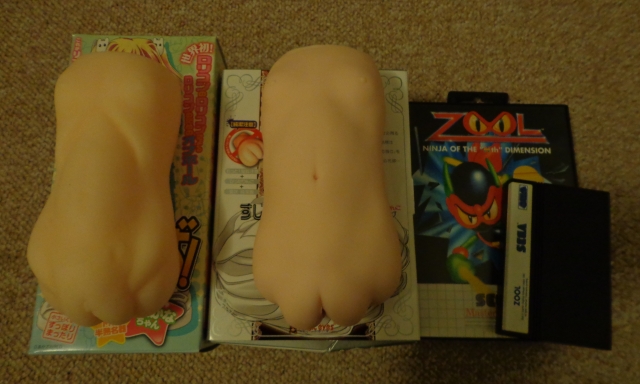 Here's the Sujiman Kupa Lolinco between Milk Partners! Secret Twin Tales and Zool. They might all look the same, but the difference is staggering. It's only second place to the ninja of the Nth dimension in regards to everything.
So I… don't really have anything to whinge about here. I'm now a happily married man. Sujiman Kupa Lolinco is just stupid fantastic. Never a dull moment. ˘⌣˘ It's the first time I've pulled out multiple times during onahole masturbation just to feel the initial crushing entry point again and again. Important information, guys.
The only downer to this is Magic Eyes being really stingy with lube. They only include enough for a single use. If this is going to be your first onahole purchase, you might want to grab a big bottle of Tamatoys' Super Lotion or something.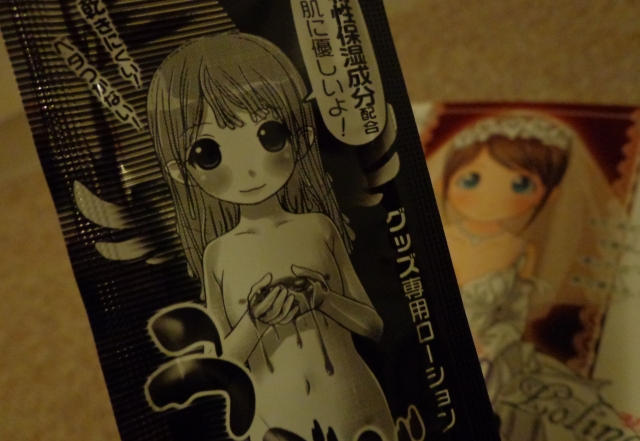 And what the fuuuuuuck is up with the image they decided to use on the lube packet. That's something I'd expect in a horror series.
I should probably also mention that Sujiman Kupa Lolinco requires a bit more of a hands-on approach with cleaning. As in after you've run it under the tap and given it a few shakes, you might wanna jam a finger in there (doesn't have to be yours) and swirl up any potential leftovers just so it's not sticking around.
Mostly because this is a really tight design, and just blasting it under running water might not get everything. Dedicated onahole cleaning products are certainly out there, but pffftt.
Not sure if I want to kiss the bride, but yeah, Magic Eyes have done an amazing job with this. I need to check out more of their stuff in the future. Probably the best mail-order onahole bride money can buy.