Product: My Kouhai Can't Be This Tight
Manufacturer: A-One Tokyo
Retailers: J-List / NLS
Artwork: EdogawaKid
If the sloppy serenade of onaholes was a thing radio stations played (perhaps initially as a social experiment to see if anyone could tell the difference between them and today's top 40), you can bet this one would probably be considered a classic hit. The folks at A-One Tokyo have been producing My Kouhai Can't Be This Tight for about three… maybe four years now? Despite being a parody toy, that's pretty impressive considering anime-themed holes often get discontinued just as quickly as they were approved in the first place.
Based on the light novel/anime/everything franchise My Little Sister Can't Be This Cute (Oreimo), A-One put out three different onaholes resembling the characters Kirino, Ayase and Ruri (Kuroneko). It seems somewhere along the line – at least going by Amazon.jp user reviews – these earned a reputation as being a solid option for those new to the whole dick sleeve thing.
Probably because they're basic, hassle-free and most importantly, cheap. Hey, perfect review fodder for my shoestring soup budget.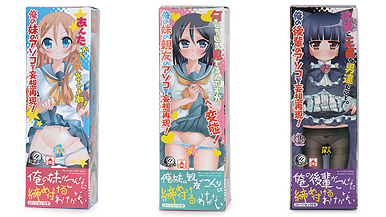 I've only ever watched the first season of Oreimo which was an absolute eternity ago in internet years, but I recall Kuroneko being best girl for her outfit. That and the uh, resulting femdom fanart. So there's a good chance I would have picked her onahole regardless, but it turns out this was the only one in stock at the time anyway. Everyone wins! … Some sort of novelty-sized mustache which serves no purpose.
The three onaholes all focus on an incredible sense of tightness (hence the running gag) and their internal structures are unique to each other. The one based on Ayase appears to be the most risky and true to character, as it's designed to stab you. Perfect.
Anyway, here's the Kuroneko one – My Kouhai Can't Be This Tight.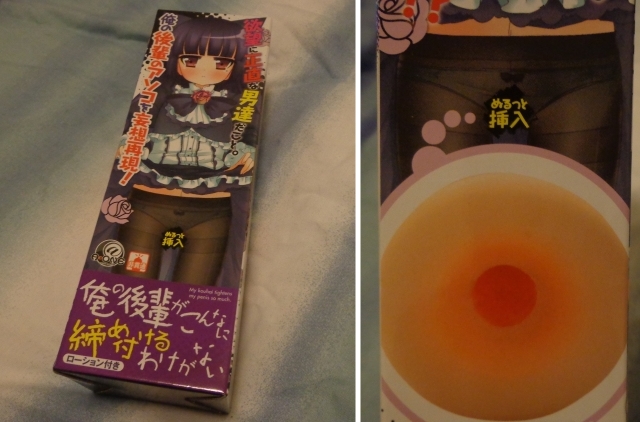 There's actually an English translation on the box that reads "My kouhai tightens my penis so much", but eh, what are ya gonna do? Masturbate? Yes. Flip the box on its side and you're greeted with the secret of what's under Kuroneko's pantyhose.
Her vagina is literally just a tiny circular hole. So goth.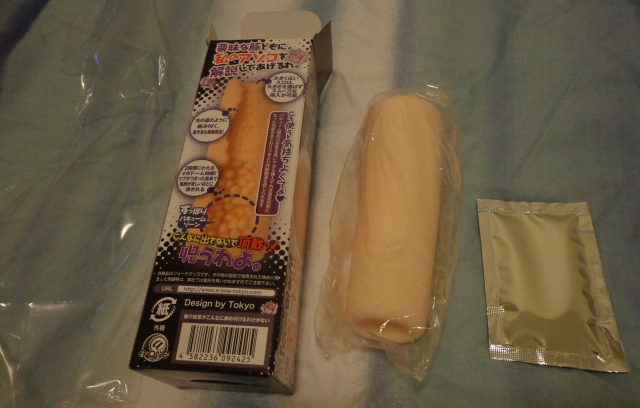 'Design by Tokyo'. It was a team effort by the entire city, you guys. There aren't any fancy feast extras here which is expected. That lube's good for maybe two or three uses if you can be bothered with the packaging. Chances are it'll all dribble out onto your balls or something first go.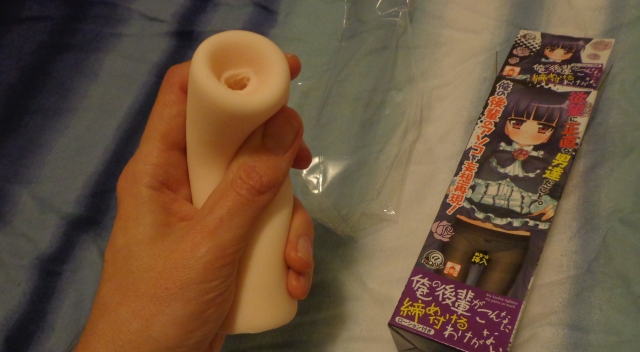 Aaaaand there's certainly nothing going for the external design. It's a plain flesh-coloured rubber tube. That's alright – My Kouhai Can't Be This Tight is totally inconspicuous! You could keep it laying around in plain view and nobody would suspect a thing.
Pen holder by day, penis holder by night.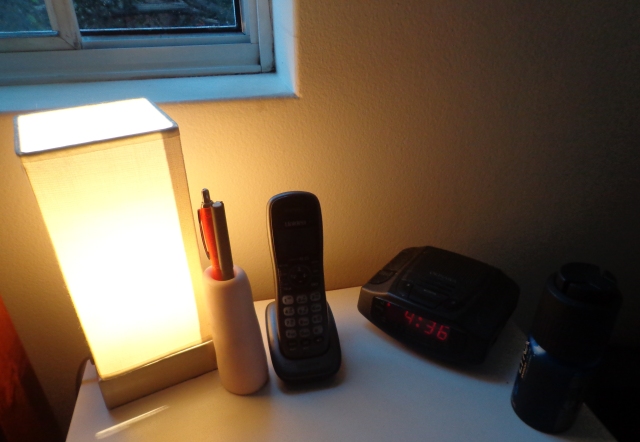 There's a bit of an oily smell at first, but it's not overpowering. It'll start to fade after getting washed. I mean, make no mistake, you're definitely going to get what you pay for here. The onahole looks and feels cheap, but it's not cheap shit, and that's a very real and potentially flaccid difference in the world of masturbation toys.
Despite being fairly small, it's a smooth passage into this onahole. The material is accommodating in that it stretches around with ease. Then it just seems to instantly snap back an attempt to become one, because jeeesssuuuuss this thing clings onto your shaft like fucking crazy. A-One's not kidding with the whole tight thing.

As for stimulation, My Kouhai Can't Be This Tight doesn't really get interesting until the halfway point where you're hit with a heap of thick nubs. The first half might be incredibly tight, but it's difficult to get any sensation from a few barely raised lines. Stretching the onahole down further defeats any chance they had. Still, the end zone – that of a hundred little boxing gloves – is nice as they gently try and punch your head.
I've used this a few times now, and it's basically resulted in a different experience each time. Good and bad. Once it just clamped on way too much and the tip became a rather useless air pocket.
Also I'm not toooo sure if it'd be able to handle a great deal of stress. The material is certainly stretchy, but I have a feeling it wouldn't take much to pop right through during a particularly frantic jerk off session. Also make sure to take out any leftover pens in advance.

That said, My Kouhai Can't Be This Tight is a decent budget onahole. It gets the job done, and that's the important part. Literally hundreds of affordable toys have hit the market in the past few years, so I'm not sure there'd be a definitive 'go-to' recommendation for newcomers.
My first onahole was a terrible looking blob based on K-On!, and I thought the stupid thing was absolutely mind blowing at the time! It was probably crap. Just pick whatever tickles your fancy and have a fun.
Final score: My little brain can't possibly think of a clever way to end this review.