It's been a big year for sticky-finger conventions in Japan, with not one, not seven, but two adult expos making their debut in 2014. 'Pink Tokyo' kicked things off in February with its promise to "invigorate adults and energize Japan" by conveniently cramming every basement-level shopping experience under one roof. Now just last weekend (November 14-15) the 'Japan Adult Expo' opened its doors for the first time. Probably some cheap joke to be had there.
While Pink Tokyo mainly focused on sex toy exhibitors – and locking staff members behind glass displays – Japan Adult Expo (JAE) went for a broader scope, mixing onaholes with the adult video industry. Attendees could meet a metric shit-ton of porn stars, watch various stage events (not strip shows, mind you) and even sit in on some casual bondage lessons. Because hey, it'd practically be rude not to!
The expo was held at the Differ Ariake Arena in Tokyo, which is mostly used to host pro wrestling matches according to the internet. So that's good, the place is already used to being drenched in sweat and tears.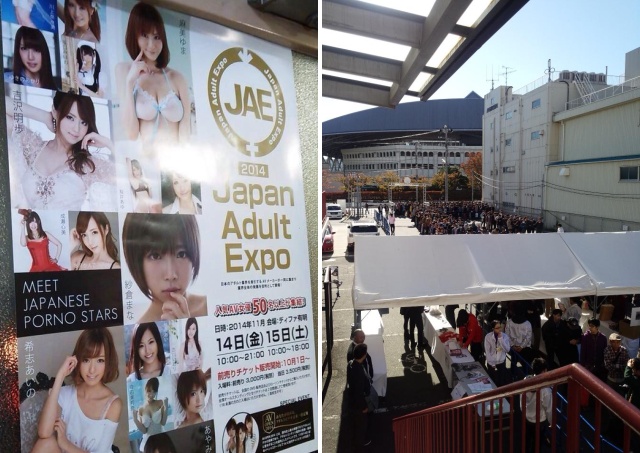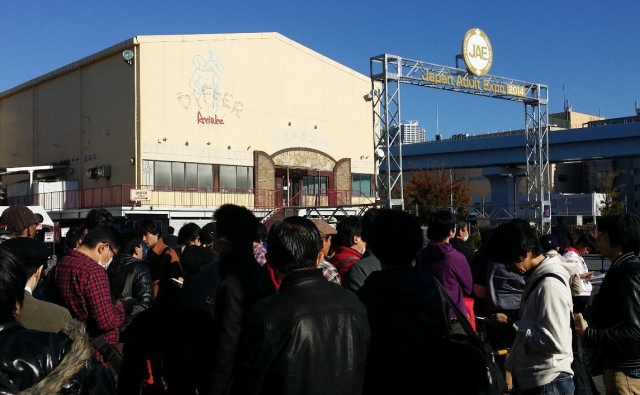 All these photos (shamelessly flogged from Twitter) are from the expo's first day, I believe. So this was a Friday morning. The one directly above was several hours before opening and the line stretched down the street like a new Youkai Watch branded condom was about to go on sale or something.
Actually, I'm kind of surprised none of the sex toy manufacturers have jumped on that franchise yet…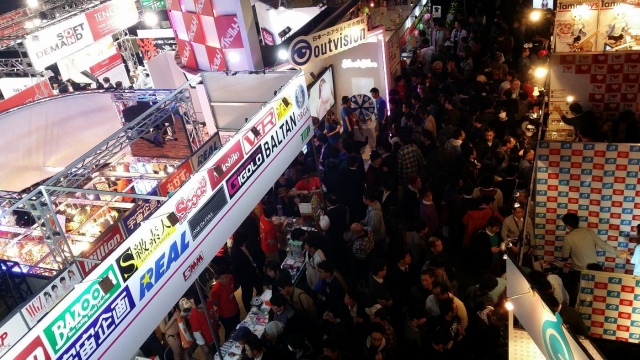 With JAE 2014 putting more attention on the adult video world, most stands were comprised of the IMDB elite like Dogma, Moody'z, Outvision, Soft on Demand and Deep's. The latter of which produce some of the fucking hottest futanari movies ever, I swear. … What, it's true! ´・v・
But yoooo, they still had plenty of onaholes stacked up waiting to be purchased in a slightly less (more?) awkward setting than a quiet Akihabara store or something. There might have even been slightly used freebies waiting on the bathroom floor later on. Scoop up a soggy bargain.
Tamatoys, Tenga and G-Project set up their own displays, but I'm sure you could find whatever through other retailers present.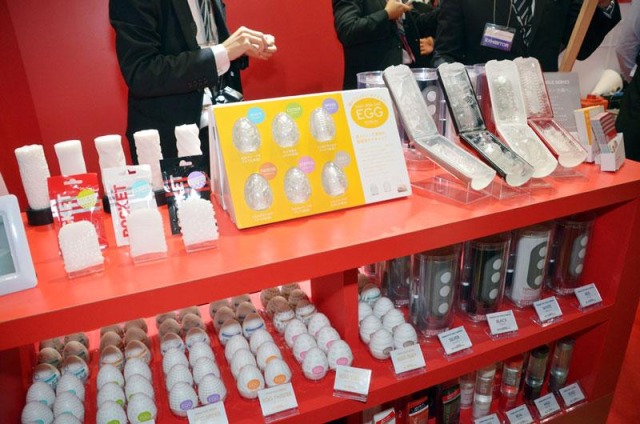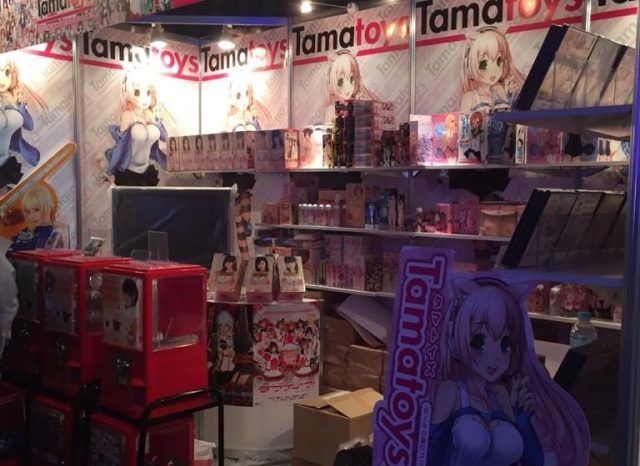 This is a really poor quality photo, but I like that Tamatoys had gashapon machines in their booth. Gamble and compete for your favourite coloured undies with new-found fiends.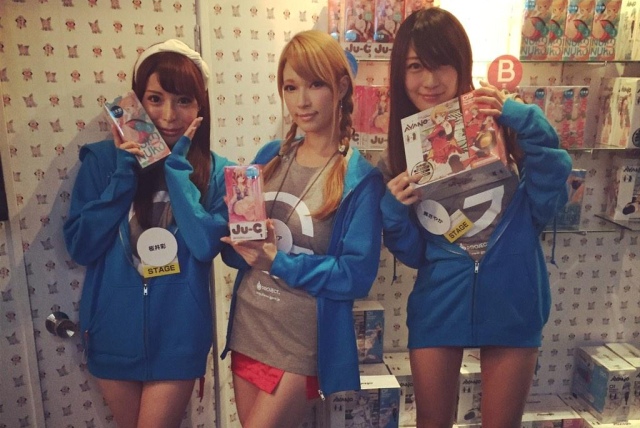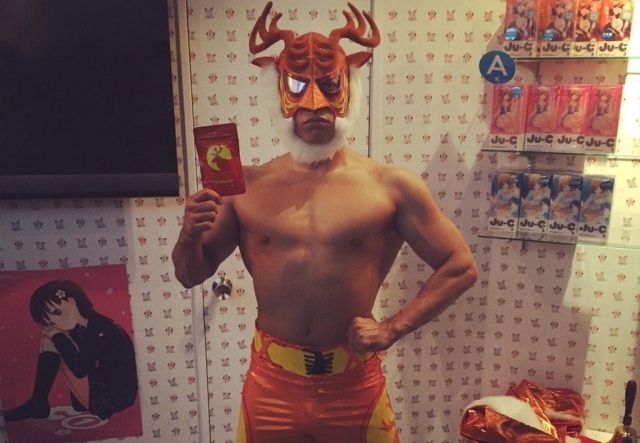 Meanwhile you could check out various other things happening at JAE, like waiting in more lines to get a porn DVD signed, cheer on random idol performances, or oooooh. Oh I see!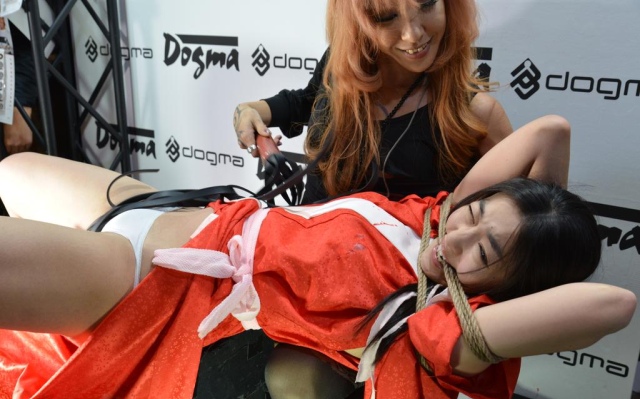 This was the 'sexy athletic meet'. I have no fucking clue.
According to the schedule, center stage also featured a 'raw change of clothes' event every few hours. Phwoar, potential nip slip? Sounds almost TOO exciting. On Saturday afternoon, JAE sort of wrapped things up by playing host to the 'AV Open' awards. Highest selling DVD, best actor/actress, that sort of thing. The film industry's most prestigious ceremony of all time.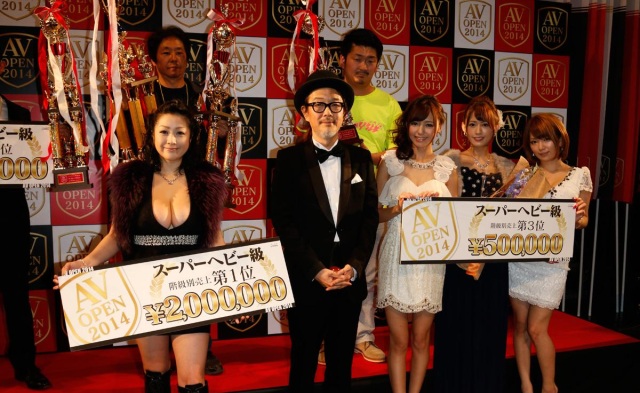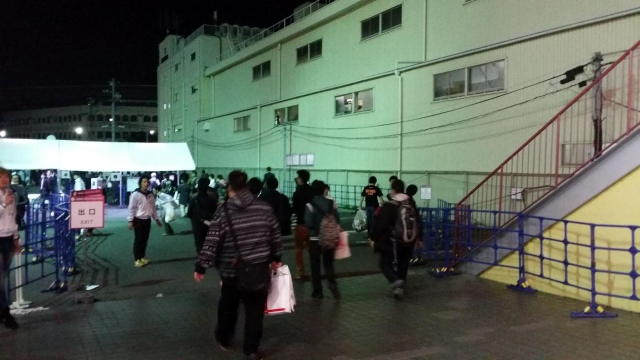 Then everyone went home for the night to masturbate. The end.
(Source of photos: @JapanAdultExpo)