Product: Ninpu no Susume Pregnant
Manufacturer: Tamatoys
Measurements: length – 16.3cm, weight – 510g
Retailers: otonaJP / Kanojo Toys
Artwork: 可哀想
Wait, hold on a second, a pregnant onahole? H-how does that happen? I'm certainly not nine out of ten leading breakfast cereal scientists, but according to my research an inanimate object can't possibly get pregna-DAMMIT WALUIGI!
The condom broke, didn't it? I fucking warned you about this bro.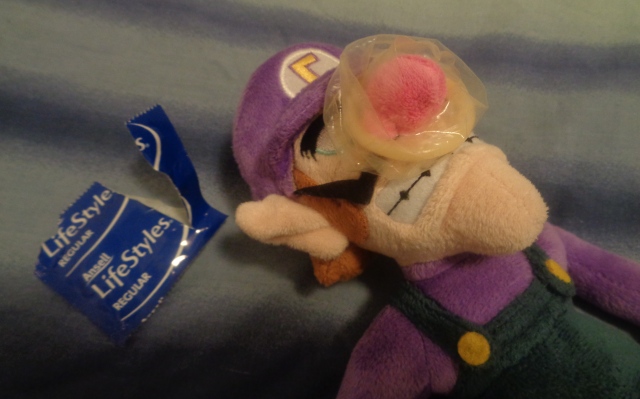 Alright, so maybe pregnant-style onaholes have been attempted in the past (they probably have), but this is all-new territory to me. Upon browsing a sex shop during my second-ish day in Tokyo, I spotted Ninpu no Susume Pregnant from Tamatoys in the new release section and thought "hey, this might be interesting!" Seconds later I'd purchased the bloody thing, knowing full well it'd now be sitting in my luggage for weeks on end.
At the airport for a domestic flight to Sapporo, I'd accidentally put a rechargeable battery pack in my suitcase which resulted in the scanners going off. Naturally, as I opened it up in front of security and onlookers, this bloody onahole had shifted right to the top of my clothes. RIGHT THERE.
With this as the fucking cover!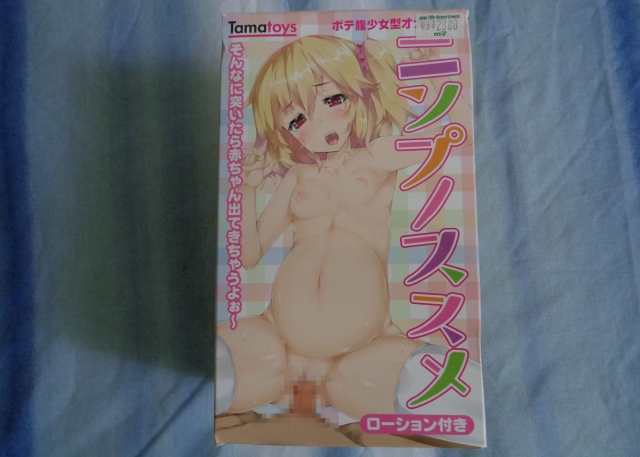 "Oh, oooh" the guy muttered as my arm darted underneath, grabbing that battery with the speed and precision of an octopus claw machine. And then with the offending item now stuffed in my carry-on bag, everything was fine. Ninpu no Susume Pregnant had already become an interesting purchase even before use!
Tamatoys have decided to base this on 'the body of a young girl', because of course. So I'd say importing with the box included miiiiight not be a wise decision depending on where you live – but I guess that's always a risk with onaholes. You can always request retailers to ship 'em without the box.
Meanwhile I was able to walk right through Australian customs without anyone giving even the slightest of shits, so who knows.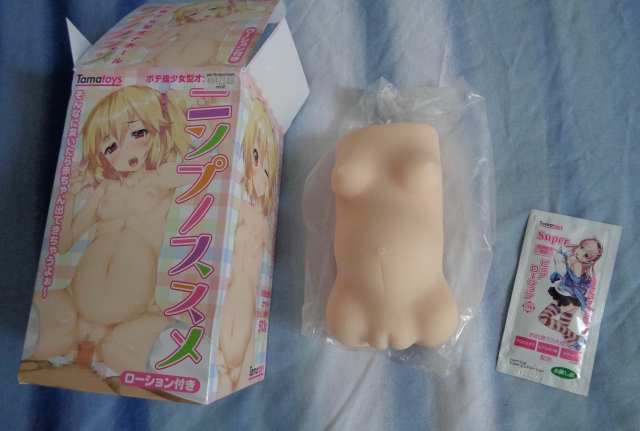 Hey, there's the onahole and a single-use packet of Not Quite Super Sonico lube. And while you can't really tell from this angle, the first thing you'll notice about Ninpu no Susume Pregnant is that yes…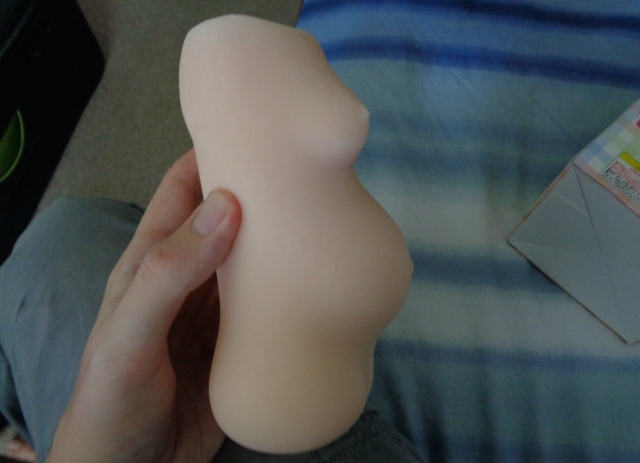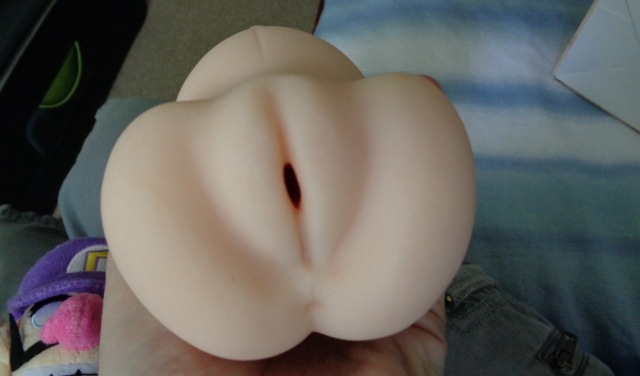 … That's a bit of a bulge! They've included a protruding belly button and everything. For a torso onahole, this one's actually pretty well designed. There's like a perfect resting spot for your thumb between the tummy and tits for maximum-masturbation grip™.
The material itself is soft and bouncy (I have no idea what exactly Tamatoys use, surely it's some fancy name), but with so much padding it almost feels like you could build a maternity ward out of 'em. Ninpu no Susume Pregnant has some serious weight to it, which is always nice.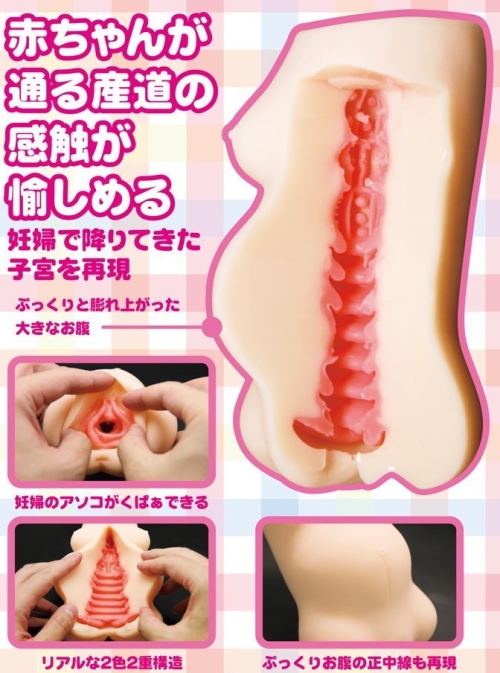 Taking a look inside… well, it's definitely ribbed for your pleasure. Holy shit look at those things. This is a dual layer toy, with the 'main' entrance just past that bland looking external hole being noticeably tighter and tougher. Ninpu no Susume Pregnant comes at you with some hardcore feedback right off the bat.
Its ultra thick ribs clamp onto your dick, sink in and they don't want to fucking let go. Being spaced apart so far compared to most onaholes, you can feel each and every one of them (all what, seven) putting up a fight to drag up and down the shaft.
Towards the end you'll hit a series of bumps and others bits, although this area tends to work as an unexpected vacuum chamber more than anything. Combined with the ribs, it's almost effort to move. I can't stress enough how tight this onahole feels when everything's happening.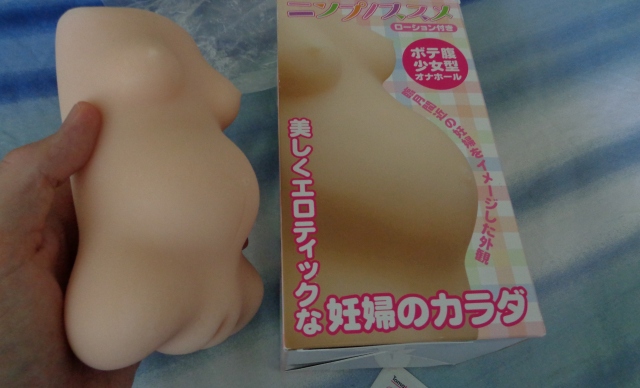 Overall, this is… aggressive in its design? Really. Masturbating with Ninpu no Susume Pregnant isn't a smooth experience. Each stroke feels like fucking a sheet of corrugated iron with buffalo headbutting it every so often. I think that's exactly what they were going for. Tamatoys just couldn't figure out how to make it work on the box art and went with pregnancy instead.
It's also a bit loud! Expect to hear some slippery squelching noises as you grind up against a notch, and getting back out again is a pop you just can't stop.
On that note; once you're 'done'… um. I've found that it's really not easy to escape. Things get sensitive, you know? Those ribs are a cruel mistress.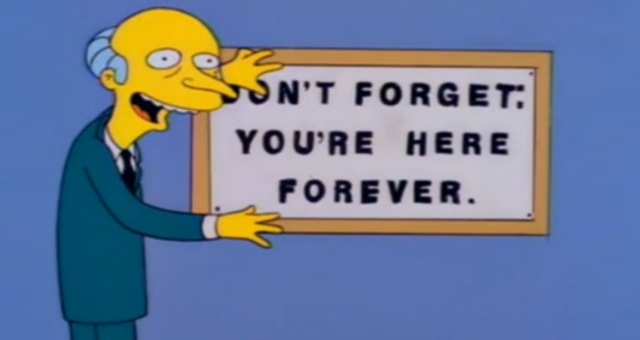 But yeah, wow. Kinda really surprised with just how much I like this onahole. (It's a lot). I bought it for the novelty factor with zero expectations from a Tamatoys product, and it's one of the nicest torso holes I've used in a while. Although by nice, I mean crushingly brutal. Ninpu no Susume Pregnant is going to fuck you right up – and it's amazing.
The only downer is the build quality near the initial opening. They've made this too small, and the surrounding rubber is paper thin. It's no doubt going to rip, but this doesn't affect the main show, so there's not much to worry about.