Let's do a thing where you can maybe win another thing! Man, I've wanted to hold some sort of competition on here for ages, but very valid reasons which totally aren't just because I'm cheap and lazy have prevented that until now. Honest.
But yeah, no special occasion here. It's just I decided to order a new La Bocca Della Verita onahole to replace my old one – because it was pretty much worn the fuck out at this point – and figured 'why not get two?' So I did. Wow, what a magical story. Sony have already agreed to a movie adaptation – Adam Sandler will play every role.
Anyway, look at this hot corner-of-the-desk photo action.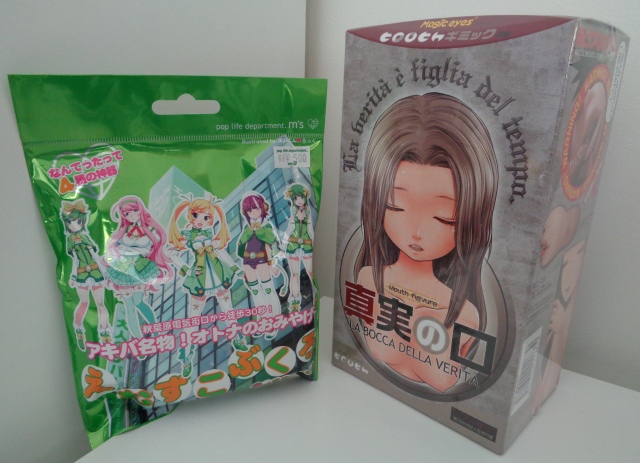 The prize!
1 x Brand new La Bocca Della Verita 'The Mouth of Truth' onahole (review here)
1 x Brand new bag of stuff – includes lube, condom, egg vibrator and panties
How to enter!
Okay so basically, I want you to come up with an idea for an onahole. Draw it, describe it, whatever. The more absurd the better! Please send your entries to infernalmonkey@gmail.com with 'Onahole comp' in the subject line.
Ideally, I'd like to display all the entries in a blog post once the competition ends, so include a name you'd be comfortable with having shown. First name or screen name or… I dunno, SwagMastaMcSwagsXXX. Somethin'.
Here's a terrible example I just spewed out to get you started!
Other important details!
– Competition starts right now and runs for two weeks, ending August 22nd (… 2015!) Winner will be notified by email shortly after.
– You can enter as many times as you'd like. That also goes for the competition.
– Entries are open to anyone worldwide. The packaging for La Bocca Della Verita is pretty tame, but if customs or nosy parents are an issue where you live, I can remove the box and just ship the onahole. Nobody will think twice about a rubber mouth and green bag of anime girls in the mail.
If you've got any questions, chuck me an email, tweet or leave a comment below. Good luck! Have a fun!