Product: Debu Sen
Manufacturer: Love Cloud
Measurements: length – 13.5cm, weight – 772g
Retailers: NLS / otonaJP / My Onahole / Kanojo Toys* / Toy Demon* / Motsu Toys
Artwork: Chirumakuro
– Retailers marked with * are affiliate links
You know, I'm damn thankful that my flatmates/friends are cool with the fact that I run a blog about masturbating with chunks of rubber (or at least perhaps oh yeah okay). It's not something I particularly go out of my way to talk about – except as light conversation over dinner or during job interviews when asked where I'd see myself in five years – but I like that nothing has really weirded anyone out. Too much.
That said, when I got two 'what!' reactions in the same day from this onahole laying about, I knew it was truly something special. This… is Debu Sen.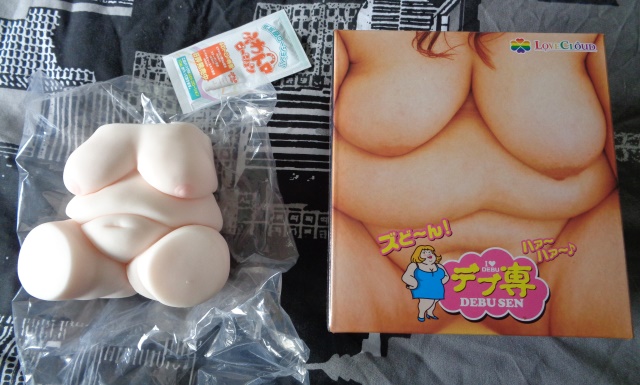 According to the internet™, debusen (でぶ専) means 'a person who is attracted to or has a preference for obese individuals'. So Love Cloud certainly put about zero effort into naming this onahole. Not that they really needed to bother, as the box art clearly shows what you're getting into. A woman in a blue dress about to be engulfed in some mysterious pink cloud. That's my fetish.
Until now, ExE pretty much had the 'debu' market to themselves with 2013's Debutopia hole (which is apparently too loose and jelly-like going by the reviews at Toy Demon*), but from a visual standpoint alone, Debu Sen already blows it the fuck away.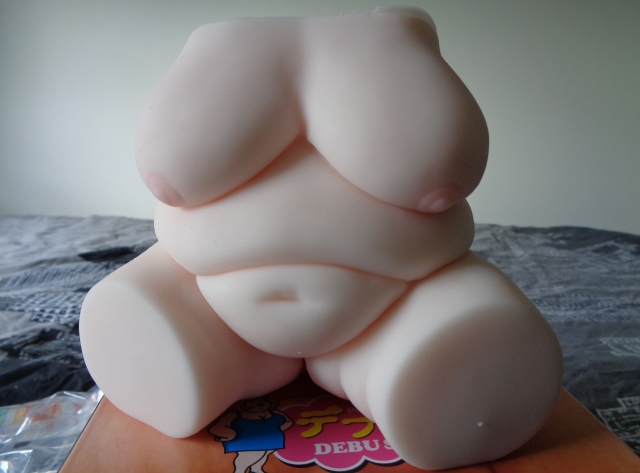 I mean, for a mid-range handheld onahole, this is some serious attention to detail. Also if you stare at it long enough you can almost see a face in there. Weighing in at just over 770g (for the sake of padding this sentence, it's 772g), Debu Sen packs a huge punch for its relatively small size.
The material has a faint smell, but it's like Love Cloud struck the perfect balance between firmness and floppiness (?) – letting you mash those drooping tits fast enough to send them a text message, or just get a really strong, squishy grip on things in general.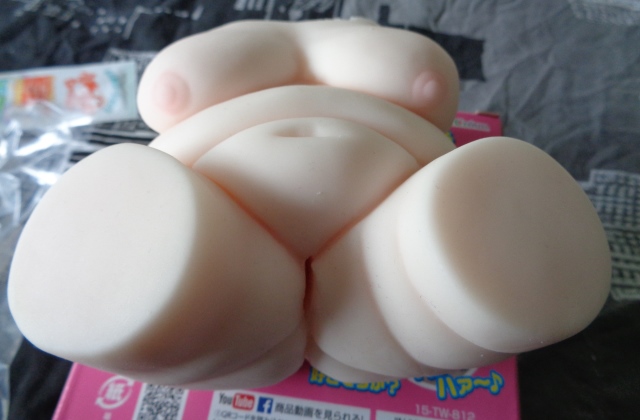 Ah, the entry!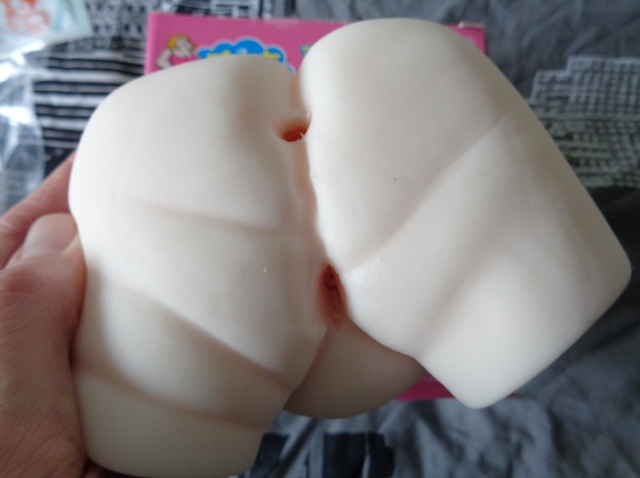 But yes, Debu San actually offers both holes to play with, and those slightly disturbing leg stumps will help stabilise it if you want to try doggy style. Or if you just want to take a photo like this for some reason.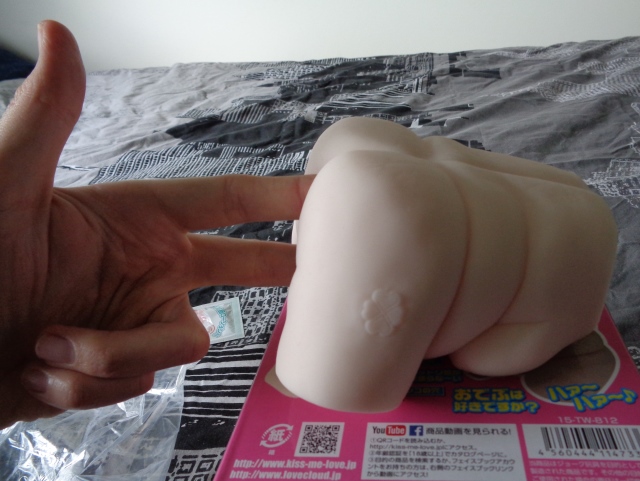 Alright! So, getting in there. I decided to start off with the vagina, in the ancient masturbation art of 'sliding it up and down'. As that entry is buried between the thighs and underneath the belly – past the first roundabout, over the bridge, long easy right – I found myself spreading Debu Sen's legs apart and pushing ahead rather clumsily. It's a very small hole, but after the initial shock of being forced open things get a bit easier to manage.
Then there's an immediate, exciting feeling of pressure and tightness. Even the legs jiggling back together keep your shaft entertained whilst sliding in further. Holy shit, I'm not sure what I was really expecting here, but Debu Sen was legit amazing right off the bat. LEDGE-IT. The inner design isn't even that elaborate, just some ridges along the top and raised nubs on the bottom, but wow.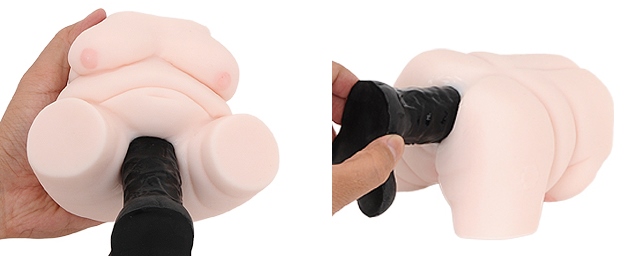 There's so much padding; the sheer weight of the onahole thumping down with each stroke just urged me to keep going harder and faster. Once you hit the end you're greeted by some larger bumps to massage the head, and you can keep pushing through the top with little concern.
It was one of the most intense first rounds with an onahole I've ever experienced. So good. I typically take things slow to start with, getting a proper feel for the texture so I can pretend to review them. But nah, I just fuckin' smashed this one, and ended up cumming so hard it squirted back out of the onahole's arse. Oh. Wait… what? WHY DID THIS MESS HAPPEN. WHERE AM I.
Ah, turns out both holes are connected inside. Makes things easier to clean, but uuuh, yeah. There'll definitely be some spillage using Debu Sen upright. Even lube dribbles out when you least expect it, so be careful. Bring a towel!
Next up was the onahole's butt, and what the hell it's even better. This tunnel's more a spiral design; shorter and even tighter. The walls clamp down and put up a lot of resistance before letting you plough through. Love Cloud nailed a completely different sensation here – probably the most 'accurate' anal toy I've tried so far.
Needless to say, at this stage I was insanely impressed with Debu Sen. Soon I was swapping between both holes in the same session, and even tried plopping it on the table at crotch level and thrusting that way. The onahole is just big enough to get a comfortable grip with both hands, so it works pretty well unlike some other masturbators which are designed for this purpose (ANAHO for example). I still prefer just bouncing it on my dick though. Less effort.
BUT THEN…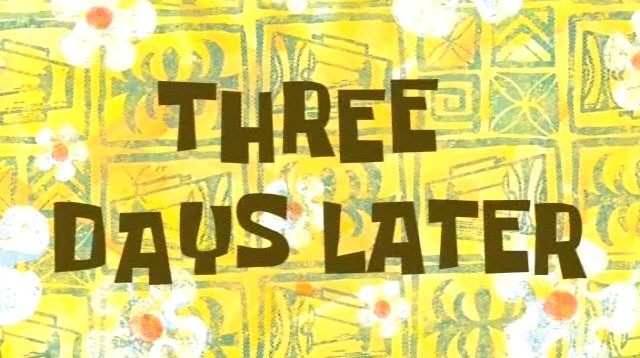 So after my very first jerk with Debu Sen, I noticed I'd ripped the entry a tad. I didn't think much of it at the time because after all, it was an insanely cramped space, and small tears aren't too unusual with onaholes. Thing is, this rapidly got even worse, and the other hole suffered the same  fate.
After using this onahole about five times, it'd become a total disaster zone. Yes, I had been a bit rougher than usual, but if an onahole can't handle being an onahole, then… onahole. You know? I mean, you onahole?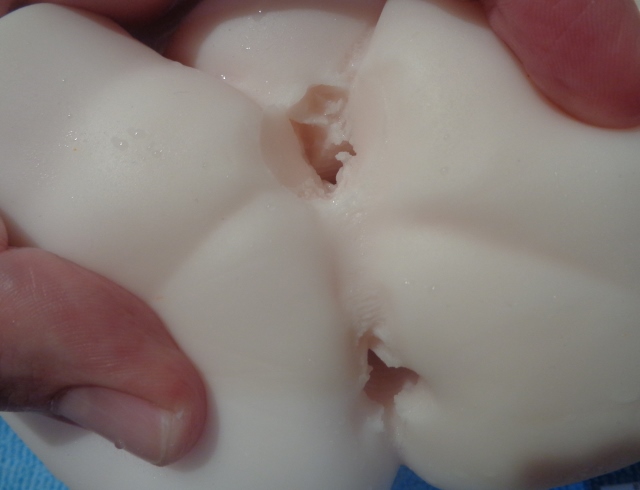 Don't worry, that's just water (the fingers aren't water). By this point Debu Sen's tightness had already greatly diminished. Still fun once you're in there, but the initial thrill is gone and you're left with a bit of a loose mess. Even just trying to wash and dry it out now causes the material to keep splitting. I wouldn't be surprised if it just completely rips down the middle to create some sort of super hole to flaccid land.
Anyway, this level of damage is something I'd expect from a looooooooot of use over an extended period of time, not a few fucking days. I guess something had to give from attempting to hide such a small entry underneath a megaton of rubber. And it was the rubber itself (deep). It seems Love Cloud forgot that an onahole's actual hole needs room to expand. Either that or they figured everyone would just be using it to store lead pencils or something.
You were too good for this world, Debu Sen. I'll never forget the time you fell off the desk and got cat hair all over and I groaned really loudly at the floor in general before almost falling off my chair because my pants were around my ankles as I tried to get up. Rubber in peace.
The worst part is I think I'm genuinely upset that I ruined a sex toy I really enjoyed so quickly. :'(