A few months back Toy's Heart put together a promotional manga for the Los Angeles Anime Expo, and it was kind of a big deal. Kind of sort of as far as onahole-related stuff goes, anyway. I mean, this thing was commissioned exclusively for an American anime convention and distributed at the J-List booth. Guys! Fuck, I dunno. It just still kind of blows my mind.
Even more so that Toy's Heart asked if they could link to some of my reviews in it. Holy shit, are you kidding? You havin' a giggle? I'd never felt more worthwhile than a sex toy company actually wanting to feature my long-winded word jumbles which essentially amount to 'yeah this thing is alright to cum into'. Completely serious.
Anyway, being on the other side of the world and everything, I was pretty keen to get my hands on a copy of the finished manga. So a few weeks later Toy's Heart kindly sent one over, and by one I mean like twenty billion.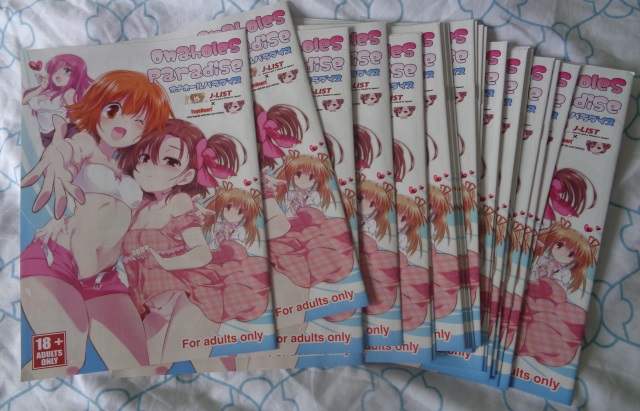 Titled 'Onaholes Paradise', it's about a guy visiting Akihabara who somehow manages to get sucked into the 'Onahole World' after going to a J-List store. Wow, it just so happens the Onahole World is filled with Toy's Heart characters! Talking about… their onaholes.
But yeah, it's about what you'd expect – just a short little manga ('bout eight pages) advertising various Toy's Heart products. Nicely done though.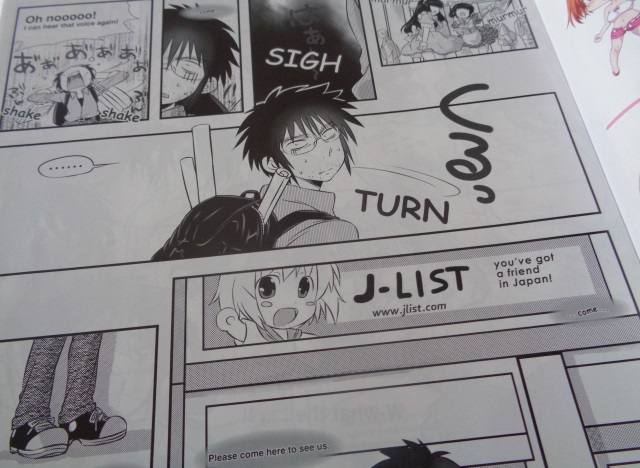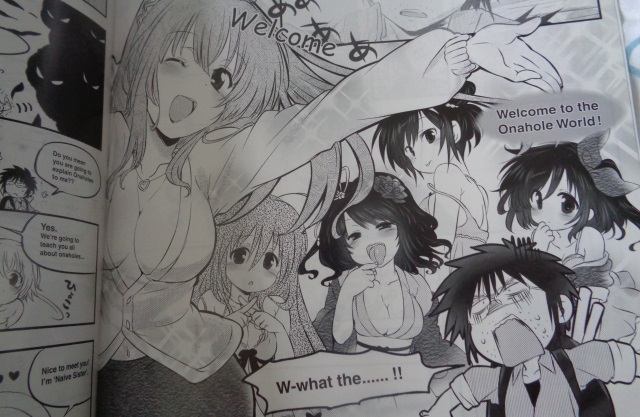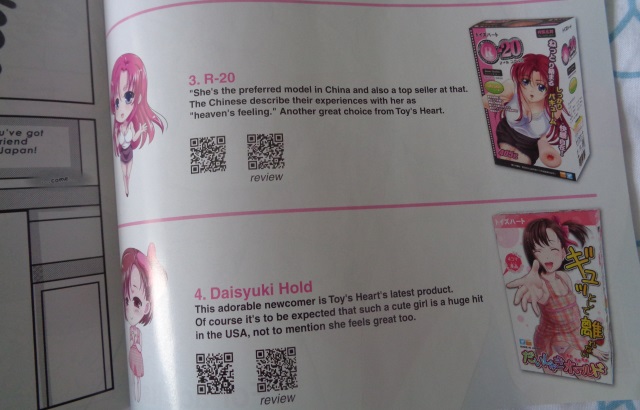 Hey, I remember QR codes!
However I really doooon't need this many copies, so I figured I'd give some away – competition style! Problem is… well, it'd be like sending out junk mail as a prize. Felt like I needed to include something else, but can't really afford any onaholes or anything.
So I took a look around, and okay! Got it. Here's a bunch of old PC porn games I've had sitting around for years. Fantastic. They have incredible names like I'm Gonna Serve You 4. Long story short, Play-Asia were doing a fire sale on these ages ago and I ended up buying like fifteen bloody games, only to end up playing a handful. These are all brand new, factory sealed.
The prizes!
Five winners will each score a copy of Onaholes Paradise and one of these PC games. There's Come See Me Tonight 2, Downhill Night Blaze, Virgin Roster, I'm Gonna Serve You 4 and Idols Galore! Who knows which one you'll end up with!
How to enter!
Let's just keep it simple this time. Send me an email at infernalmonkey@gmail.com with the sexiest game you've ever played as the subject line. That's it! Anything will do. Could be Minesweeper, Senran Kagura, Rolo to the Rescue – whatever! Winners will be chosen at random.
Entries close October 15th. One entry per person, please. Winners will be notified shortly after by email.