Product: Futanari Musume Double Hole
Manufacturer: Tamatoys
Measurements: length – 15cm, weight – 400g
Retailers: otonaJP / Kanojo Toys* / J-List* / Motsu Toys / Otona-Sekai / My Onahole
Header image: Mofuringu
– Retailers marked with * are affiliate links
(My apologies for the shit photos in this review, I didn't realise how insanely poor they turned out until it was too late).
Oh! Also fair warning, this review is probably going to be biased as all fuck. I've wanted a futanari themed toy for so long now, but since the dawn of time (when onaholes were crudely constructed out of rocks and hand-delivered by Fred Flintstone's blistered feet) this just isn't something Japanese manufactures have really tackled. Love Cloud sooorta gave it a shot with the long-since discontinued Otoko no Ko? a few years back, but that's about it.
So when Futanari Musume Double Hole was announced last month – complete with teaser images of a fuckin' massive cock dangling out – I was pretty excited! But then again, it was from Tamatoys, and boy. Tamatoys sure do put out some busted-ass shit. So my erection-fuel changed course, now throbbing with pure hope for this not to be a rushed product. Who even needs blood.
Also I just realised after that opening paragraph some of you guys might be like "futa what-what". Eh, images work better than a boring Wikipedia link, so…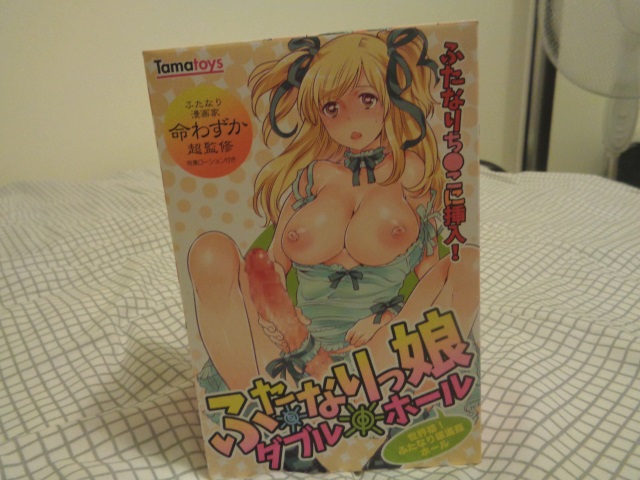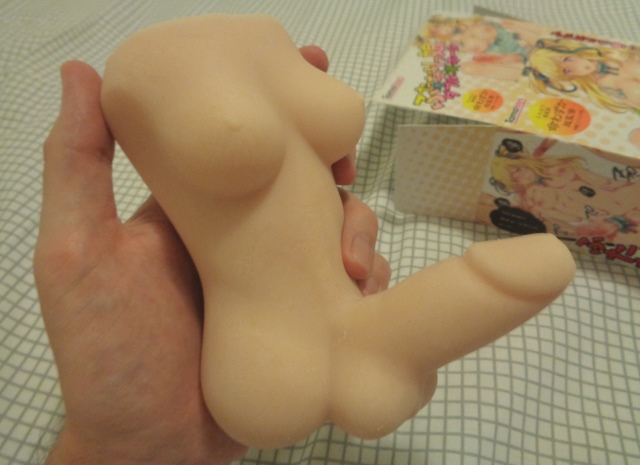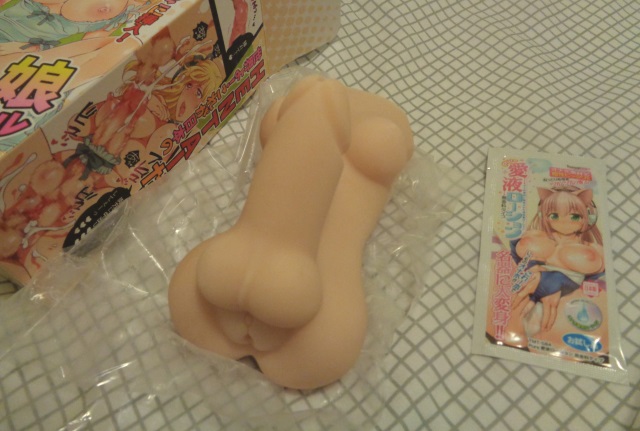 Futanari Musume Double Hole! Right away this is already one of Tamatoys' better efforts. The material feels great with a slightly coarse texture to it, zero smell, and – although my camera has a mental breakdown focusing on rubber blobs – there's some nice detail present.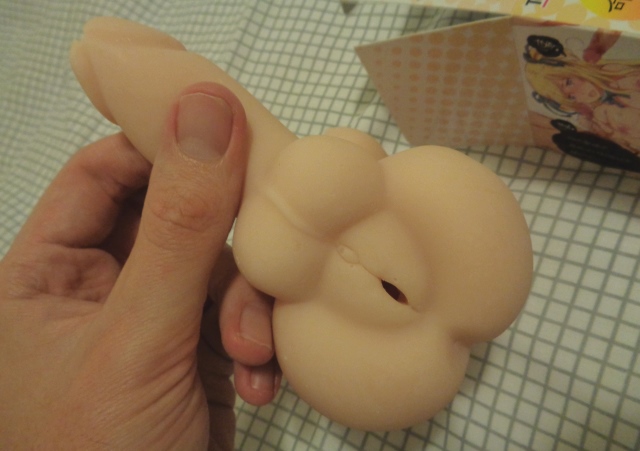 Shit, they even got the SCROTUM SEAM™ on there.
And while I'm happy Tamatoys also share the belief that futas need cocks big enough to crush entire can factories, that's… still comically huge compared to the rest of her body. There's a practical reason for this though. Don't worry!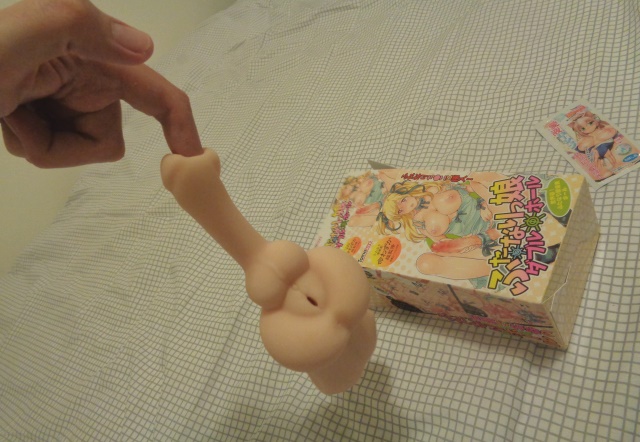 … Because you can uh, fuck it. You can put your dick inside the dick (Xzibit image goes here). That's where the 'Double Hole' part comes in. With most onaholes this would mean a choice of the vagina or arse, but nah. Futanari Musume Double Hole has the vagina or urethra.
Tamatoys even thoughtfully (?) provided some nice artwork showing how it'd work in the real anime world.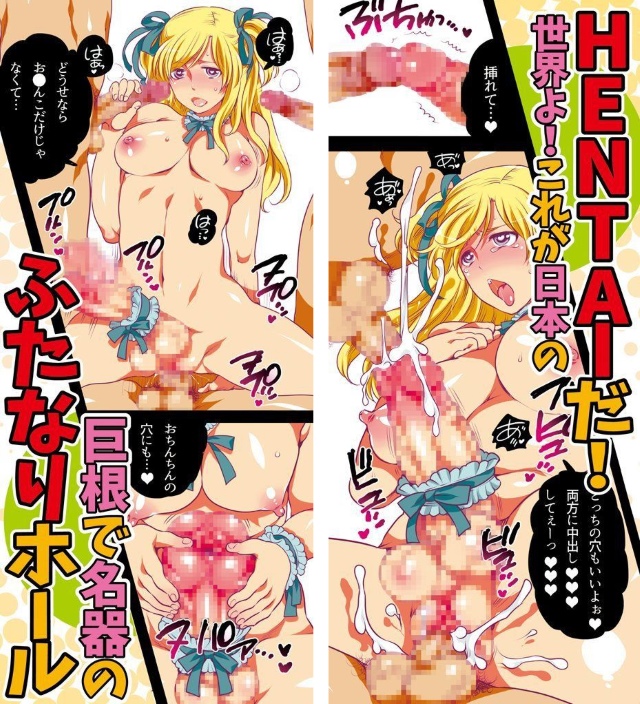 Ah. I see, I see.
The mere thought of anything being rammed inside a penis turns my face into a canvas of citric acid, but sure. Why not. Tamatoys' promotional shots show that this option apparently works, and I was able to wiggle a finger down there to confirm they've textured the inside of it and everything.
There's even a small hole at the base which connects to the main vaginal tunnel thing (for cleaning purposes, flushin' out all that lube and cum and coffee).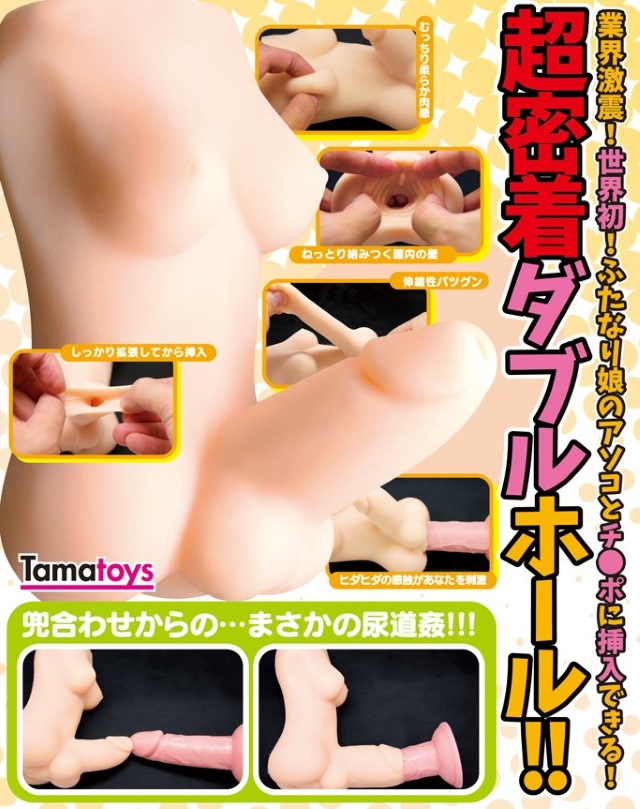 Dribbling some lube on there, I had serious doubts about getting in at all. Futanari Musume Double Hole's penis is pretty tough – it has to maintain a permanent erection after all – and there was no way that little piss hole was stretching open. Forcibly shoving the tip of my penis into it just resulted in an awkward sword fight that had me questioning life in general.
Basically, I couldn't try the urethral opening. No idea what it feels like in there, and honestly I don't care too much. It was just a bonus option. Going by (machine translated) Amazon.jp user reviews, not many had any success there either.
Oh well, that penis still has plenty of possibilities.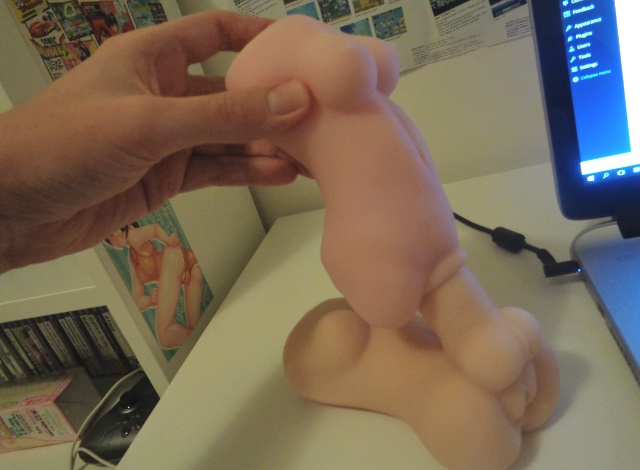 Onto the main hole, then! Tamatoys' didn't put out a single cross-section image of what the tunnel looks like, but a touch of mystery is okay. If you take a peek inside you can see what you're in for. Maybe. Sorry for the shithouse photo.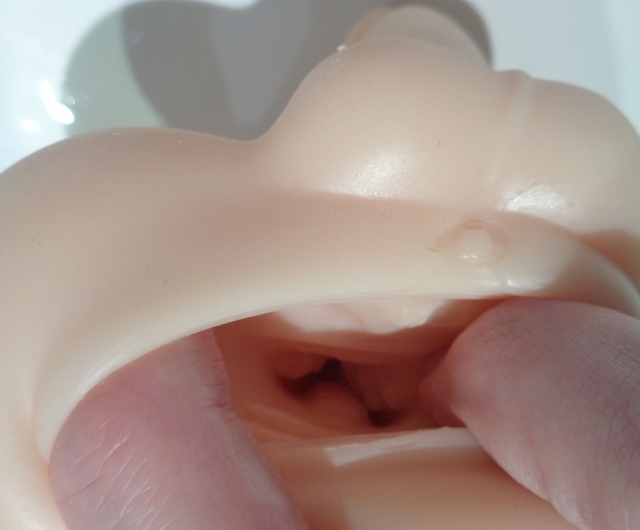 You're in for some very pink fingers.
Pushing into the hole, there's a thick jagged strand which digs into the underside your dick, and two along either side finish the job. Very steady level of stimulation here. I especially like that the entrance is juuust barely textured with some ribbing. Nothing major, but when it seals shut over the shaft this is enough to scrape around the joint.
Feels like you'd really be able to sink in there and get rough if needed, which is good, as Futanari Musume Double Hole absolutely works best at a faster pace. This might sound ridiculous (especially if you're not into futa), but watching the onahole's cock bounce around as you're wanking is insanely hot. It'll slap across your stomach, and fuckin' wow! Too good. Really adds to the experience.
Also, windmills.
Overall the level of feedback is about average? Whatever that means. It's good enough, essentially. For pure sensation there are obviously better toys to spend $30 on, however if you're even considering this onahole in the first place it's because of the whole futa theme. If so, yes – I'd absolutely recommened Futanari Musume Double Hole. The added eye candy goes a long, long way here.
Solid build quality and remarkably easy to clean, too. Run it under the tap and water will even shoot out its dick. That's the definition of art. Just… if you really wanna try fucking the onahole's urethra, I dunno. Good luck!