Product: Ashi Ko Kiko Footjob
Manufacturer: Ism (Outvision)
Measurements: length – 14cm, weight – 260g
Retailers: Kanojo Toys* / otonaJP* / MotsuToys*
Header image: Massan
– Retailers marked with * are affiliate links
If there's one thing I'd like to experience before I die, it's a footjob. Because of all the possible goals in life, having somebody awkwardly clasp their feet around my dick would definitely top the list. That said, I probably wouldn't like this to happen literally right before I die or anything. Or worse yet, as the cause of death. I'm very fussy.
Really though, as much as the idea directs blood down south, there's a very serious chance of getting a footjob from someone who just stepped in some extremely hot lasagna. Straight from the oven.
"I don't know how this happened" they'd say, frantically rubbing in chunks of mince and pasta. Next thing I know there'd be a wild Garfield sitting on my face, ready to pounce. And that'd be it. The end.
So for now I guess an onahole will do.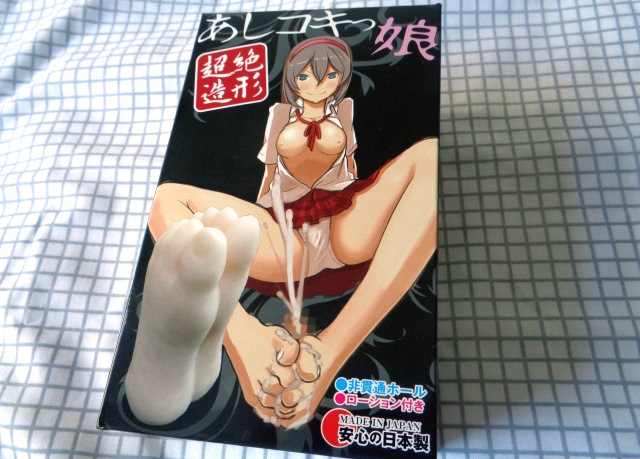 Here's Ashi Ko Kiko Footjob from Outvision, although it seems to be published under one of their obscure spin-off labels called 'Ism'. Probably just in case it bombs.
Anyway – maybe unsurprisingly – this is just the second time anyone's attempted a footjob onahole, and the first to actually feature the whole… hole part. NPG tried one last year, but it was basically just untextured rubber tongs you could slide up and down your cock (AkaiHebi did a review here). Ashi Ko Kiko Footjob on the other hand (foot) takes a more traditional route.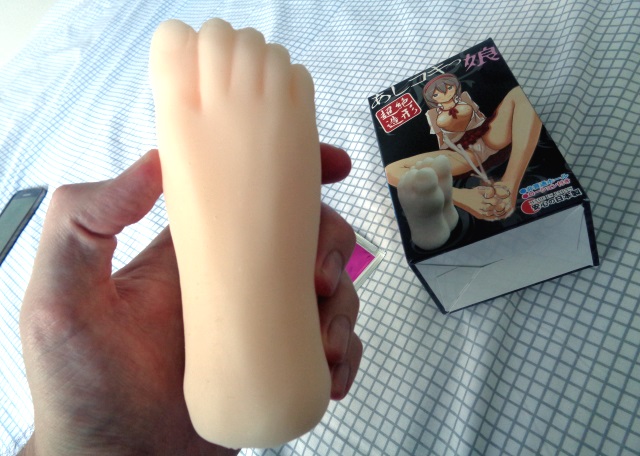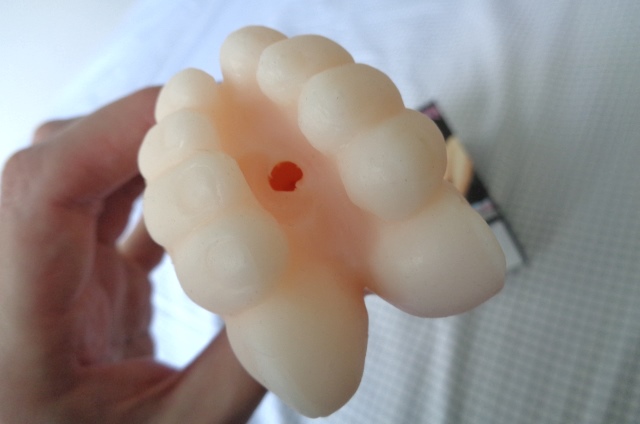 Just like real feet!
I forgot to take a photo of the whole package, but there's a sample bag of garbage lube included too.
Build-wise it's a pretty solid onahole in the sense that you could most likely use these feet to kick a diamond football with. Very tough material, but not exactly high-grade stuff. After the first wash everything gets clammy, and I've had some minor stretch marks appear. Nothing too serious however.
The important part is the onahole looks like feet. At least from the side. The illusion is destroyed the instant you turn it around.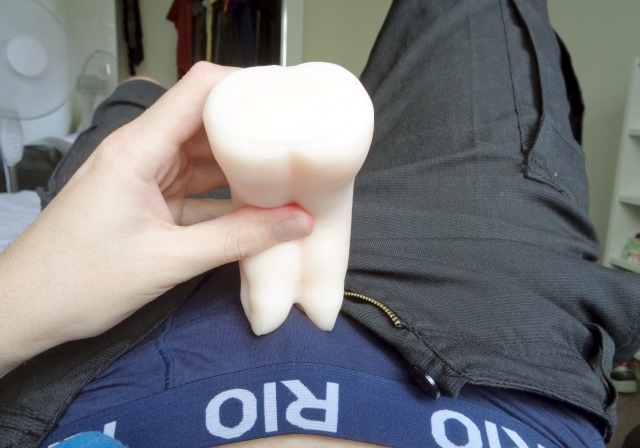 Now it looks like a giant tooth. :(
Aside from that, I think Outvision have really put some thought into the internal structure of Ashi Ko Kiko Footjob. This isn't just a cookie-cutter tunnel buried inside some niche design. I mean, it'd be easy to come up with something that sort of looks like teeth-feet then just texture it like a standard onahole.
Nah, Outvision have definitely tried to make this unique.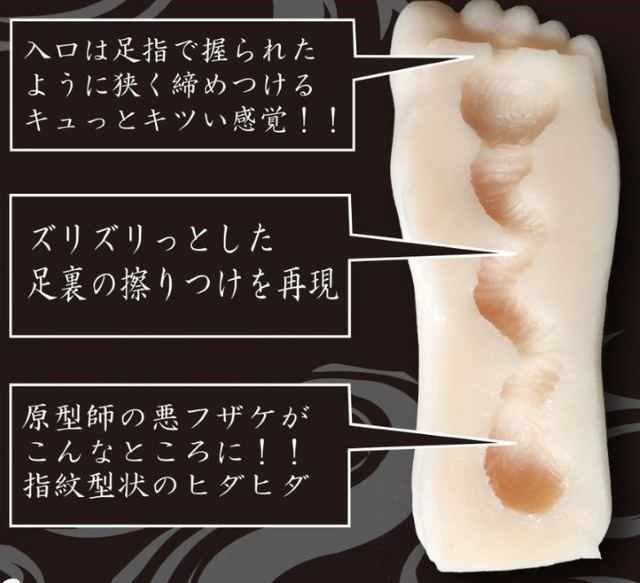 Penetrating feet like this might seem a little off at first, but it's an onahole, I dunno. The alternative could be really TALL feet with a hole straight through the middle, but I'd much rather this option.
As soon as you're in, there's an immense amount of pressure across your glans. Ashi Ko Kiko Footjob is ridiiiiculously tight, delivering sharp waves of stimulation every step of the way. Getting in is relativity easy, but the onahole will push back with a huge amount of force. A tight grip will be required at all times to keep this from literally popping right off your dick and shooting out the window, destroying several planets along the way. Literally.
A reverse Sephiroth super nova, essentially.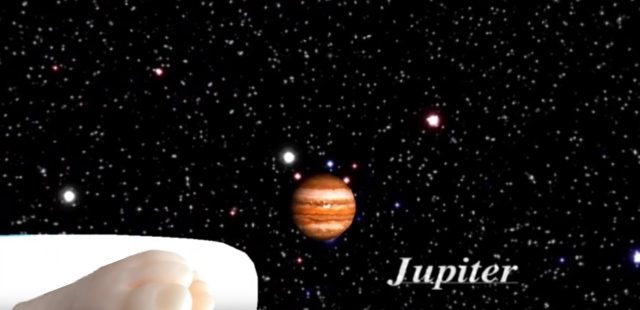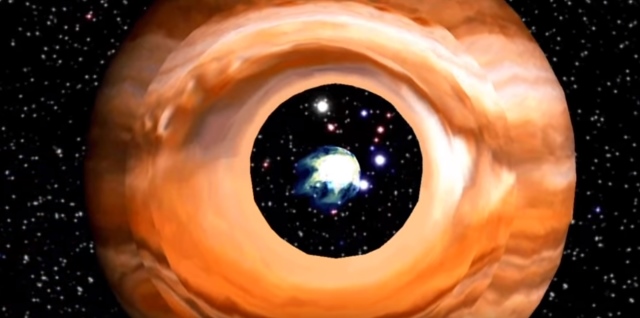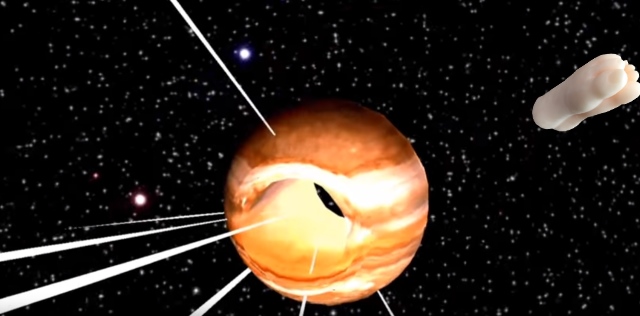 But there's the true hook. When shoved back, my natural response is to just dig in harder, and that's where Ashi Ko Kiko Footjob really shines. It's such a twisted, uneven tunnel that results in jagged wanking motions. The onahole feels like it's coming down on your shaft fucking HARD, scratching in a series of ribs and ridges which seem to get tougher over time. That might just be the lube drying up, but still.
Kinda have to clench my fist and/or bite my lip in anticipation of the ever increasing waves of pleasure after a while.
Going by the product description over on Kanojo Toys, Ashi Ko Kiko Footjob recreates the "roughness of real Japanese feet". I'm not too sure if learning to walk with barbed wire shoes is a tradition over there, but in the right mindset I can totally get that Outvision have attempted to match the arches and shit of a foot. The sole. That's probably what I was looking for there.
And for me at least, yeah. It works. Easy enough to pretend I'm getting a weirdly aggressive animu footjob or something. Extra points for the little rubber toes curling when they're slammed down.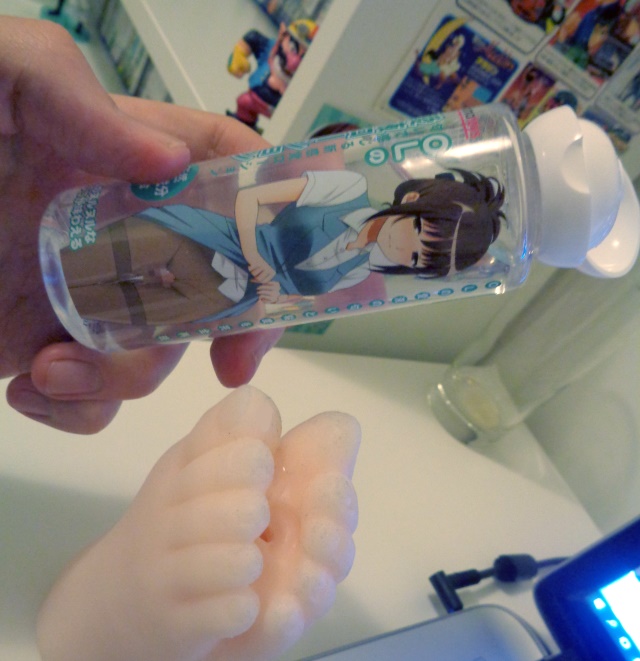 Rubbing the onahole on dark blue undies is a great way to get the toes dark blue. ('へ')
I even tried enhancing it further with 'office lady' scented lube. I've had this for a while yet hadn't cracked it open until now; surely you can't go wrong with the smell of pantyhose (?) on feet. SURELY. Wasn't sure how Tamatoys were supposed to capture that, and I don't think they did.
Kinda smells like a sweaty dental office waiting room, and someone's just dropped an entire box of hand sanitiser on your head. It's alright!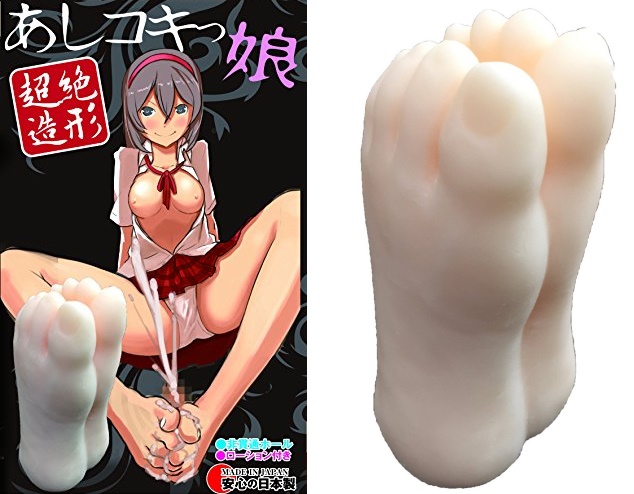 But yeah, back to the onahole. Could be a worthwhile purchase if you've ever fantasised about getting a footjob from someone who just ran across a gravel driveway. I know I apparently do!
Ashi Ko Kiko Footjob offers a head-spinning level of stimulation thanks to its rough, tight tunnel constantly pushing back. Easy to clean too, but the material gets very sticky (gonna have to keep some talcum powder on hand for this one). Props to Outvision for even giving it a shot though.
Just make sure to turn the onahole on its side if you wanna stare at those feet during masturbation. Otherwise it's just going to look like you're fucking a massive tooth.  Ah. Doubles as a vore onahole then?