Product: Fuwa Ana 1mm Virgin
Manufacturer: Ride Japan
Measurements: length – 16cm, weight – 420g
Retailers: otonaJP / J-List* / NLS / Kanojo Toys* / Toy Demon*
Header image: Biyon
– Retailers marked with * are affiliate links
There you are sitting around a campfire – presumably under the stars, either outside or simply in the living room without a roof – when a bag of marshmallows suddenly plops into your lap. A jolly voice whispers into your ear "have an enjoy". Is this Santa? No, a quick dart of the tongue afterwards confirms it's the president of Ride Japan.
"Hey" you respond, rubbing the saliva out of your ear canal. "Thanks for the marshmallows, I guess?" The president of Ride Japan smiles back, roughly tossing his grotty sack of unexpected camping treats on the ground. "Have an enjoy" he repeats, more assertive than before.
"O-oh, okay". Reaching for the bag, you glance up briefly to see him nodding.
Nobody knows the true origins of Ride Japan's president – or even his name – but you'd heard the stories. Urban legend had it that he would appear by lonesome campfires, insisting weary folks 'enjoy' his mysterious marshmallows. It was never quite clear what this meant exactly, but it probably wasn't good.
A few minutes pass, and by now you're both roasting marshmallows over the fire. The president of Ride Japan hasn't eaten a single one, instead choosing to store them by his side. Confused, you've just been doing the same. A rapidly growing pile of golden brown goo begins to melt together until there are no more marshmallows left in the bag.
"Have an enjoy" he requests once again. 'Aw shit am I supposed to eat all this' you ask yourself, picking off a chunk. Just as it's about to go in your mouth, the marshmallow is slapped from your hand. "HAVE AN ENJOY!" Ride Japan's president yells. He looks furious.
"W-what do you want me to do?" you ask.
"HAVE…"
"Yes bu-"
"… AN…"
"Oh god I'm sor-"
"ENJOY!"
Fuck. The president of Ride Japan picks up his ball of melting marshmallows and squishes them down in a brick-like fashion. His pants drop, and before you even have time to react he's violently thrusting the mess onto his crotch. "ENJOOOOOOOOOOOY" he screams, blowing out both the campfire and his load. A indistinguishable mess of sticky white goo covers the area. Then darkness.
Days pass before you wake again; remnants of the nightmare encounter still reside in your nostrils. Worse still, you find another cluster of sloppy marshmallows resting by your side. A Ride Japan business card is wedged into it. 'Have an enjoy' it reads.
Fuwa Ana 1mm Virgin is born.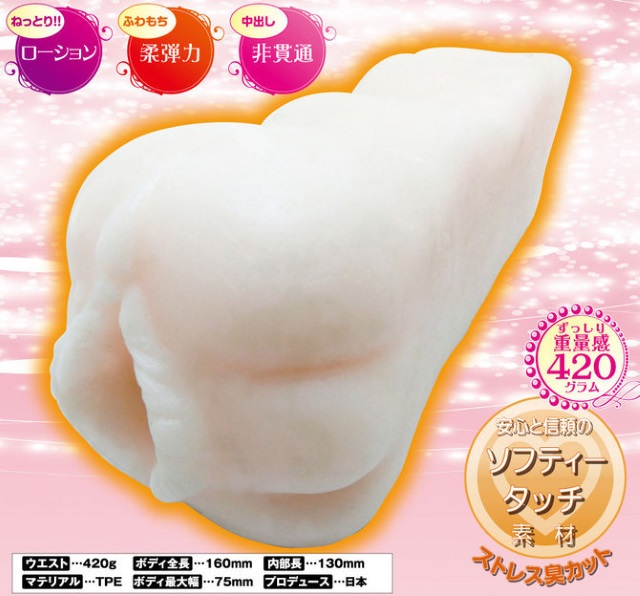 This is Ride Japan's very own Stay Puft, except at least four and a half times scarier. Now to be fair I have read some positive impressions for this onahole, so maybe I got a dud. No worries, that can happen. Or perhaps it's just another victim of the harsh Downunderverse weather? I dunno.
Either way, I can at least say Fuwa Ana 1mm Virgin is accurate to part of its name in that it made a mess the first time.
Oh! And like Ipponsuji last month, this product shipped without its packaging. Here's what the box is supposed to look like: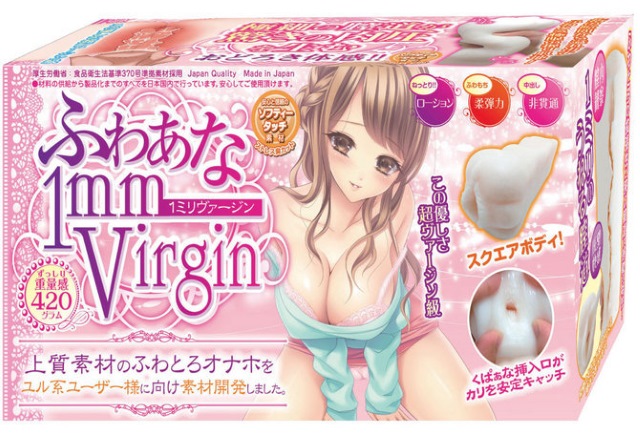 Which is nice and all, but…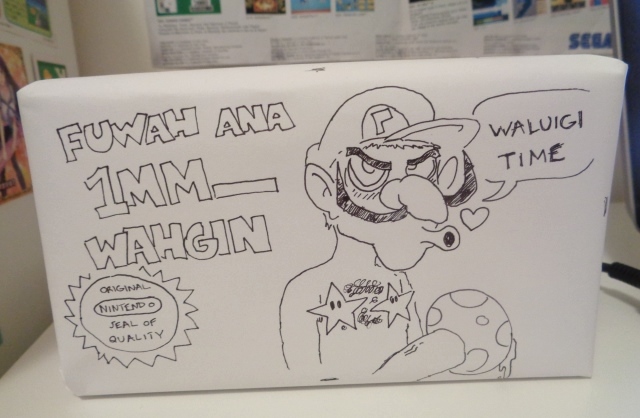 Better.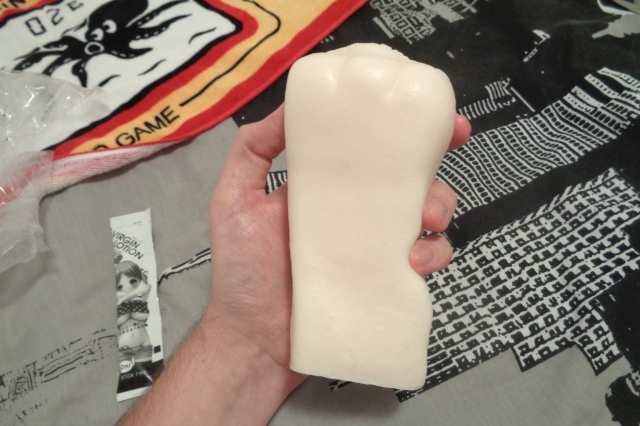 Unfortunately my camera couldn't process the finer details of SWEATY HAM BAG before this shot, but right off the bat this onahole was coated in a layer of disgusting, slippery sheen whilst still sealed in its plastic bag. I could feel my face going places it's never gone before as a combination of frowning-fear took over.
After chucking it under the tap and letting it air dry briefly, it was time. Time for one millimeter of Fuwa Ana. I didn't know what that meant, but what are you gonna do? An erection's an erection.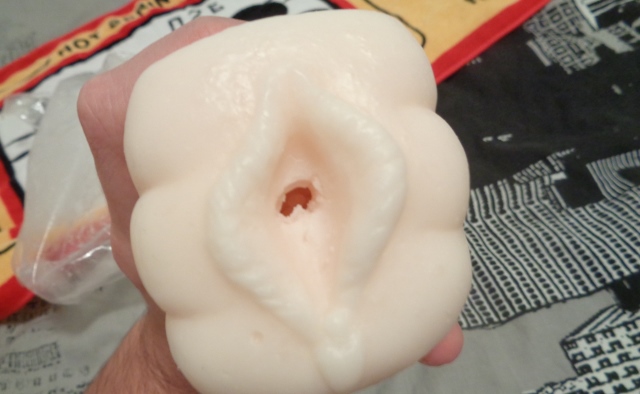 Well the onahole doesn't look too bad here. That's sooooort of a hole. Good enough. LET'S TAKE A GANDER AT THE OTHER END.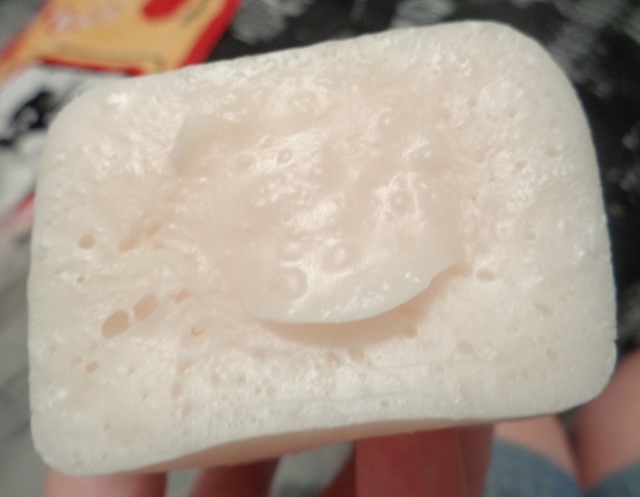 Ooooooaaauuugh no fuckin' hell, what is this. It's like Ride Japan used any old scraps of factory floor rubber to patch up Fuwa Ana 1mm Virgin, then threw the entire thing into a frying pan. Beautiful.
Combined with its patented 'way too sticky' material, I was pretty interested to see if the onahole was going to simply rip apart or develop into some kinda cock cocoon the second I got inside.
Fuckin' away at Fuwa Ana 1mm Virgin just seconds after crushing it into a ball, I… couldn't describe much of anything really. The onahole wasn't putting up any resistance – no sense of tightness. Nothin'. Basically just masturbating into mush. As I gripped harder, my hand started to become one with the rubber. It was really sinking in there! A life-reflecting moment for sure.
Even better, as I began to get a tad more aggressive with my stroking (just to feel something, emotionally) the onahole would get stuck to my crotch with each downward thrust. It was fun playing around with this, just looking at it slowly peel back off.
Then I noticed something. Something familiar.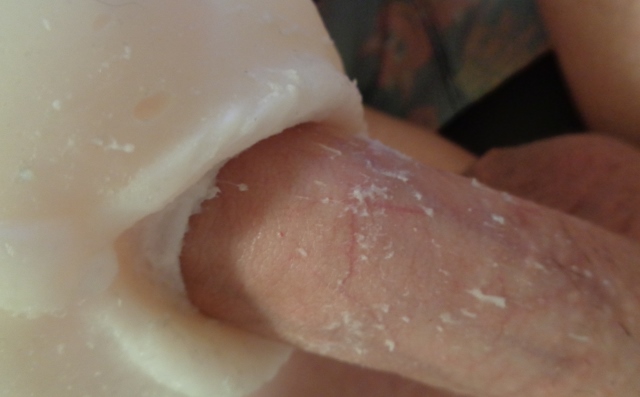 GOOOOOOOOOO.
Not quite as bad as the melting experience I had with Tamatoys' Strangle Hole, but ugh. Fuwa Ana 1mm Virgin was leaving little chunks of rubber all over the joint. I was a tad worried some of it would go inside my urethra and I'd get pregnant. Pretty sure that's how Danny DeVito got Arnie knocked up in 1994's hit documentary Junior.
Inside and out, this onahole was already disintegrating after just one wank.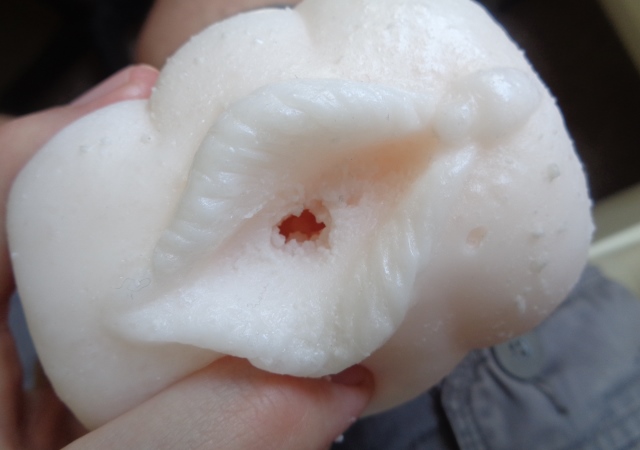 Just check out how much had crumbled from the front. Most of that was left stuck to various parts of my lower body. My first tattoo.
So naw, sorry Ride Japan. Can't h̫͈͇a̯̯͇͓͇͝v̯̹̰ͅe͖̼̼̕ ̶̣̝͈͙̭̹̻a͎̣̝n ͉͇͚̺e̮̱̲͉̙̺nj͓o̭̺̩͟y̢̜ with this.