Did you know May is unofficially the official masturbation month? Seriously. We all know it's really every month, but those fat cats on Wall Street apparently nailed it down to May. And shit, that's alright.
Like, an entire thirty-one days where getting your own fluids all over yourself is a required celebration with no shame or judgement. Tell friends and family you just got off to a cool new fetish over dinner. They'll clap and cheer in a proud explosion – nervously looking at the calendar in the hope that they suddenly slip into a coma until June. "Aw shucks" you'll say, "just doin' my part".
This all started with 'International Masturbation Day' which takes place on May 7th. That day is still a thing, but now it's just kinda… spread to all of May.
To celebrate, I figured I'd kick off with another competition. This is one I've been a complete lazy fuck about for months (it was originally going to be during Christmas), but now's as good a time as any!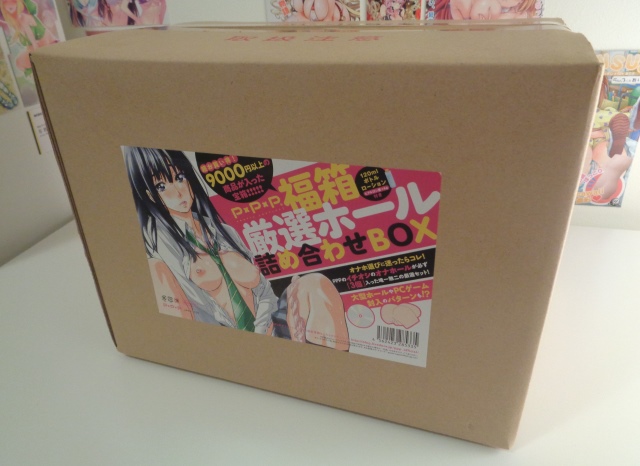 This is the PPP Happy Box – a 'lucky dip' product of sorts from manufacturer PPP / Outvision. A very limited offer available on otonaJP, stock lasted just a few days before selling out. The box contains three random onaholes. To quote the product listing:
Don´t miss your chance and grab your PPP Happy Box now. The box contains 3 random masturbators worth at least 9000 JPY (approx. 75 USD) from PPP. This is your chance to get goods for more than 3 times the price you are paying!
Yeah. I haven't opened the box – no idea what onaholes are inside. There's probably at least gotta be one good one though, right? You might get super lucky and score one of the more expensive products, or even one with a bonus visual novel attached.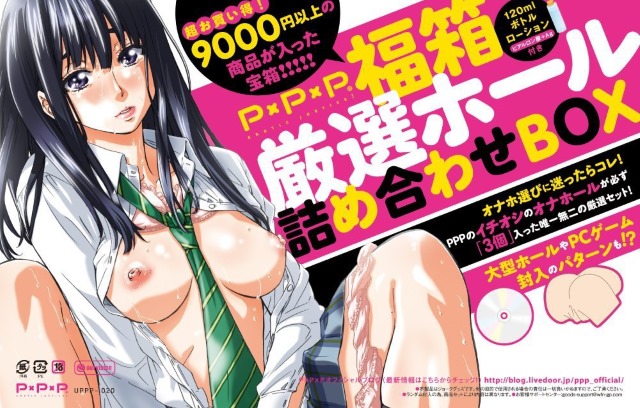 Just uh, look at how happy she is! Oh. Either way there are three onaholes in there with enough lube to last quite a while.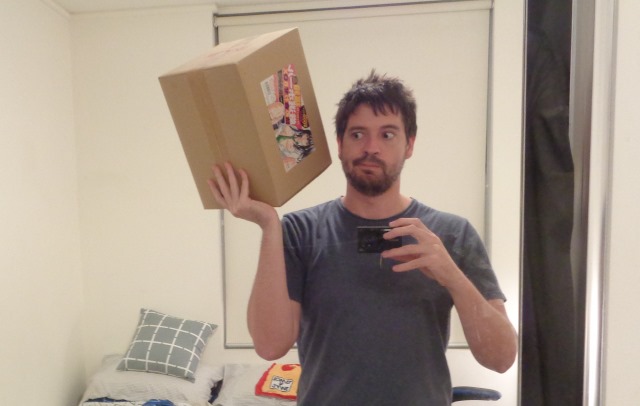 Now due to the sheer size and weight of this box ('bout 2kg?), I'll be shipping it off as-is. Except without that huge sticker on the front, obviously!
How to enter!
Just for a change I'm trying out this 'Gleam' thing I've seen all over the place lately. No Facebook likes or retweeting or whatever though, just a simple pointless question.
There's no correct answer to it – the winner will be picked at random. Please enter a valid email address! Don't worry about putting in your real name if you don't want, but I'll need an email address to contact the winner.
Entries close May 7th (ehehuehu, 'International Masturbation Day') at 11:59PM pacific time. Chuck that into Google and it should convert it to your timezone.