Product: Artist Collection Series No. 4: Gloria
Manufacturer: KOKOS
Measurements: length – 18cm, weight – 635g
Retailers: Motsu Toys / Toy Demon*
Header image: Shibire Hitsuji
– This product was provided by Motsu Toys for masturbation review purposes
– Retailers marked with * are affiliate links

I know I mentioned this in my initial review of the Eighteen Series: Tattoo, but shit – I'm forever thankful to Motsu Toys for introducing me to KOKOS. They're a Korean onahole manufacturer who probably would have remained unknown to me otherwise.
I… don't pay nearly as much attention to the industry as I should.
KOKOS' products aren't particularly cheap, but so far these things are built like military-grade masturbation devices.
Tanks.
They're fucking tanks, and one day KOKOS will eventually make one big enough to fully climb inside for some kind of mecha fantasy gone sexual. For now though? There's Gloria.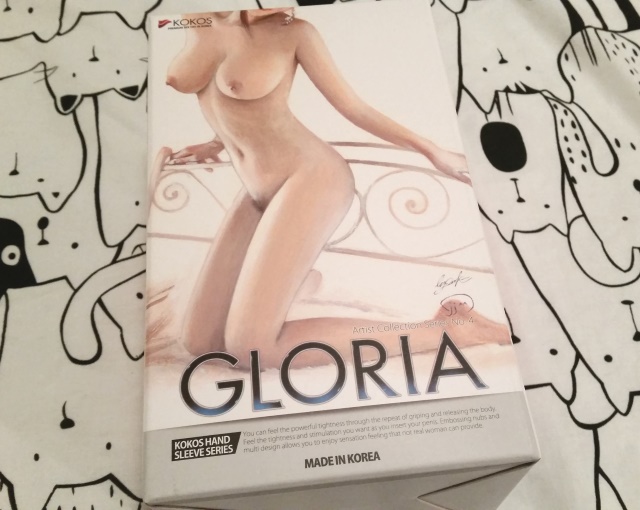 Or to be exact, Artist Collection Series No. 4: Gloria. Which is part of the 'KOKOS Hand Sleeve Series', so… we've got a series within a series. Intense.
Look, all you need to know is there's a nice drawing of someone possibly named Gloria on the cover and this is her onahole. Gloria's head is also out of frame, adding a certain element of mystery.
Who is Gloria? Is she wearing glasses? Does she have a hat on?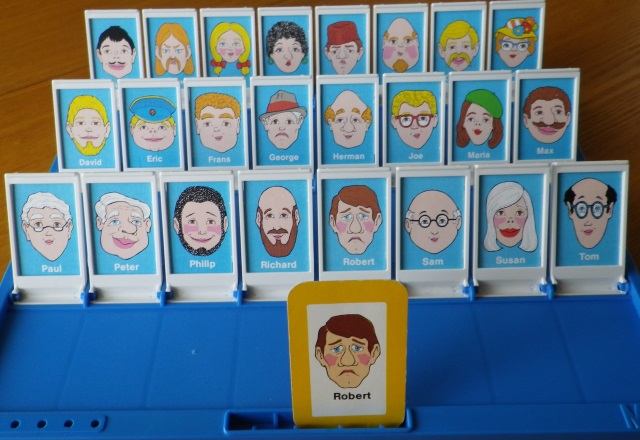 Come aaawwwwn Richard.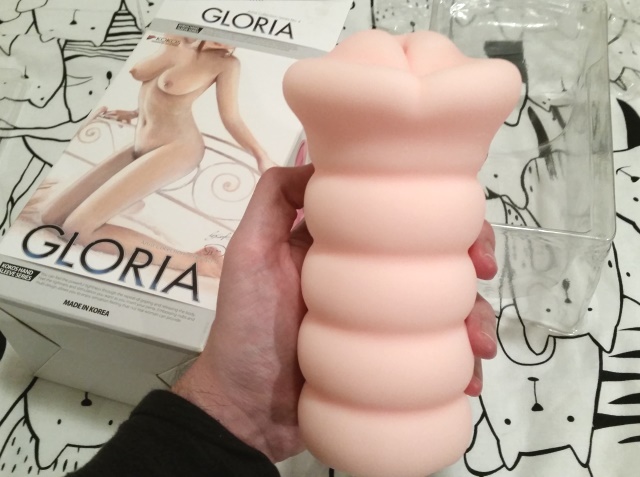 Unboxing Gloria, and yes. No sample packet of lube! Also this onahole is gigantic.
The total length is roughly 20cm (18cm internally) and weighs in at over 600g, but just look how bloody girthy it is. You could easily grip on with both hands and pretend you have like, Babar the Elephant's trunk cock or something. Paint it grey for the full cosplay experience.
Unfortunately the smell will likely be Gloria's first real impression. It's borderline nauseating at first – a toxic assault of oily plastic comparable to Mattel's toy factory burning down – and even after multiple washes this has continued to linger.
KOKOS' Three Sisters: Virgin had the same problem, but with this onahole being quite a bit larger the problem has only been enhanced tenfold. Really unfortunate.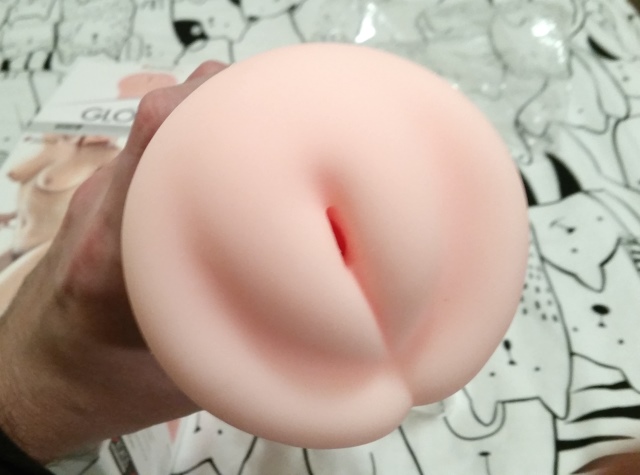 … Even with all that real estate on the front, KOKOS purposely made the tiniest entry point possible. Oh well. Wouldn't be much fun if you could easily wedge a fence post in there first go.
So let's take a look here!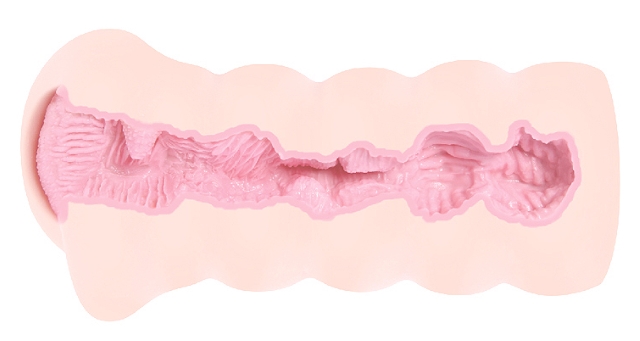 Hmm, right! This definitely looks much more open than it really is.
Getting inside Gloria is visually exciting. That little opening barely seems to give way, but just a dribble of lube is all it takes to vanish through the front door. And just like a typical visit to someone's household for the first time, you'll quite easily plow your way down the hallway like you've been here a thousand times before.
… Scuffing up the floorboards, knocking pot plants over, pretending to admire the framed family photos. There's an immediate sensation of comfort and familiarity as the walls press down tightly around your shaft, delivering the occasional jolt of textured pleasure.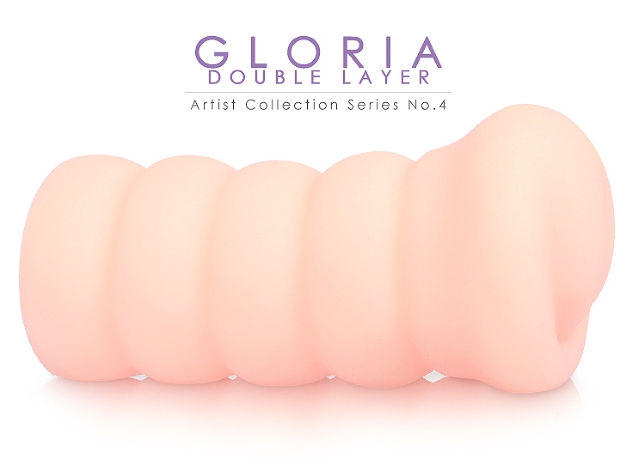 Gloria is a difficult one to break down into actual distinct sections, however there is an incredibly nice chunk right near the beginning which I found scraped against my head just right. Not rigid enough to become a barrier during faster thrusts, yet still dug in with enough force to really push me over the edge.
As a whole, the tunnel is tight and so beefy it's like getting lost in there. BEEFY. That was a last second edit, please enjoy.
Of course, that miiiight also have to do with Gloria being rather large for a handheld onahole. The internal design is just over 7 inches long.
Combined with a bulky entrance (to bounce off your crotch like a bag of cement-encrusted sponges) you're going to need a pretty big dick to get the full experience. I can't even tell you what the end of this onahole feels like.
I'll just go sit in the corner.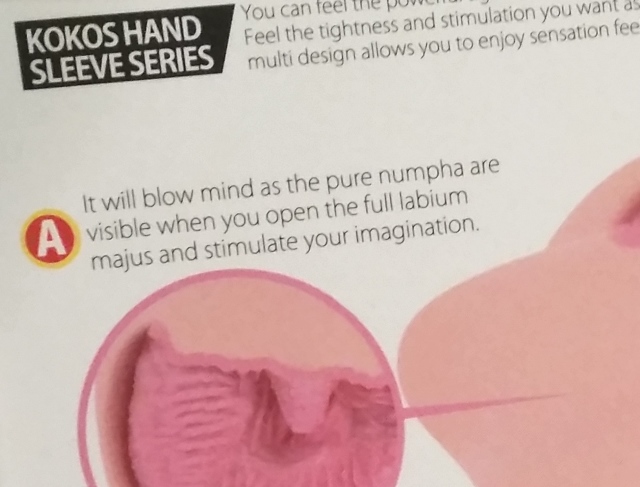 "Hey boss, I just found some words in a book"
"Good. Use all of them"
However one thing I really love is just how quiet it is. I'm always cautious about my flatmates hearing the various squelches of rubberised air being stabbed away by my penis, but Gloria sounds like a vacuum cleaner during a power outage in space – whisper quiet. And slightly cold?
If you live with others and your walls are also paper-thin, knowing you can really go crazy here might be nice.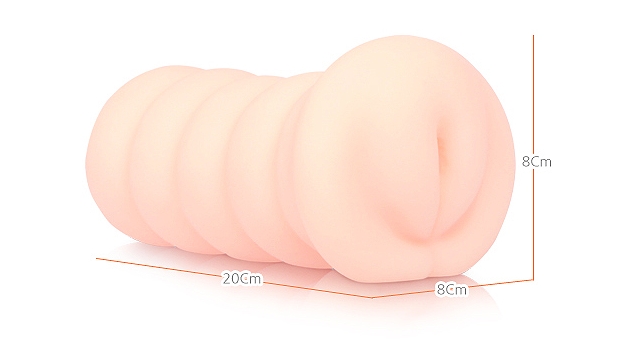 Gloria's certainly built to last, but weoooow cleaning this onahole might prove to be a chore. Or rather, the general maintenance. Drawing to the earlier comparison with KOKOS' own Three Sisters: Virgin, whatever material they're using quickly goes to hell.
At first the onahole feels nice and smooth to hold, yet after the very first wash everything suddenly gets frustratingly sticky. Not enough to fuse with your skin, but fuck does Gloria manage to pick up every single speck of dust on the planet.
Be prepared to powder this onahole a lot. A LOT. Pretty much after every wash, dust it down with a bit of talcum powder (or cornflour, it's cheaper). What a slight inconvenience.
Only Linkin Park understands.
Gloria
+ Massively thick and long. If that sums up your cock, this is the onahole for you
+ Built to survive a nuclear blast
+ Super quiet
– Very heavy smell which takes forever to fade
– Material gets tacky and unpleasant, picks up a lot of dust
– Just a pain to keep clean in general