Product: I Love Onii-chan
Manufacturer: Toy's Heart
Measurements: length – 13cm, weight – 240g
Retailers: NLS / Kanojo Toys* / otonaJP / J-List* / Otona-Sekai / Toy Demon*
Header image: Cura
– This product was provided by Toy's Heart for masturbation review purposes
– Retailers marked with * are affiliate links
Ah yes, the timeless hentai family-friendly incest fantasy. I'm sure we've all picked the sister route in a dating sim or two, right? R-right?
Just imagine. You come home from a long day of looking for your front door key and there she is – your little sister. She's got a cute see-through dress on, her head is literally a blob of pudding with eyes painted on and her arms are thicker than Goku's neck after several episodes of powering up.
She's perfect.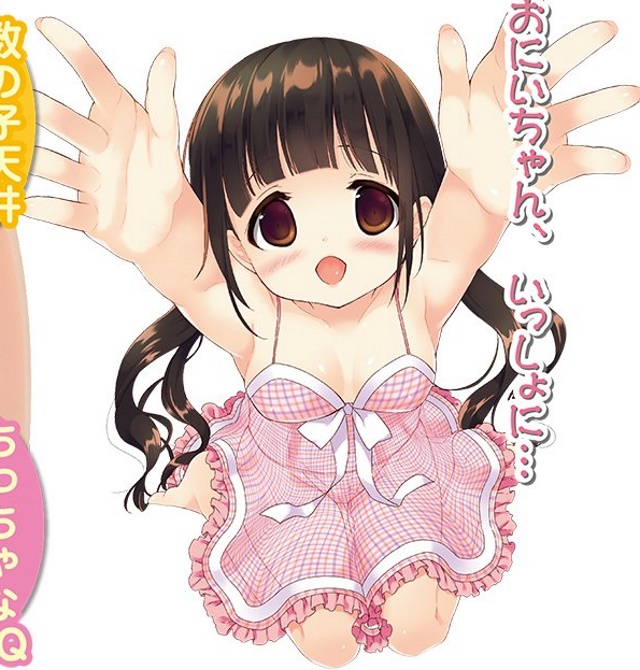 "ONII-CHAN" she yells, making grabby hands with her enormous sausage fingers. They quickly shoot off and fly around the room like missiles, yet you can't help but stare at her ample chest. 'I'm unsure what age my sister is supposed to be' you ponder.
"Onii-chan… I just ran a bath, I was thinking we c-could get in t-to-togeth-"
"A BATH?!" You yell in excitement, "Yes! That's exactly what I need! Do you know how long I was out there? I rang the doorbell about a thousand times holy fuck"
You rip out a monster ass-rippling fart as you dash past.
Sighing, hot chocolate sauce leaks out of her squishy pudding face. "I love onii-chan…"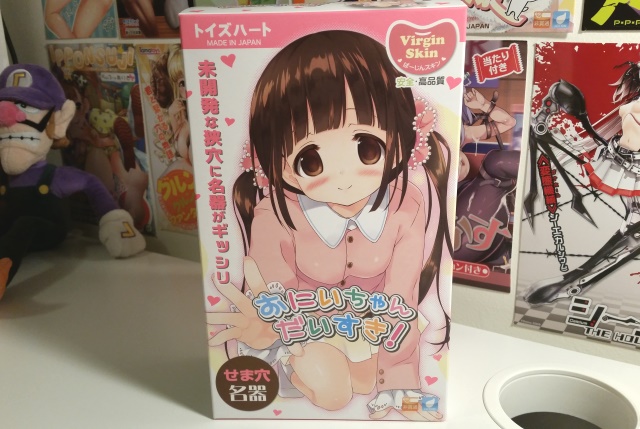 Here's I Love Onii-chan from Toy's Heart, a self-described 'immature tight virgin' hole. The cover is cute enough (ie; import friendly) – but yeah. I think she may have melted on the back.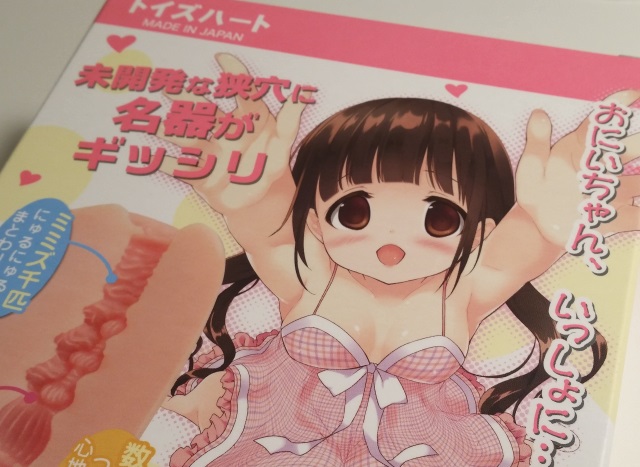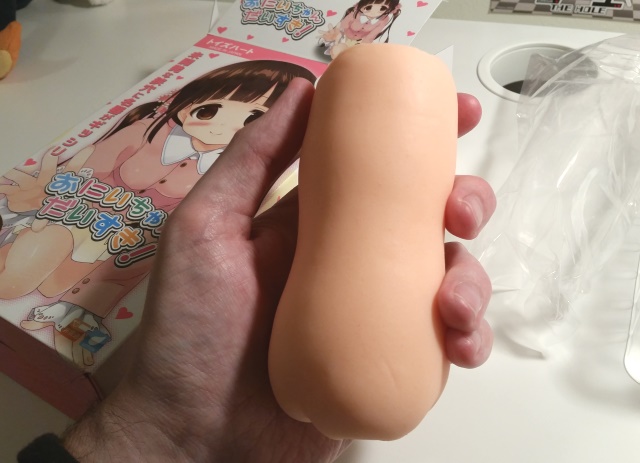 Given the theme, it should be no surprise this design is rather small. I Love Onii-chan's total size is just over five inches, with the internal tunnel accommodating four and half before stretching.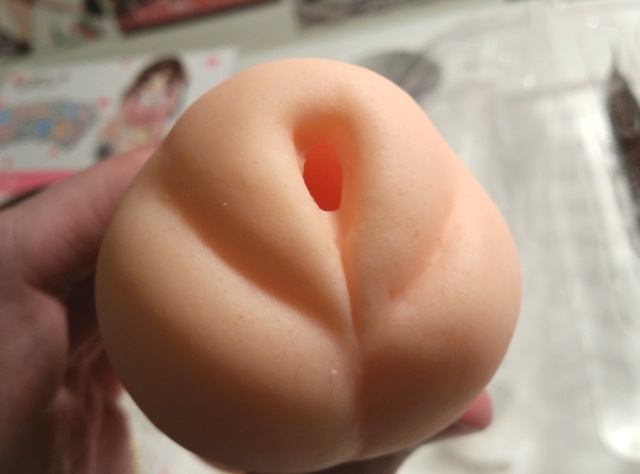 Rather small.
Using what feels like an updated variation of Toy's Heart's 'Virgin Skin' material, I Love Onii-chan is at least a joy to hold. Like a stress ball, it just has that exact same light spongy reaction when gripping down, only to bounce straight back.
Unfortunately it'll also bring about the exact same challenges as fucking a stress ball, just without some superannuation corporation's logo printed on the side.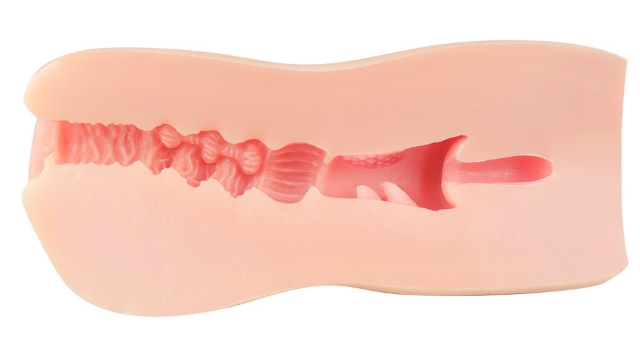 Getting inside is surprisingly easy, but from there I just found this onahole to be an exercise in complete frustration. I Love Onii-chan is an insanely narrow passage which results in constant pushback. Normally this would be fine… if there was more to actually grab onto.
As it stands, the onahole is more like a rubber rocket waiting to take off at any moment. Every time I'd yank down, the bloody thing would teleport right back up my shaft or pop off with a comically loud WET SLURP.
In fact, the third time I wanked with I Love Onii-chan, I must have had a temporary lapse in concentration whilst partaking in ye olde act of orgasming because I ended up with a fuckin' trail of lube and cum down my leg.
DON'T LET GO.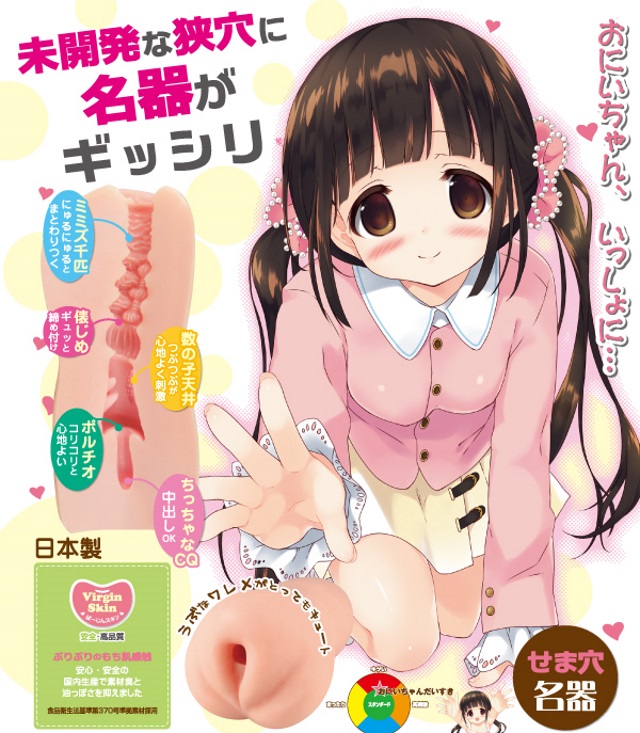 Design-wise, the end zone seems to be the main attraction here? I Love Onii-chan's wall textures are quite dull, delivering very minor stimulation along the way. Once you've smacked into the back wall though, an even smaller tunnel ends up kinda capping over your head.
Repeatedly smashing up against it is nice, but again, you still have to deal with the onahole always wanting to return to its home planet.
I dunno, I Love Onii-chan seems like it's just missing a certain hook. This one's too compact for its own good and ends up just being a fairly average toss.
I Love Onii-chan
+ Great material
+ Easy to clean
+ Doubles as a stress ball
– Clumsy and frustrating to wank with
– Weak feedback
– Somehow one of the loudest onaholes Toy's Heart have ever made, is that part of the whole little sister thing too I don't know but holy shit
– It's all fun and games until someone loses an eye