Product: Devil Blow Job II: Ayaka Tomoda
Manufacturer: KMP
Measurements: length – 11cm, weight – 350g
Retailers: Otona-Sekai / Toy Demon* / otonaJP / Kanojo Toys* / NLS / Love Merci
– This product was provided by Otona-Sekai for masturbation review purposes
– Retailers marked with * are affiliate links
Whew! Here I was thinking I wouldn't have anything Halloween-ish to review this year, but it turns out I just never paid much attention to the name of this onahole. Devil Blow Job II.
That and one of the official promo images KMP use to show it ooooooo-aaaaaaauugggghhh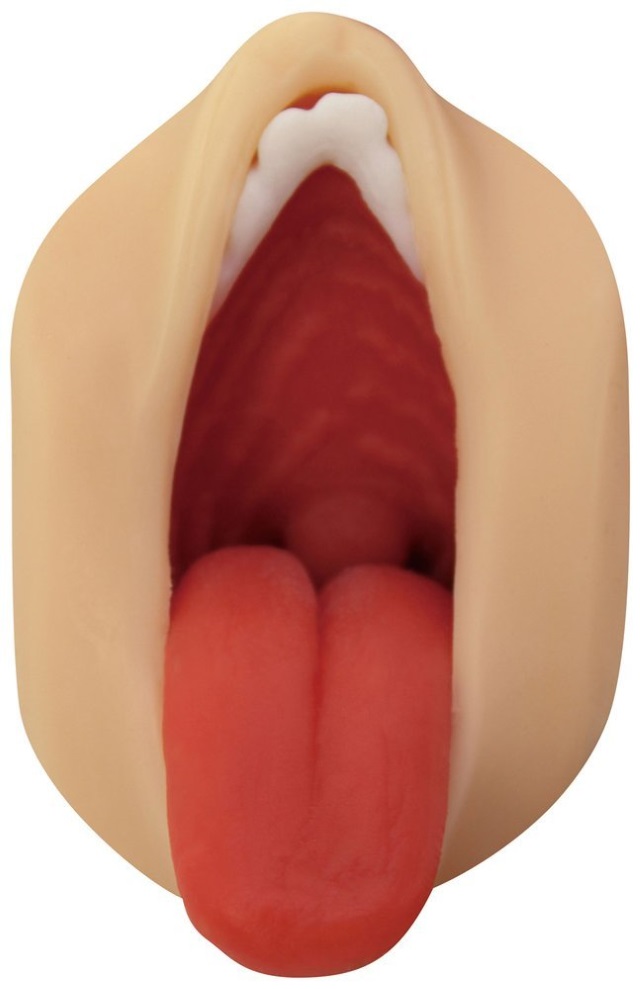 That's like someone on the design team got inspired by Super Mario 64's title screen. Christ.
So yeah, here's the Devil Blow Job II: Ayaka Tomoda (or OniFella Hole II as listed by some retailers) by KMP. I've never reviewed anything by KMP before, which I guess is kind of strange considering how gigantic they are in Japan's adult industry.
KMP is like… everywhere. They pump out a hundred bajillion porn DVDs every four seconds, so it only makes sense to release sex toys directly based on certain titles. Every good movie needs its merchandise.
In this case, today's review is based on 2014's suspense-thriller Blow Demon Hell XVI starring Ayaka Tomoda, Saki Hatsumi and a whole bunch of dicks.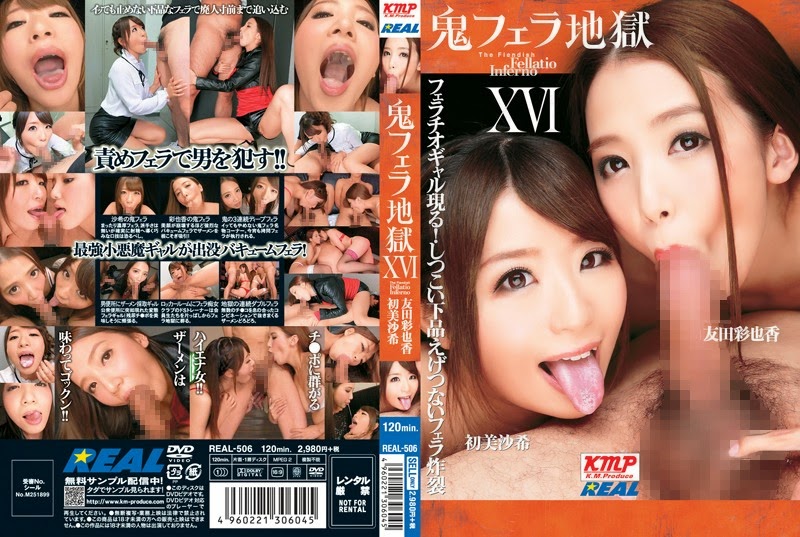 The onahole cover simply uses the same image as the DVD – after erasing Saki Hatsumi from existence – to have Ayaka Tomoda cut her mouth up on pixels in peace.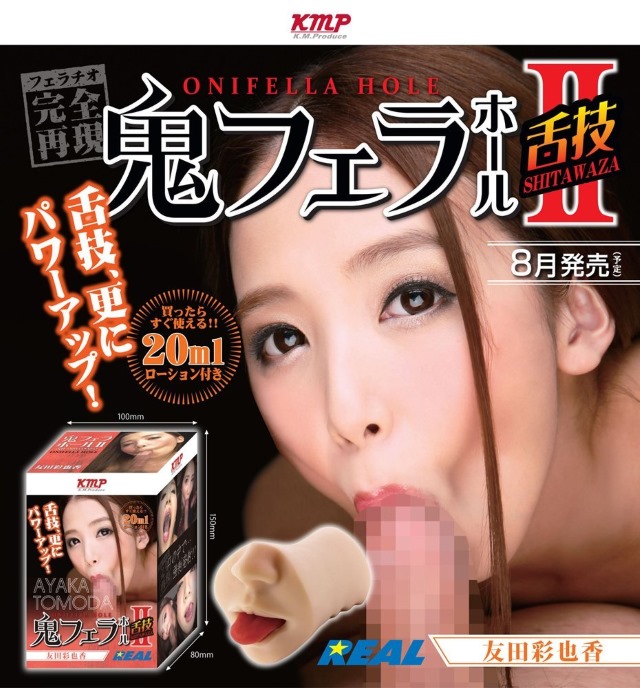 And shit man, personally the box art for Devil Blow Job II really does nothing. Ayaka Tomoda's in like maximum vacuum cleaner mode with ghoul-like hollow cheeks which freaks me out a bit.
But whatever, it's all about the blob of mouth rubber inside, so!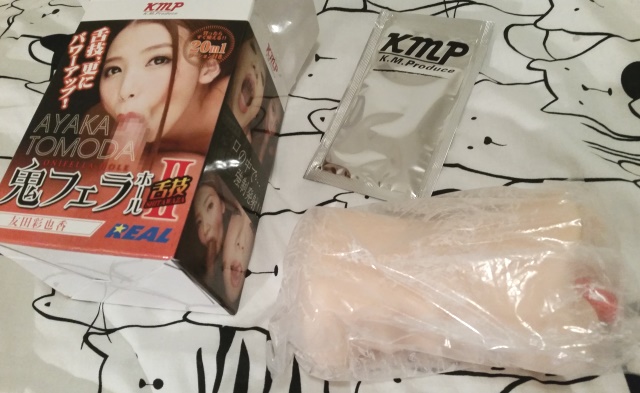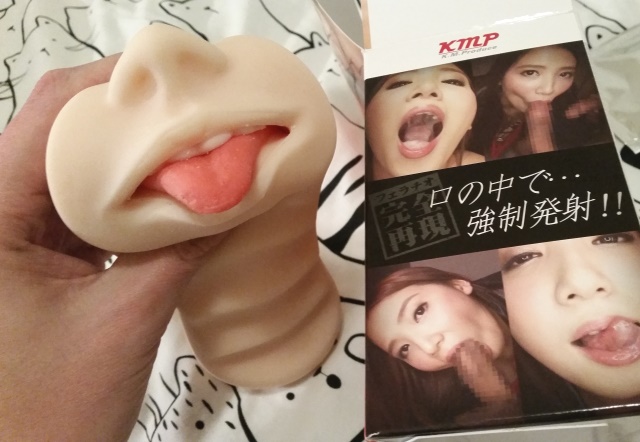 … Fuck me dead.
Admittedly Devil Blow Job II: Ayaka Tomoda has some cool things going for it, like grooves to get a better grip! On its uh, neck!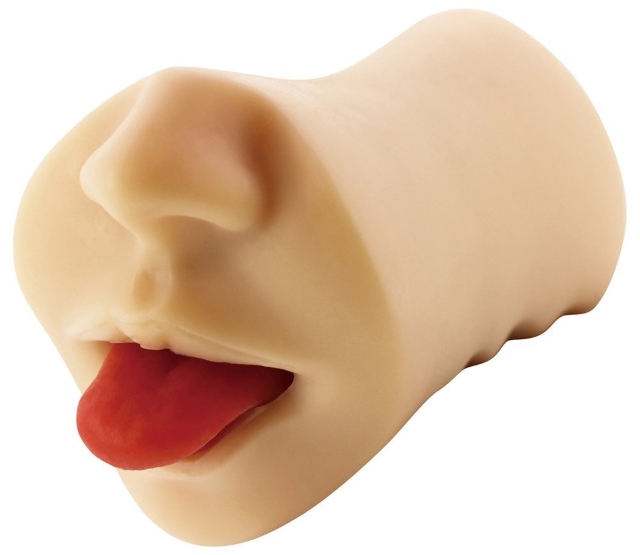 That bloody tongue though. It looks so ridiculous having it permanently poke out. Amazing. This is KMP catering to the niche fetish of getting a blowjob from Ayaka Tomoda after a bee stung her mouth.
Imagine she's there, awkwardly slurping away at your cock and suddenly you see Jerry Fuckin' Seinfeld appear, buzzing around the room dressed up as Barry from Bee Movie. He starts whinging about toothpaste, or how breadrolls get tough if you leave them out on the bench for too long – whatever the hell Jerry noticed during over the past day or so.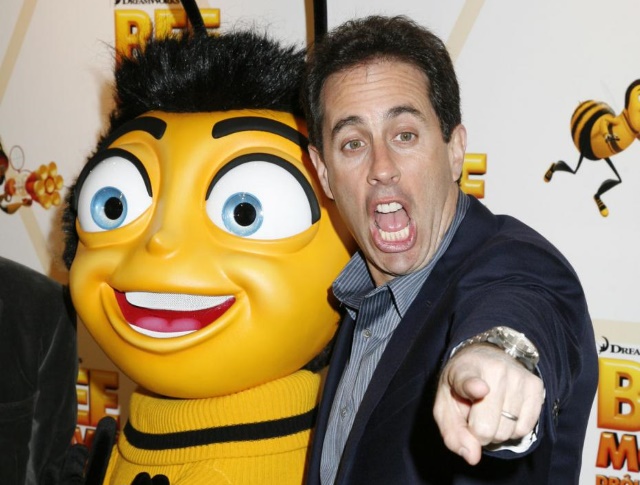 Suddenly the buzzing gets louder. It's clear Jerry has remembered something he saw this morning; a fresh inane event. He removes the Barry headpiece, unveiling his full Seinfeld Smile™ as your eyes meet. Jerry's lips purse.
"What's the deal wi-"
You cum harder than you've ever cum before.
Sadly, the actual experience with Devil Blow Job II: Ayaka Tomoda is much less erotic and/or terrifying.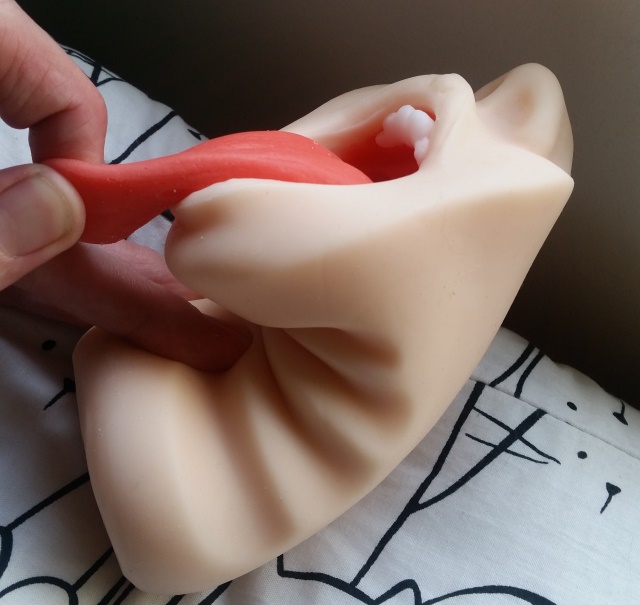 The onahole is quite small and a touch more flimsy than it should be. You could squeeze it up into a ball for ease of transportation.
Unlike say, La Bocca Della Vertia, the tongue on this is stuck to the tunnel's base at all times. It won't move around during use and has zero texture. Probably only good for foreplay or creating a Gene Simmons puppet. Both of those are linked.
Likewise, teeth are just for decoration here. They're made of the exact same material and add bugger all. Peeking inside however, it did look somewhat promising!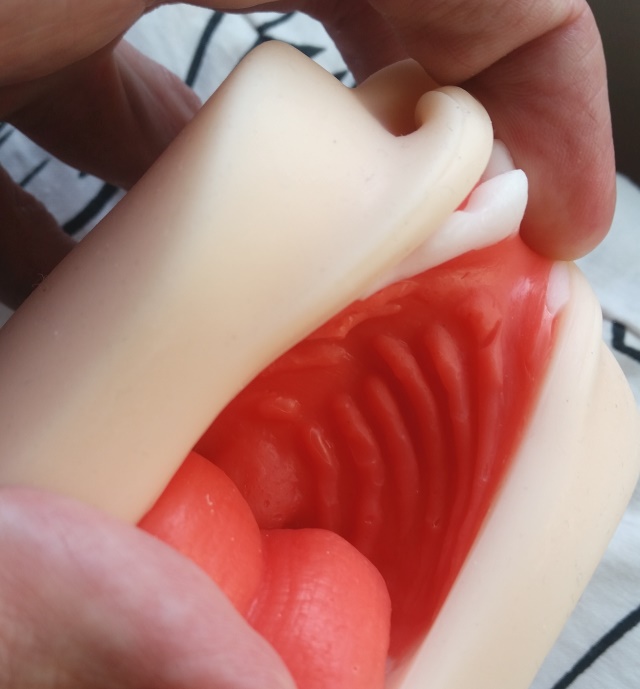 There's a detailed ribbed effect running along the roof of the mouth which I figured would be pretty great.
So I jammed my dick inside, and before I knew it I was already hitting the back of Devil Blow Job II's throat without a care in the world. To say the stimulation is mild would be an understatement – nothing stood out as I began thrusting.
It didn't feel anything like most of the other blowjob onaholes I've used. Even the worst of them tend to capture a very different sensation to a typical vagina/arse/ear. Devil Blow Job II could pass for anything except a mouth, basically.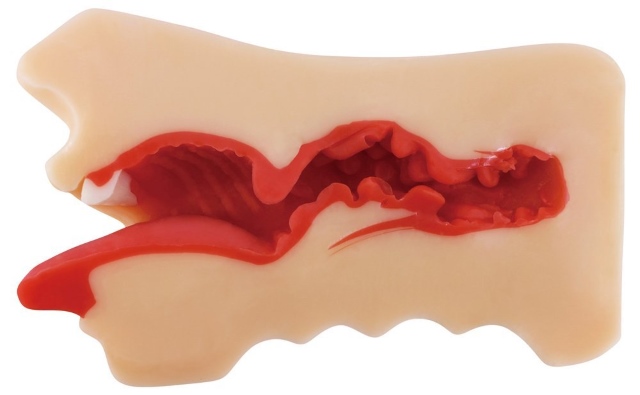 The main problem is the actual mouth part makes up a tiny amount of space in an already cramped tunnel. From there on you pass through a tight notch into the throat and basically stay there. While it feels cool to pump short motions like you're deepthroating a bag of gummy bears, there's a dull lack of feedback when going for longer strokes.
Perhaps the material needs to be tougher, because I really couldn't tell if the later half had any bumps or textures going on. Clearly it does, but during use everything just blends together as mush.
Here's a detailed video of Devil Blow Job II: Ayaka Tomoda in action.
Eh. I'm not a fan of this onahole at all. To be fair to KMP, the build quality is great and very accommodating (I get the feeling it'd be difficult to tear unless your penis is literally a jackhammer and you're masturbating on top of a nuke). It just feels so damn boring for a blowjob-style onahole.
And that's the worst crime of them all for a little rubber mouth.
Devil Blow Job II: Ayaka Tomoda
+ It looks pretty funny. Bring it to parties!
+ Easy to clean
– Putting that tongue to good use is surprisingly difficult
– Too small
– Bland stimulation to the point where trying to fantasize you're getting an actual blowjob while using this might cause a hemorrhage