Product: Ryosei Guyu Onapet Futanari
Manufacturer: Ism
Measurements: length – 15cm, weight – 300g
Retailers: otonaJP / J-List* / Otona-Sekai / Kanojo Toys*
Header image: Tomoyuki Kotani
– This product was provided by otonaJP for masturbation review purposes
– Retailers marked with * are affiliate links
Has it really been over a year since mankind witnessed its last major event? The launch of 2015's futanari themed onahole with a huge-ass dick floppin' about? Why yes, wow. Time flies when you're having… a fap, I guess. A year-long fap. In a bomb shelter.
But it's okay! Now we have Ryosei Guyu Onapet Futanari to cap off our current rotation around the Sun.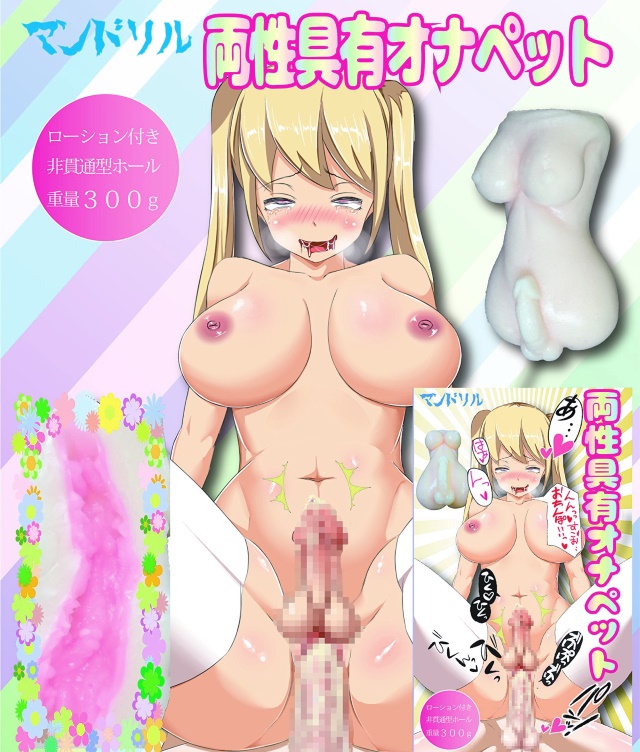 This one is from Ism (a smaller studio team within Outvision) who seemingly vanished just after getting started, so it's great to see they're still alive!
They've previously released stuff like a bodybuilder hole, a footjob hole and a fleshy-tube-of-tits hole. Slightly uncommon themes from a typical sex toy; casual topics you'd freely discuss with telemarketers to get your number taken off their list.
"… And then I saw a rotating wall of breasts violently stomp the crotches of onlookers as it pumped iron! Those nipples were ripped"
"Sir I am withdrawing my claim that you have won the national lottery, you did not. Good day"
*Click*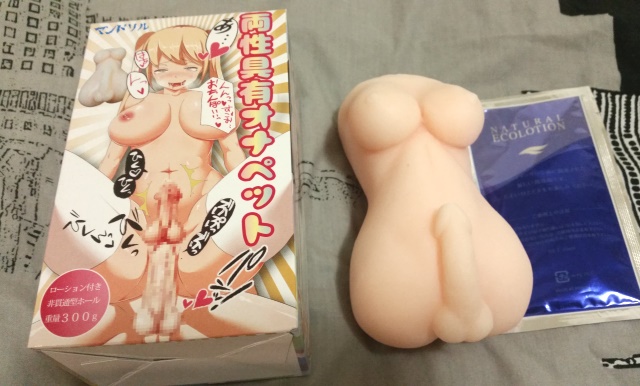 Ism's onaholes have typically been fairly low-budget 'no fuss' affairs and Ryosei Guyu Onapet Futanari's no exception. Straight away you'll get a whiff of greasy rubber (which thankfully fades pretty quick) and the onahole just looks… pretty cheap. Weird little air bubbles and other minor imperfections.
Nothing seriously worth sighing about though.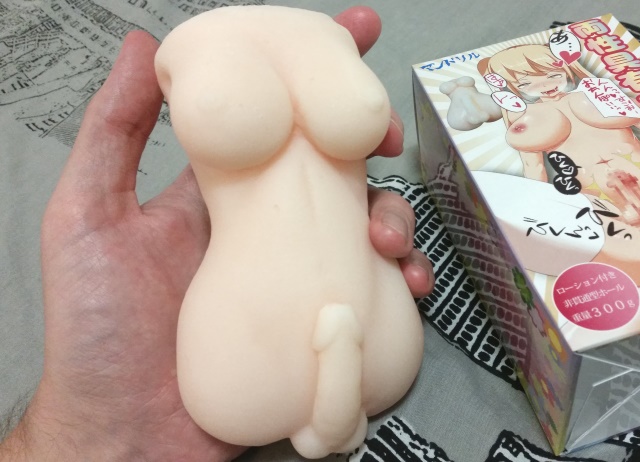 I think at this point you can tell how greasy an onahole is by how red my mincemeat fingers turn. Trying to take photos with this phone is a near-suicidal experience at the best of times, but damn the Galaxy S5 excels at capturing shiny skin veins.
Anyway the tits are nicely modeled and there's definitely a cock and balls. The whole gang's here.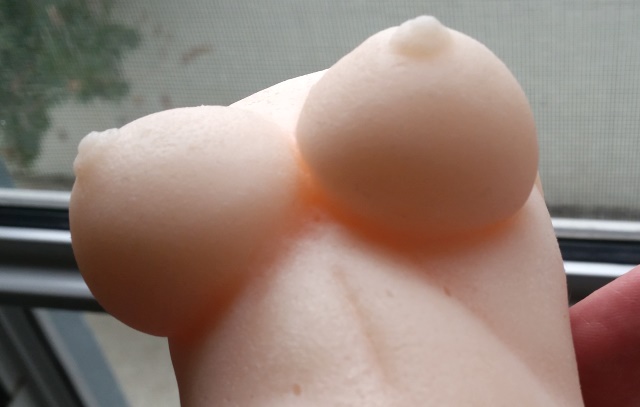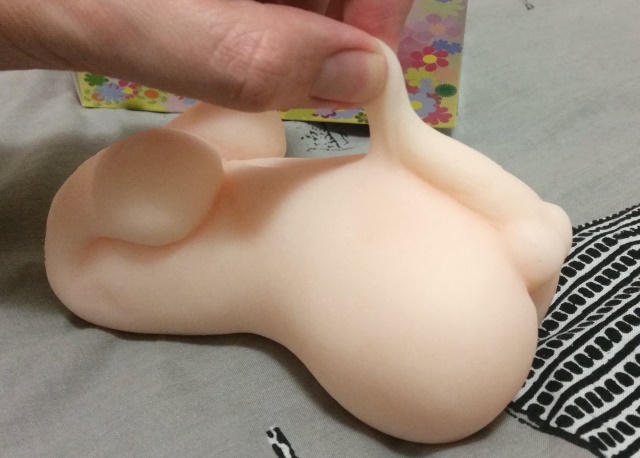 Ah. Have you ever been so hard your erection just went ahead and fused with your abdomen? Ryosei Guyu Onapet Futanari is. All the time.
Unlike Tamatoys' comically hung Futanari Musume Double Hole, the dick is on here is for looks only. Well I mean, Tamatoys' one let you try to fuck its poor urethra, but that size had the added benefit of an out-of-control rubber shaft slapping around the joint during masturbation.
Here they are side-by-side for the hell of it.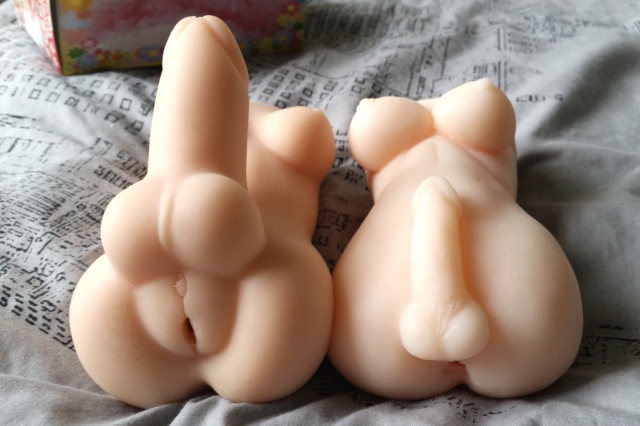 And here's the exact same photo from a different perspective.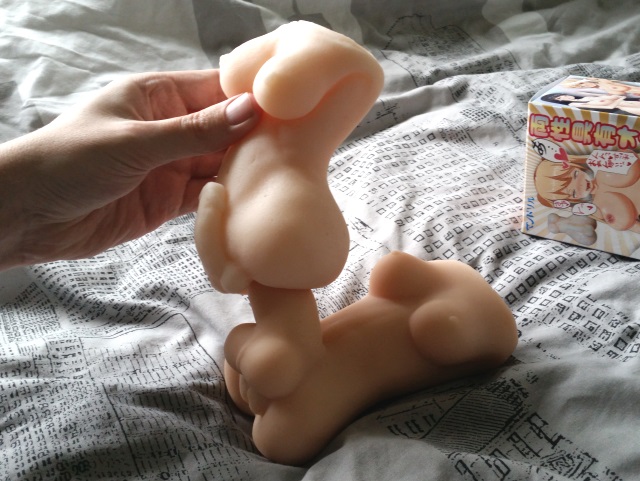 But enough comparisons, let's get back to getting inside Ryosei Guyu Onapet Futanari.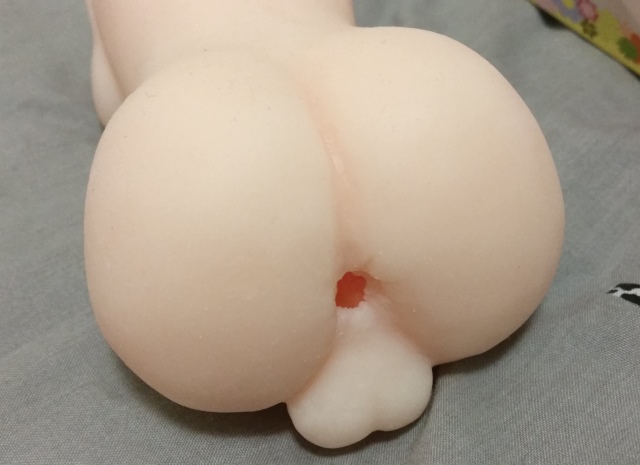 Is this supposed to be a vagina or an arse? Whatever, it's a hole of some sort. Use your imagination.
After some initial resistance getting into that nostril, I was surprised how light and fluffy it all feels inside. At first the walls grip on quite a bit and do a nice job massaging your head, but for the most part it's smooth sailing. Very easy to just thrust straight in and go at it how you please.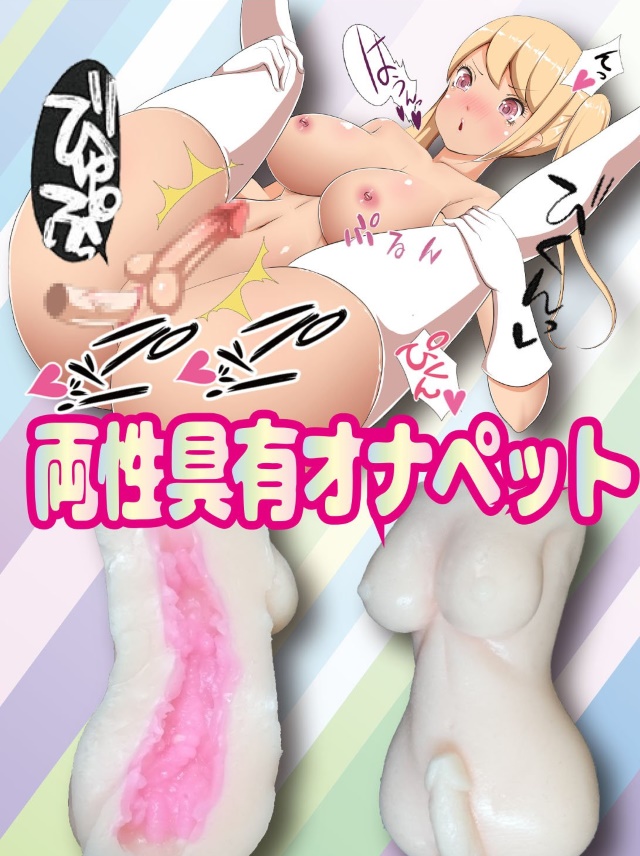 The textures seem detailed while stimulation remains fairly mild. No sharp surprises or crushing tightness here; totally different from some of Ism's other onaholes which set out on a quest to harvest human skin.
I dunno, it's basic to the point where I can't really expand upon any details. I hate the term 'gets the job done', but it… does? Once I almost fell asleep with it still on my dick because I wanked at like 3am and cumming whilst that sleepy apparently drains my remaining ability to function.
The Facebook statuses Facebook doesn't want you to see!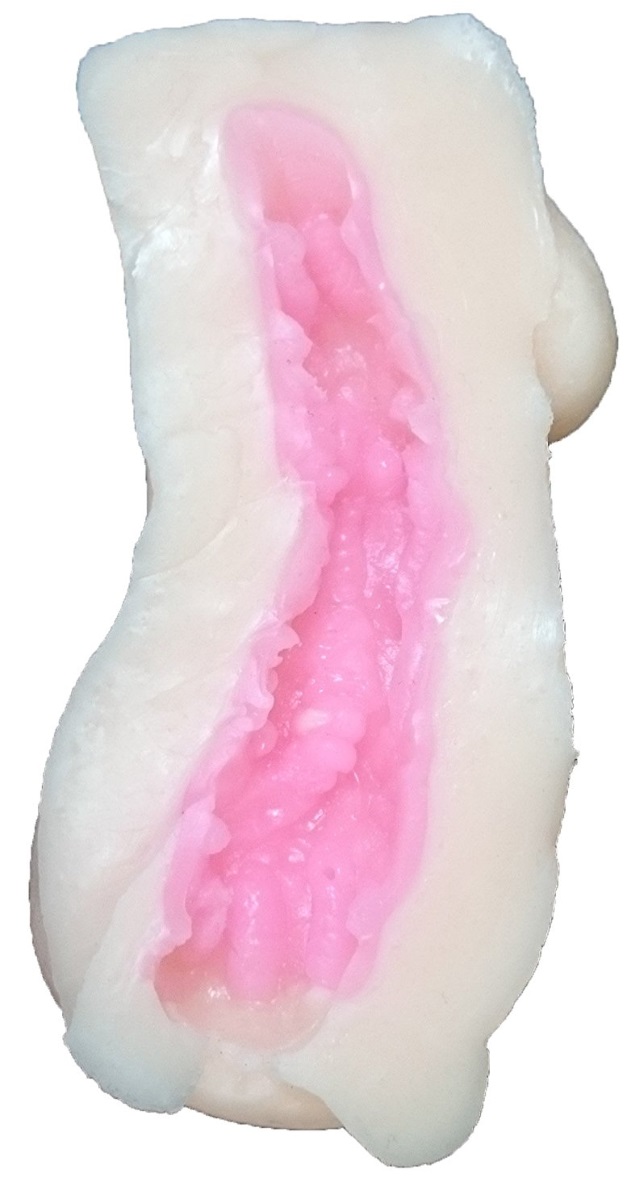 Eh. There's enough variety inside to keep your whole shaft entertained, and on the outside you can thumb the breasts or dick or whatever like you're trying to drunk text.
My only real complaint is it can sound a tad sloppy at times. It's not that loud in general, but occasionally there's a random thrust which might give the illusion you've just farted in a tub of yogurt.
Be wary if you've got thin walls or if you live with someone who is obsessed with yogurt and could wake up the second they suspect you're tampering with their dairy products.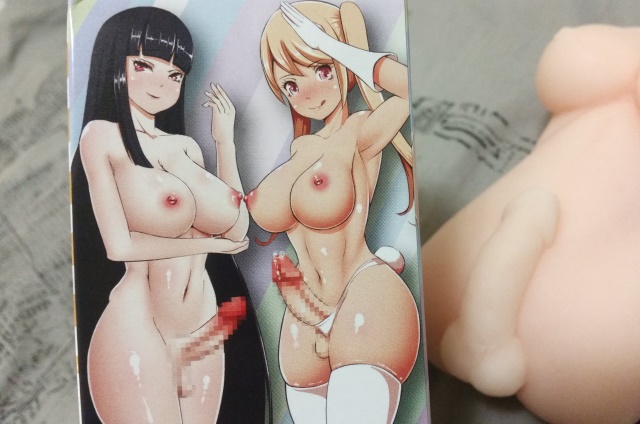 But yeah, Ryosei Guyu Onapet Futanari is decent. Not bad, not great. It feels nice enough, the material is incredibly flexible and cleaning this onahole is a total breeze.
With there now being a whopping two futanari onaholes on the market, I'd still go with Tamatoys' effort over this one purely for its visual aspect alone. Both feel similar inside. Whichever one takes your fancy.
Ryosei Guyu Onapet Futanari
+ Durable and very stretchy
+ Pretty good stimulation all-round, nothing mind-blowing but it'll certainly get something blowing if you know what I mean ehuehuehujkljl;kkl
+ Easy to wash out and dry
– Why is the dick firmly attached to the stomach
– Can get a bit too loud at times
– Might lack that certain 'punch' in feedback for some folks