– This product was provided by J-List for masturbation review purposes
– All J-List links used within are affiliate links
If you've ever been on the internet, chances are you've probably seen someone unboxing a fancy thing of monthly themed goods. Anything from Japanese candy and retro games, to whatever gunk Loot Crate scrapes off the bottom of their shoe.
It's easy to see why this concept exploded in popularity; especially with all the import food stuff. But there's something more crucial to survival than food and even the air contained within its packaging. Where are the sex toys at?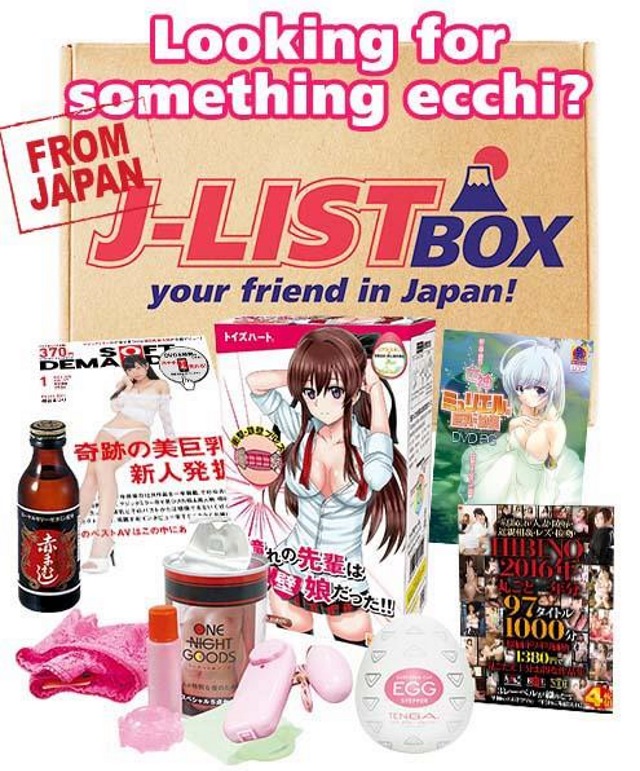 Well shit, it turns out J-List has been doing exactly this for bloody ages now. I knew they had the snack boxes, but legitimately had no idea they did the same thing with adult stuff. Clearly I myself have never been on the internet.
But yeah, each month they'll open up pre-orders for a new J-List Adult Box with a list of contents and then ship 'em out in time for each… month. Did you like that sentence? It was pretty good. Looking at some of the previous Adult Box releases, it seems like you're guaranteed to get one (good) onahole and enough porn to line the shelves of an abandoned Blockbuster. Everything else seems a bit random.
So after I did a bit of e-begging, J-List were more than happy to send me the upcoming February edition to check out. Thanks guys!
So what's $69 (ehuehue) get you, then?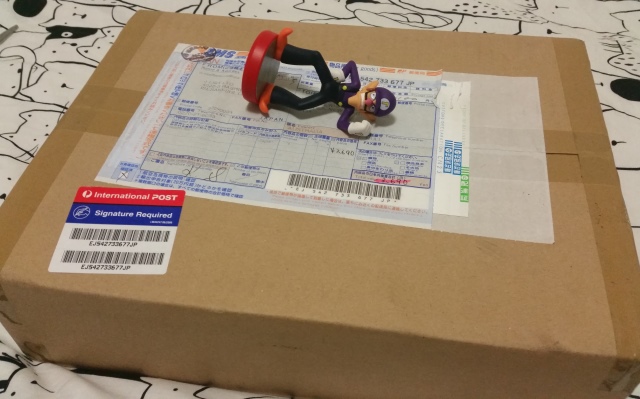 First up unlike the regular J-List Box, the Adult Box ships in plain packaging. Which is smart, because it'll prevent the postman from opening it up expecting to grab a handful of kawaii sugar blastin' gummy-chan candies or whatever. The customs slip lists the contents as 'health items'.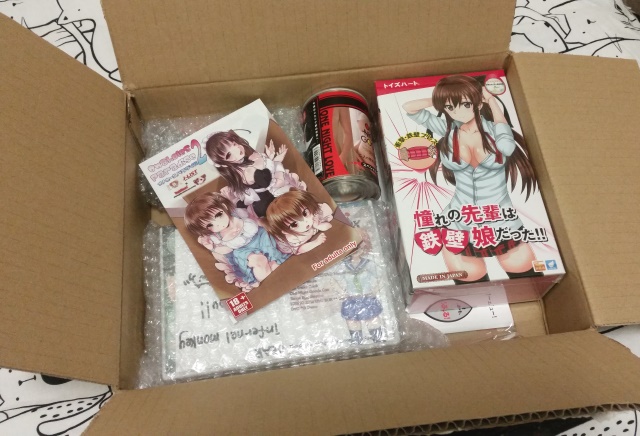 Oh wow, kinda surreal seeing a copy of Onaholes Paradise 2 sittin' there, what with it having links to some of my reviews inside. ヽ(〃・ω・)ノ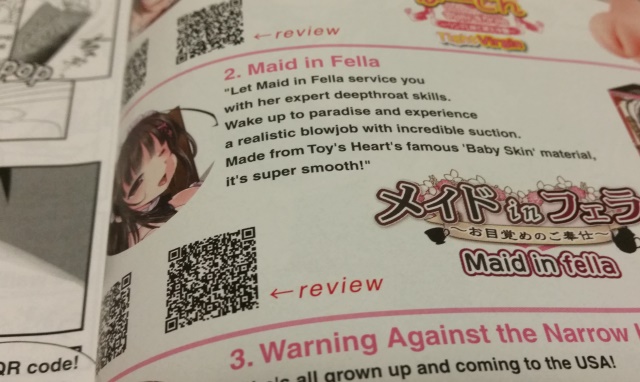 Only '90s kids remember QR codes.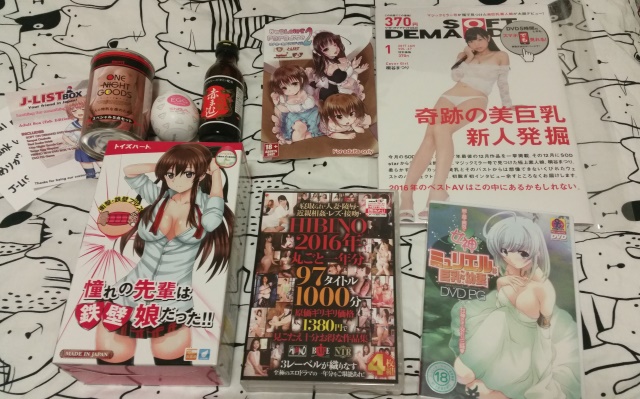 Everything at a glance.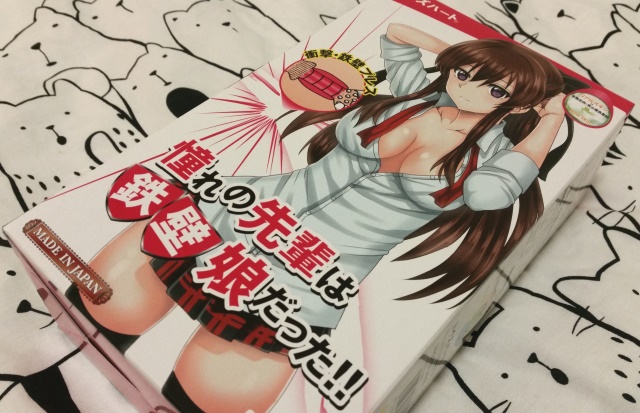 Here's the big ticket item, and holy shit. This onahole has the super catchy name Senpai who I look up to was a pretty barriered girl, but this is like, the newest product from Toy's Heart. It only just launched in Japan a few weeks ago. Impressive to see it included here.
I'll do a full review eventually, but I had a wank with it last night and it felt great. Also pretty um, challenging?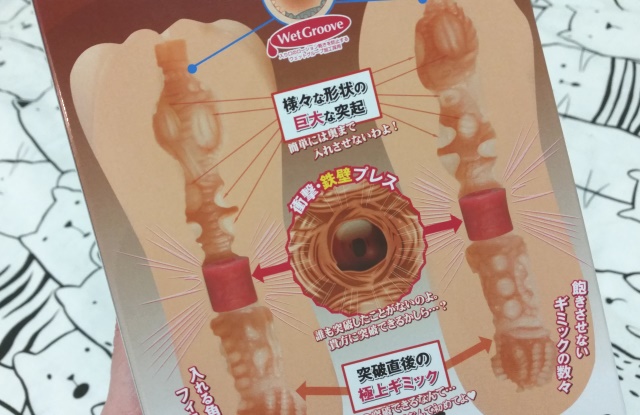 Yeah, that's a plastic ring inside. Just like a real anime girl's vagina. Toy's Heart have officially dubbed it the 'barrier press' to enter 'uterus zone'. Straight up Sonic fanfiction material.
You've really gotta hold on tight to stay in the second half, otherwise it squeezes you right back out.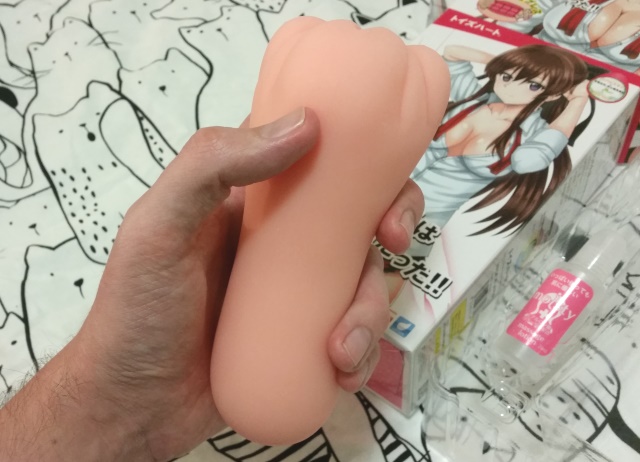 Good start then. Not sure what J-List will charge for that onahole by itself, but I can easily see it being around half the Adult Box's total amount.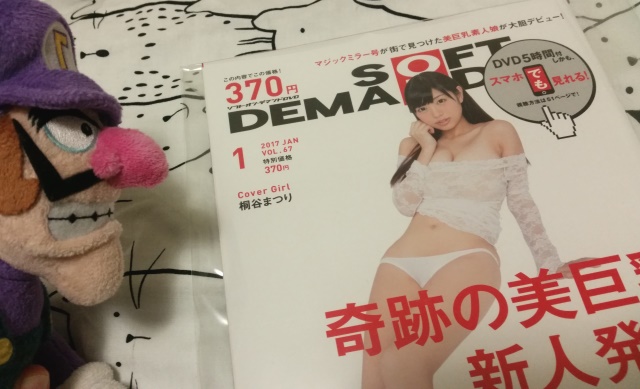 Next up, we've got the January 2017 issue of Soft on Demand. It's full of interesting articles for sure.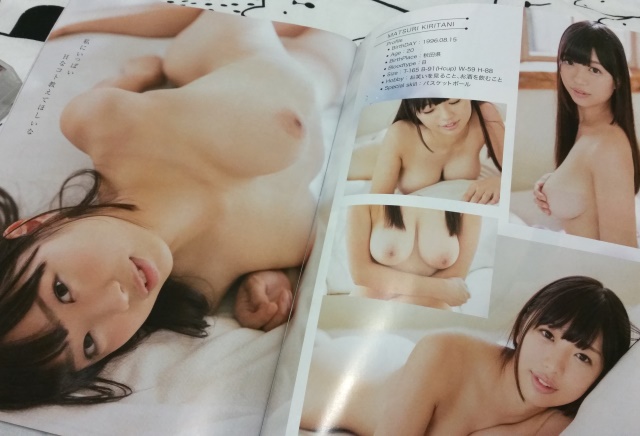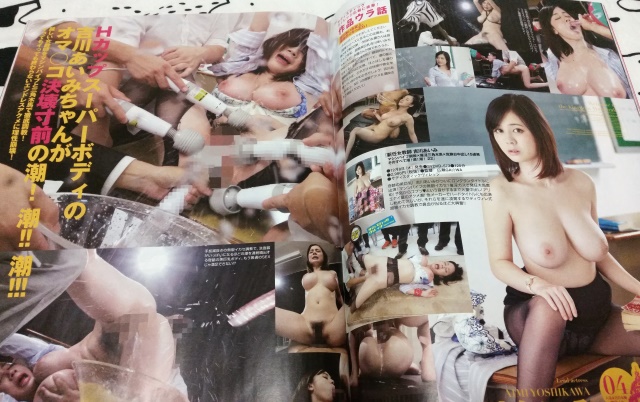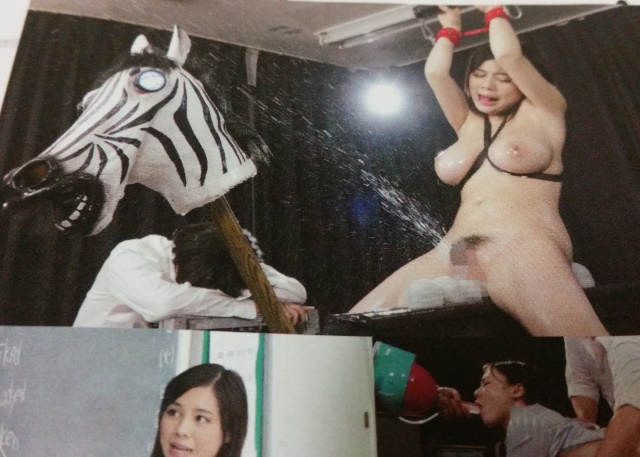 Oh, good. That's my fetish.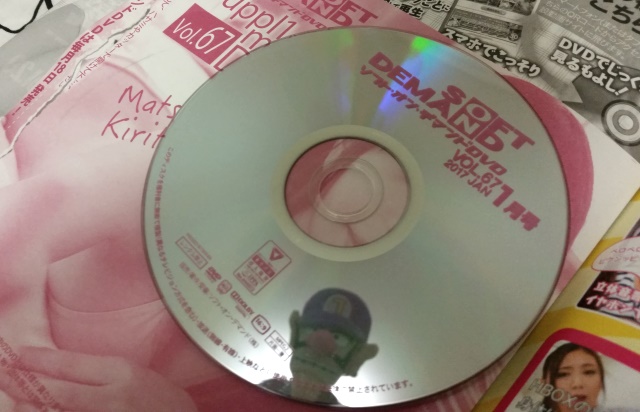 The mag also includes a (region free) DVD showcasing some of Matsuri Kiritani's handy(job) work. Each video is about a minute or two each – just one big advert to buy the full movies. I've always wondered why a porn company was called 'Soft on Demand', but watching someone running around a heavily pixelated library sure got my penis going to sleep.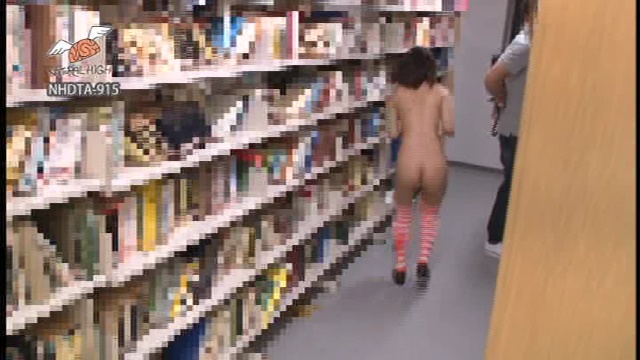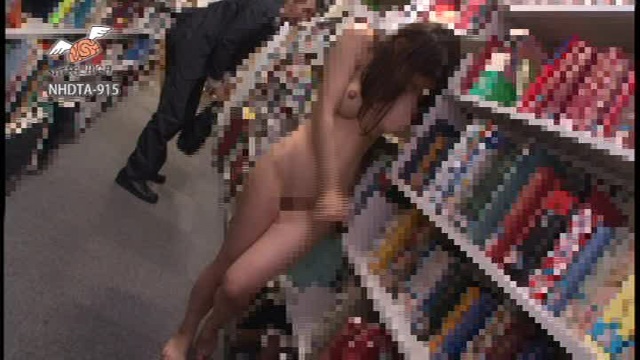 Clearly this is an important life lesson that removing your clothes will in fact not stop a library from being Mode 7'd out of existence.
But that's fine, as the Adult Box also includes this…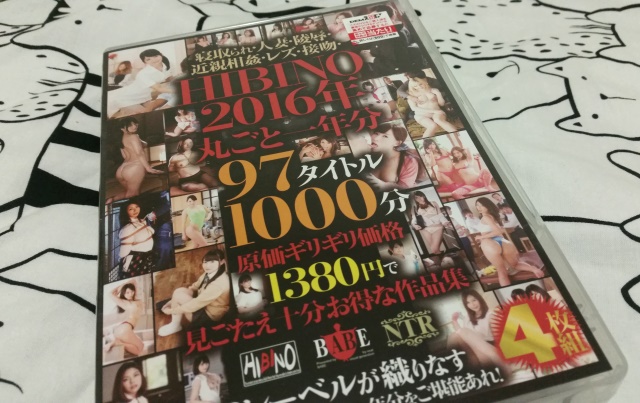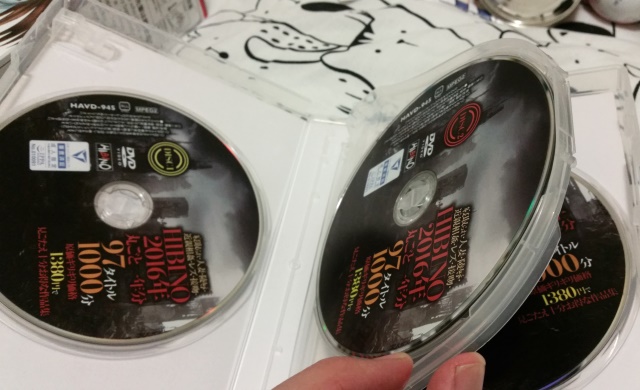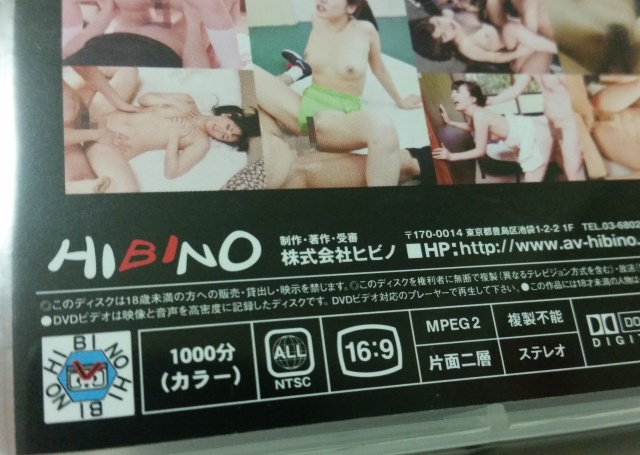 ONE THOUSAND FUCKING MINUTES OF FUCKING. An absolutely absurd four-disc DVD set of full length scenes. I've only skimmed through the first disc, but it already had everything I'd expect.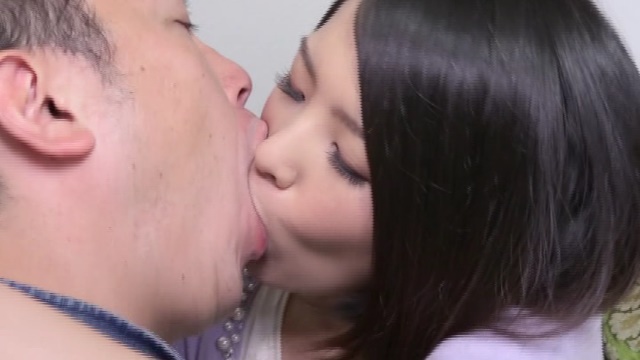 Dude trying to suck a girl's face right off ✓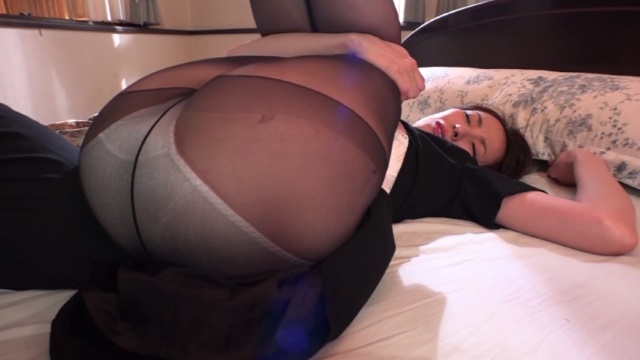 Girl who stopped giving a shit several hours ago and just wants to go home ✓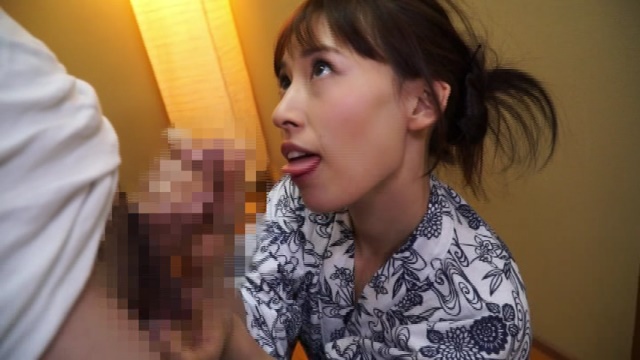 Minecraft cosplay ✓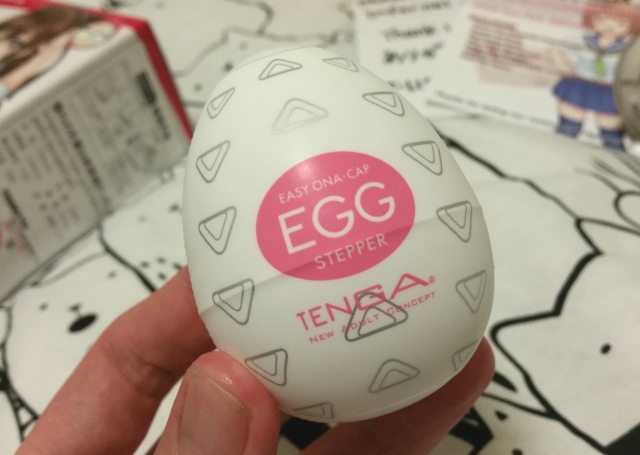 Hey, a Tenga Egg. That's a no brainer. I imagine one of these get chucked in each month's Adult Box. You'll typically only get a single toss from Tenga Eggs, but as far as disposable onaholes go you could do much worse. So… so much worse. I still shudder at all the foam cups I've jammed my dick in.
Haven't tried this 'Stepper' version yet, but it's probably cool.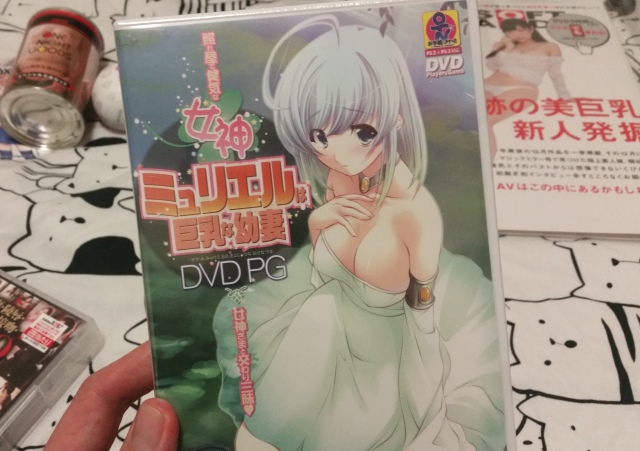 And a uh, visual novel that plays in any standard DVD player. It looks ancient (the back of the box proudly proclaims it'll work on PlayStation 2) and the entire thing's in Japanese only, no English.
If you're completely desperate there's a CG gallery from the main menu, so you don't even need to fast forward through the game to see them!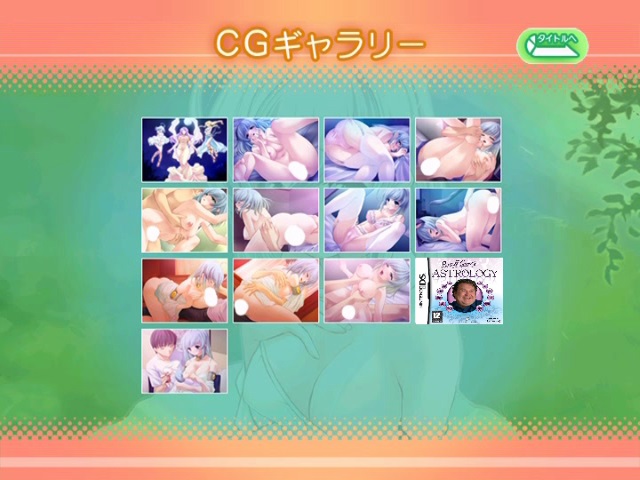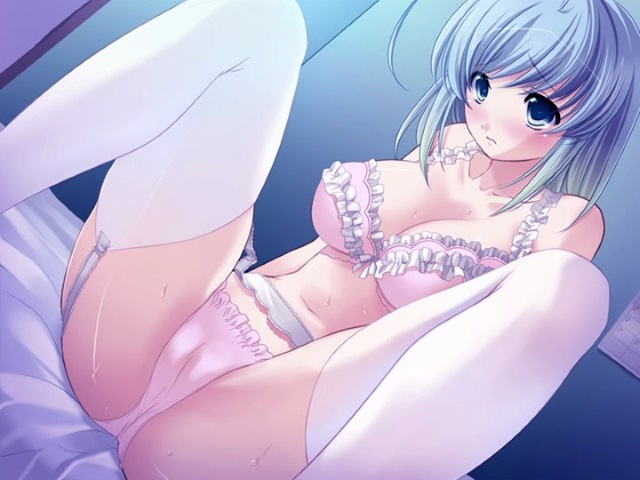 But yeah, bit of a dud item here. Oh well.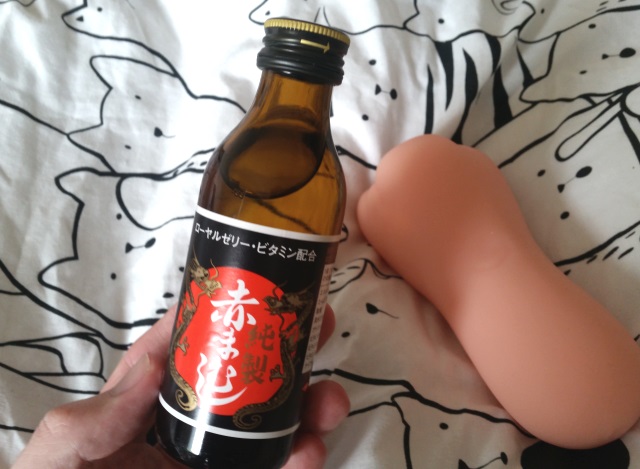 Need a pick me up before you settle in for a round of jerkin' into rubber dick sleeves? Whew, get some of this 'red snack drink' into ya. It's a plain 'ol energy drink with an adult spin on it essentially. Bit like Tenga's recent Men's Charge drink. Except nowhere near as terrible.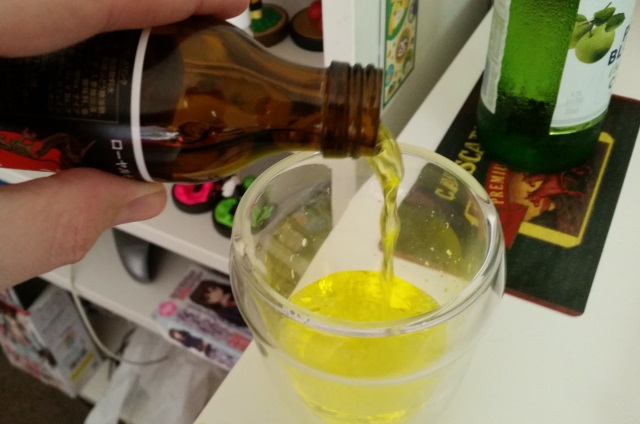 Sure it looks like radioactive death, but it has a nice sweet taste. That's the only thing that matters once your heart stops. Not sure if I noticed any Popeye arm effects for my dick though, as I moved onto beer straight after.
And finally, the most amusing addition to the J-List Adult Box! Sex toys in a can.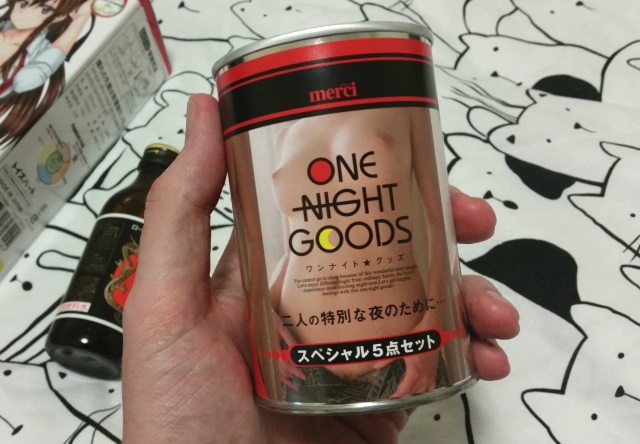 Sex toys in a can. Why. Who thought 'hey I know what'd be good inside a can, it's sex toys' before proceeding to empty a tin of spaghetti on the floor to make room? Because they're a legend.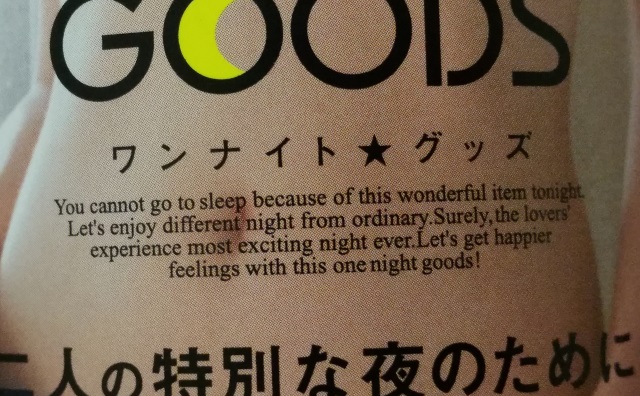 Peel back the lid and you'll find a surprising amount of stuff packed in there.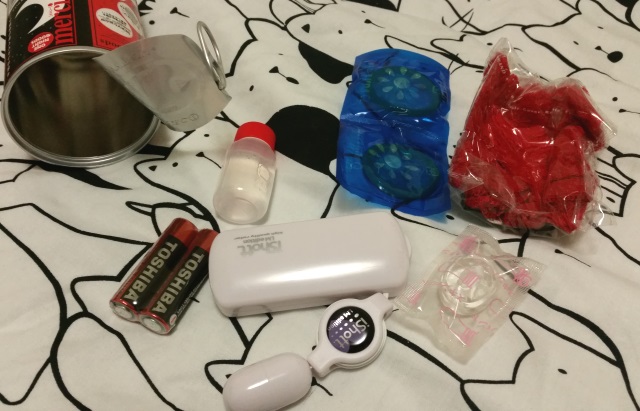 Jesus. The can of One Night Goods has two condoms, a small bottle of lube, a pair of panties, a vibrator (with batteries) and a cock ring which may or may not snap after a few minutes. Everything you could ever want for any short-lived situation.
Get yourself a pair of googly eyes and you've got yourself an extra good time.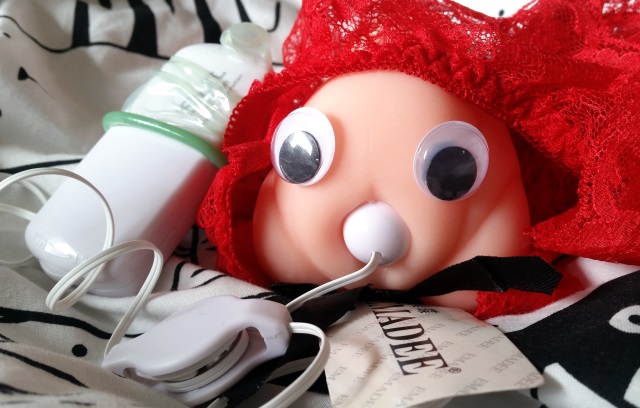 Overall I love the concept behind J-List's whole Adult Box thing (still can't believe I didn't even know it existed until a week ago). Honestly though, February's edition feels like a tough sell at $69 (plus shipping).
While the inclusion of Senpai who I look up to was a pretty barriered girl (the onahole) is amazing, that's basically the only thing worth sticking around for. The Japanese language DVD game and energy drink especially seem like total throwaway items.
1,000 minutes of vanilla sex porn is cool too, until you realise all your kinks exist purely in 2D form and in plentiful supply online and help I am having a one-third-life crisis.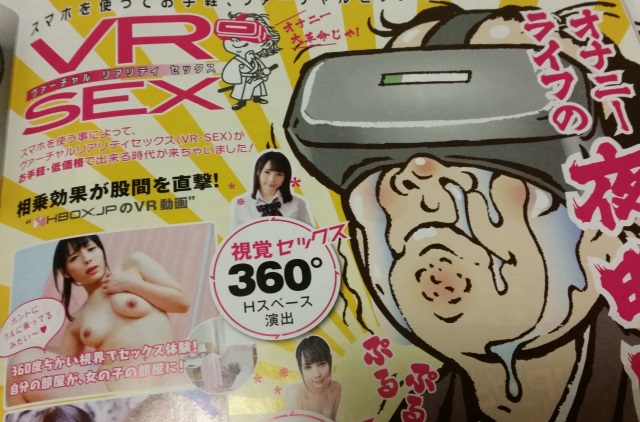 The adverts in Soft on Demand are great.
Ah well, suppose that's expected with a monthly box of things. Gonna get good stuff and not so good stuff. It really makes you think.
If you like what you see in this edition of the J-List Adult Box – or think it'd be funny to surprise friends and family with sex toys in a can – you can pre-order it here. Save 5% by using the coupon code MOE-Q30-JP6VAK. You deserve it.