– This product was provided by J-List for masturbation review purposes
– All J-List links used within are affiliate links
Following last month's word-jumble of commenting on things unboxed from a box (some of which were inside smaller boxes for double the unboxing box-like action), it looks like this might be an ongoing monthly feature thing now! Because here I am with the March edition of J-List's Adult Box.
It's the future, today!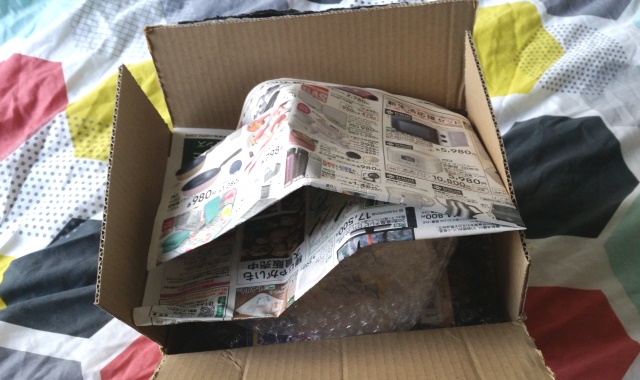 To begin with, the March edition is ten bucks more than last month's. At $79 USD it's enough to make any wallet give birth to tumbleweeds, but I'm happy to say they've noticeably boosted the quality of included goods to make up for it.
You can immediately tell by the fact there's some newspaper packing! That's literally seconds worth of entertainment alone.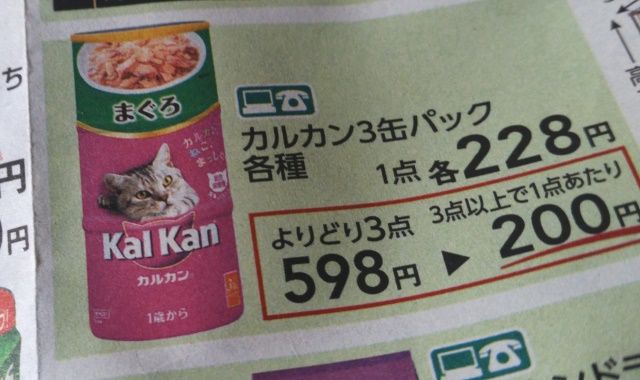 Wait wait wait, Kal Kan? Whiskas is known as KAL KAN in Japan? Why isn't there a browser game about this, where girls turn into tins of cat food and do battle in the supermarket.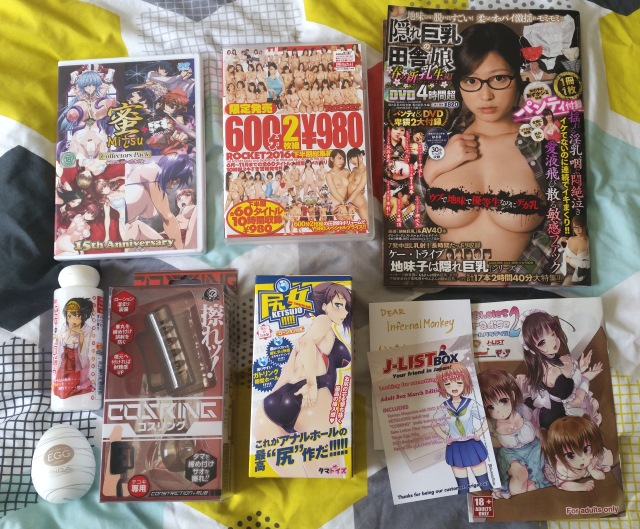 Here's everything included ('cept the little card saying 'Dear Infernal Monkey', I can't guarantee every box will include that).
And whoa, it's Tamatoys' onahole parody of 2016's top butt-battle anime series, Keijo!!!!!!!!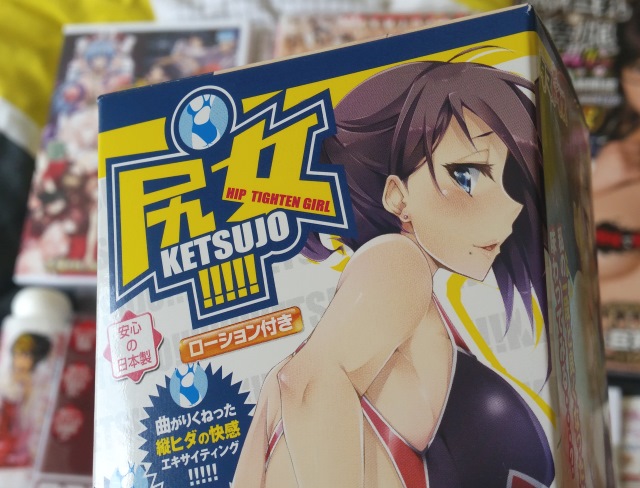 Yep, Ketsujo!!!!! Hip Tighten Girl. See, the name is slightly different and there are less exclamation marks. Original character do not steal. Again, I'm impressed the Adult Box is including such a recent onahole. Ketsujo!!!!! only just came out about three weeks ago.
Don't tell Kotaku about it though.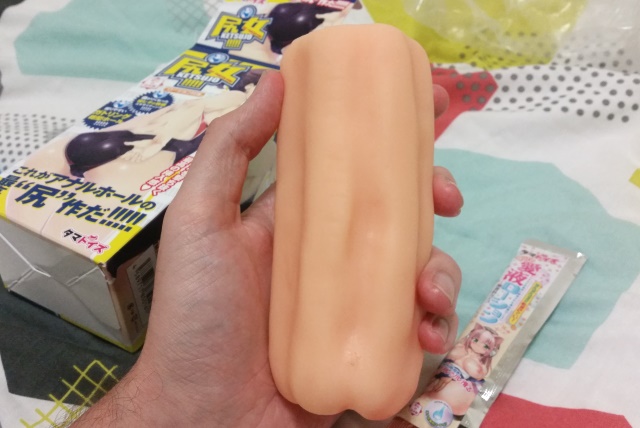 Mmmm, nothing gets me harder than an onahole which looks like a thick-ass slab of cinnamon churro.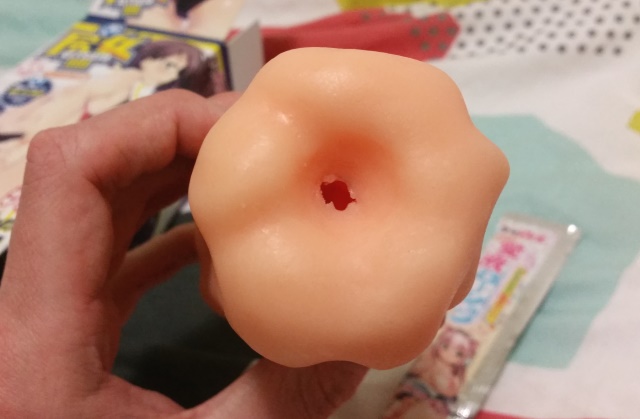 At the time of writing I've only stuck my dick in Ketsujo!!!!! once. It was okaaaay. Nothing really stood out, but the material itself feels quite tough – like it'd last a while. That's always nice for a Tamatoys onahole. No chance of melting.
If anything, Ketsujo!!!!! might be a good 'first-time' onahole, which is probably perfect for a casual monthly box thing like this.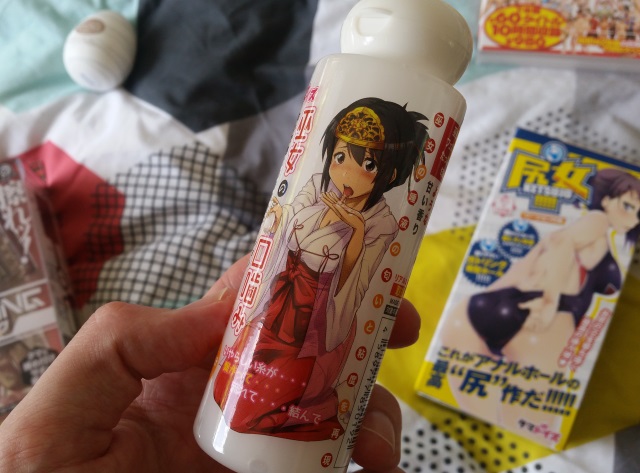 Then to go with your onahole, there's a full bottle of Tamatoys' Sake Lotion lube. Apparently this is a parody of the Your Name movie? No clue on that one, I think I'm the only person on Earth who hasn't seen it.
Does… does the movie revolve around a girl spitting out cum? Because man.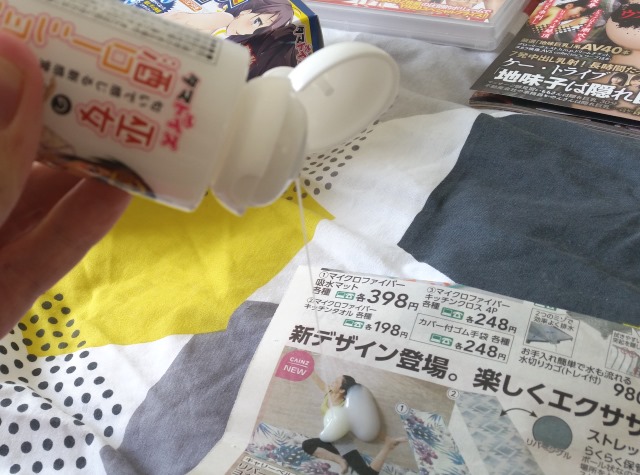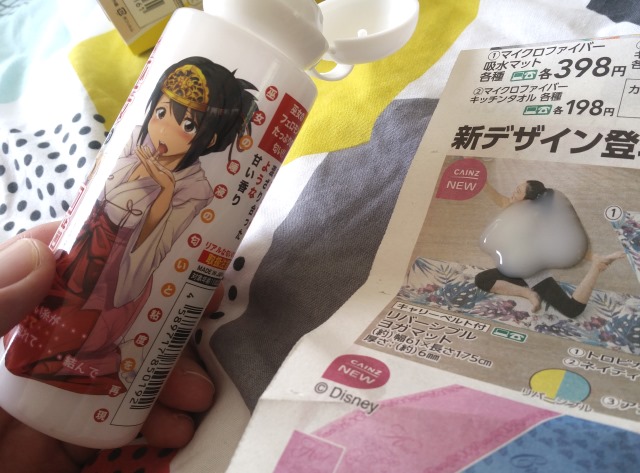 That's a bottle of bukkake alright. Nah but really, the lube is excellent. Tamatoys usually do a nice job with lube and this is no different. It even smells like shampoo which is probably a bonus for… someone out there?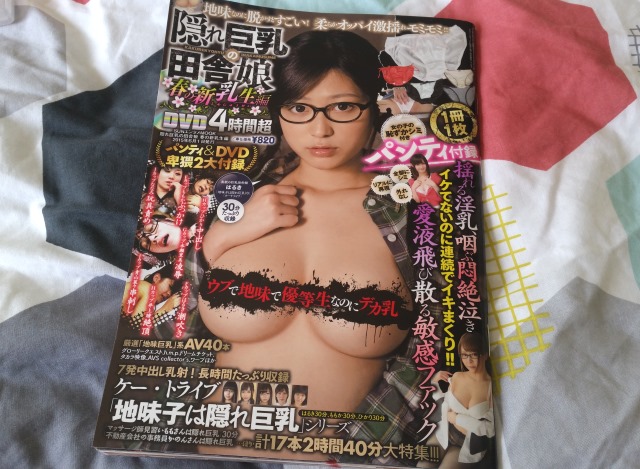 Hoooo ho-ho, wew. Unlike February's Adult Box which came with the current issue of Soft on Demand, March includes an infinitely more interesting copy of Kyonyu magazine. As far as I can tell this is an older back issue, but whatever.
Kyonyu is full of very large articles.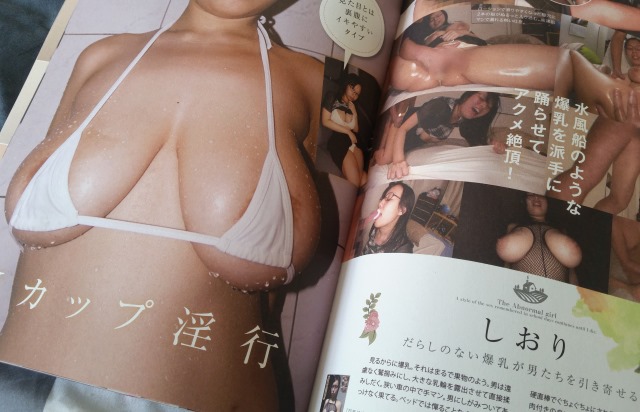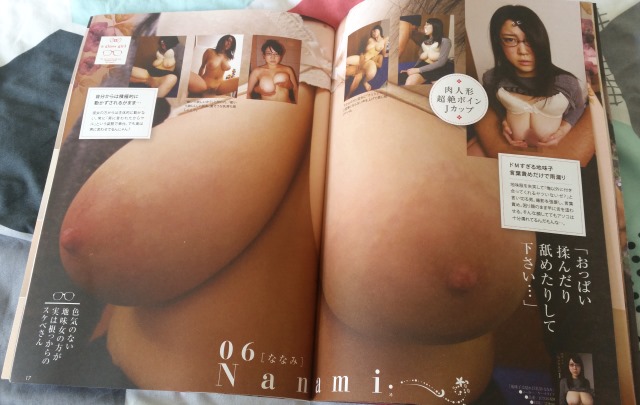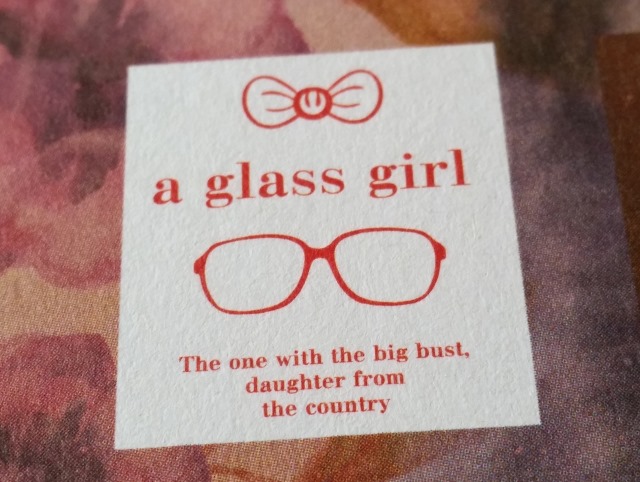 I see, I see.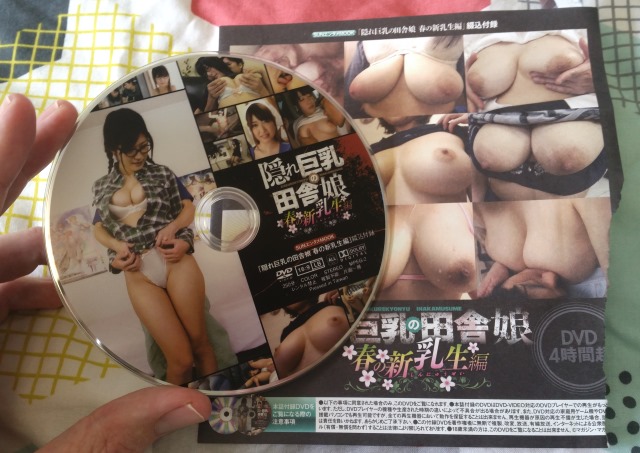 The magazine includes a DVD which you can try to carefully tear out. Good luck. It has like four hours of sex scenes, the most exciting of which features some sorta Love Plus merchandise in the background.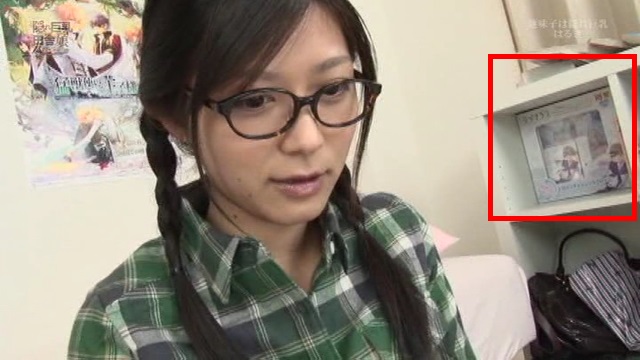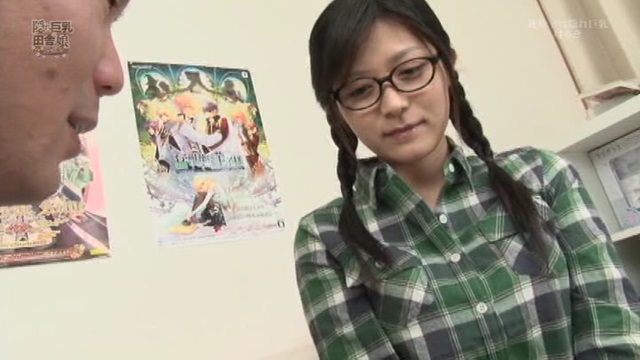 "I like your Love Plus clock or whatever it is, lol"
"Oh sensei… I can't take it any longer, fuck me like my name's Konami"
But the magazine isn't even over yet! Flick to the middle of it and there's a pair of 'used' panties.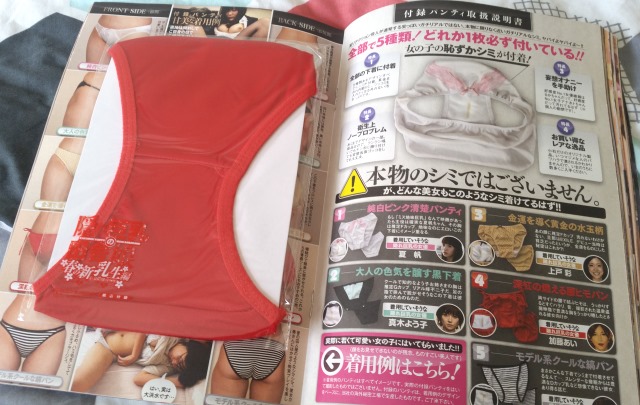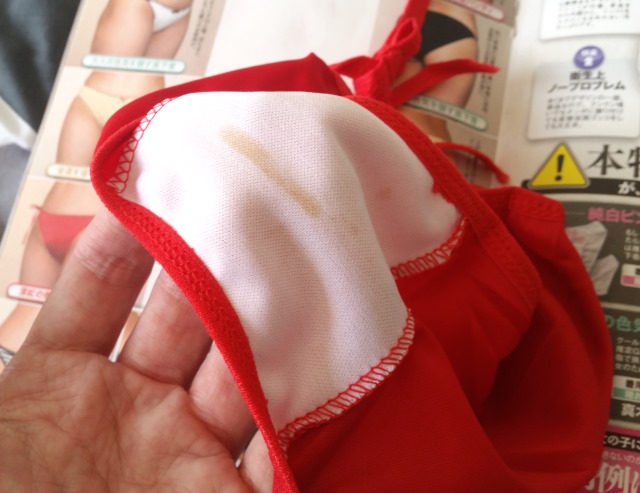 Ahaha, oh no. Just think, some poor employee probably spent all day spilling coffee on 50,000 undies.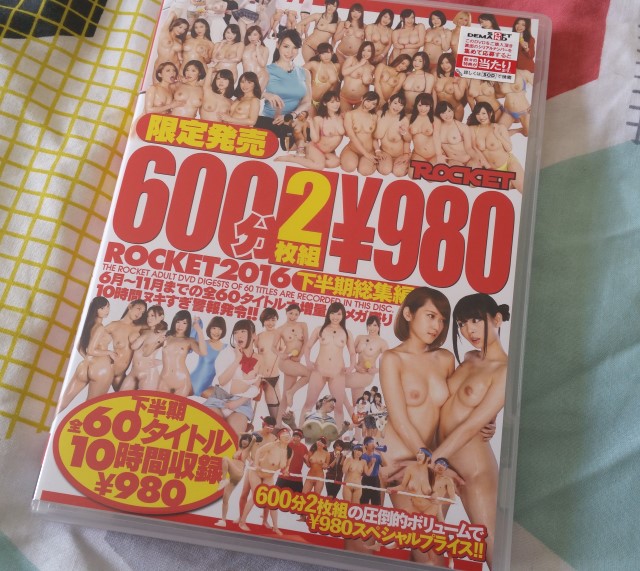 Next up there's a two-disc DVD set featuring full clips from Rocket's best porn titles of 2016. That was a sentence, I'm sure of it. Ten hours in total. The DVDs are region free and holy fuck the sheer amount of variety on here is hilarious.
I've only skimmed through the first disc so far, but jeeeessssuuuuus. It throws you right into the deep end.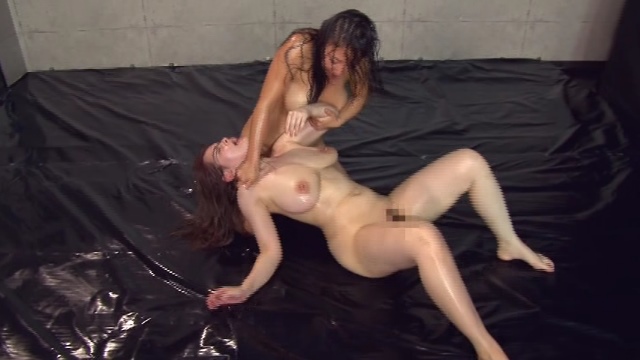 This is about 30 seconds in. I was like 'oh yeah sexy oil wrestling, where's my dick at'.
But nah, these two are out to straight up kill each other.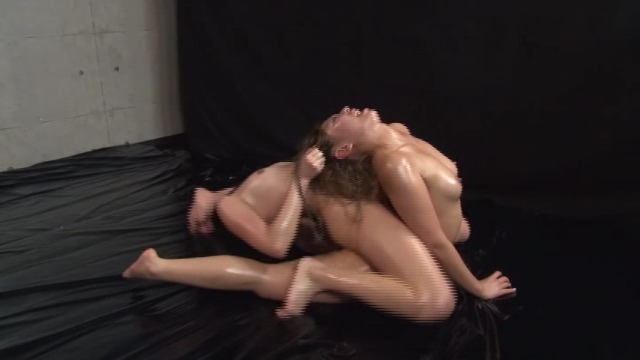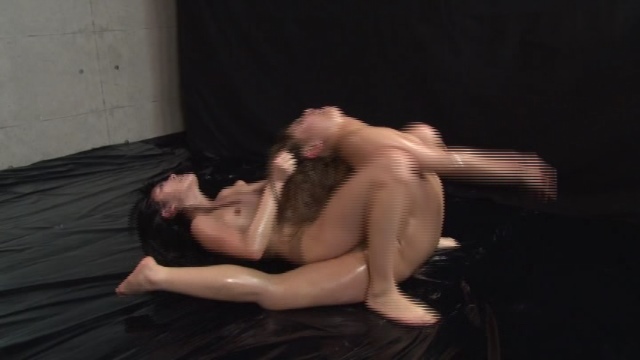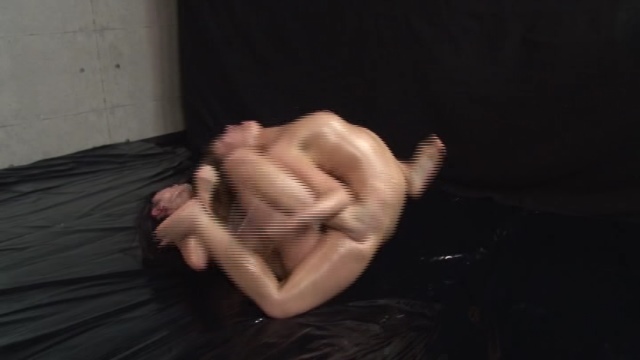 Yooooooo, spines.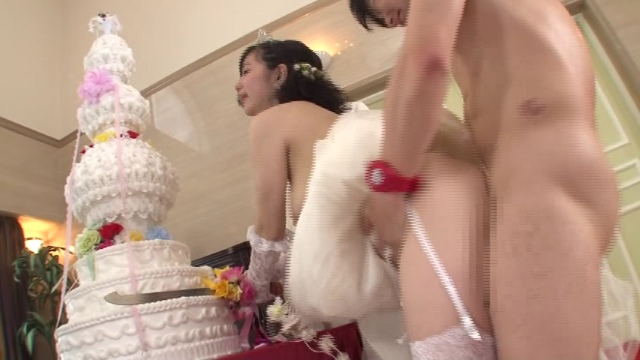 Then you get a scene where a bride is about to cut through the wedding cake, but she suddenly gets fucked by several dudes and tries to keep the knife steady the entire time. W-why what.
She's really good at it too; the cake remains in perfect condition by the end. I've just spoiled the movie, but so many questions remain.
Time for the sports headlines!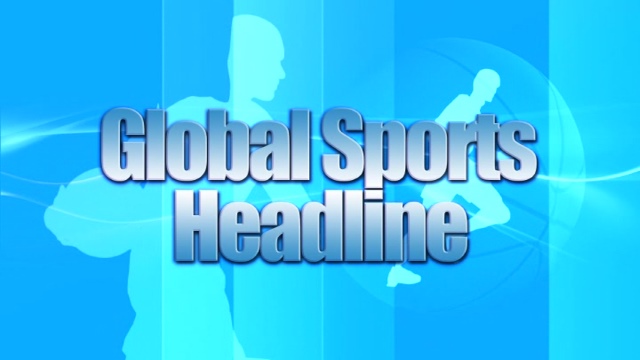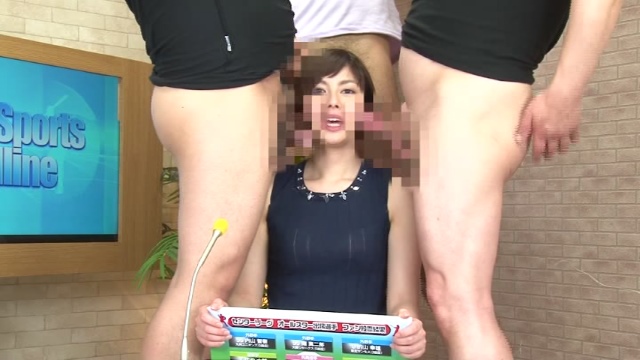 Ah.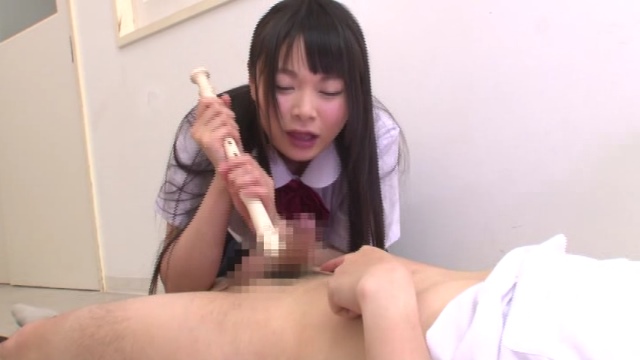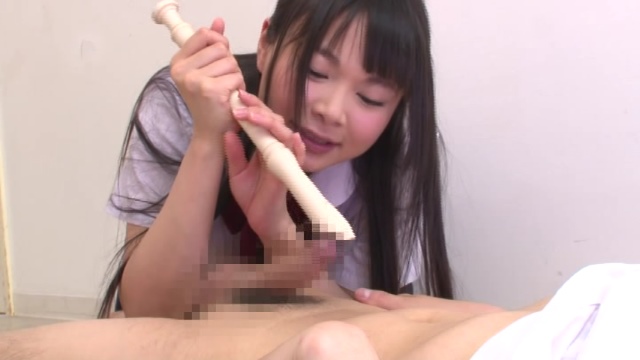 You know, we all have our kinks. I just think it's nice that 'girl stabbing dick with a recorder' is there to remind us that whatever it is we get off to, it's not going to top that.
But yeah, the DVD is amazing.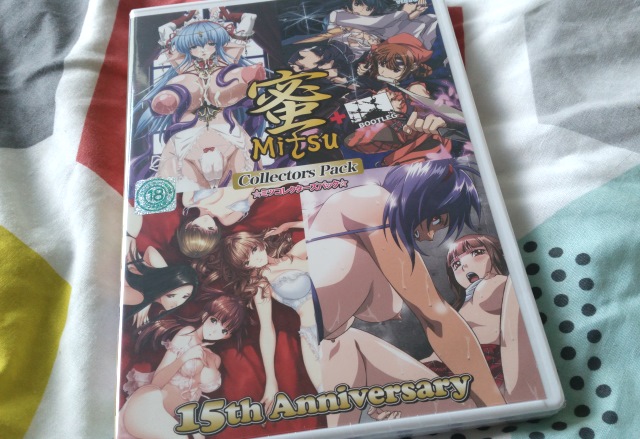 There's another DVD set too – this one has four hentai flicks. Unfortunately the discs are region locked, and I couldn't be stuffed finding a workaround on my laptop. I'm sure they're fine. One of them is called Ball Buster.
Maybe not that one.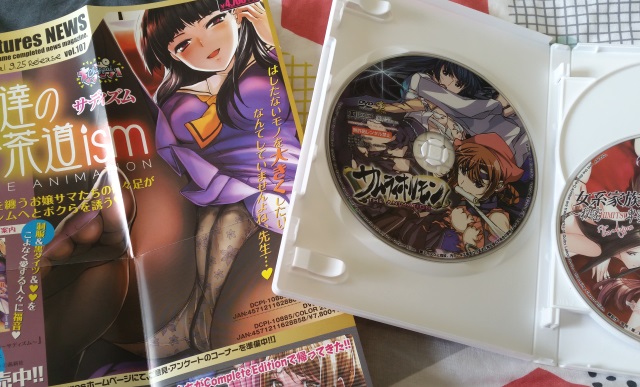 Nice pantyhose.jpg insert though.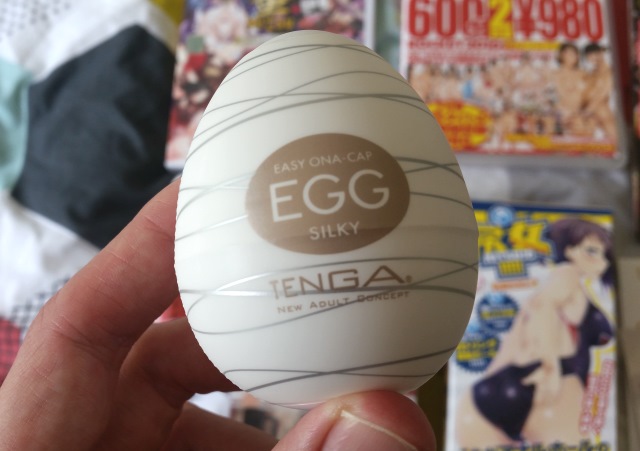 Another Tenga Egg! I like that it's a different variety from last month's Adult Box. I'll probably save these up and give 'em away with some other stuff soon.
And finally…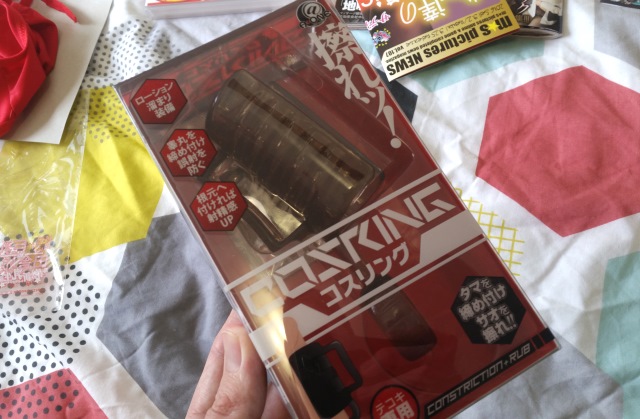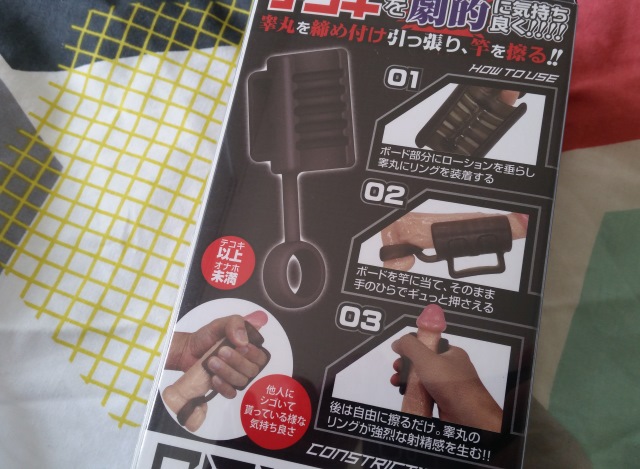 The COSRING from A-One. This plastic beast is one part masturbation toy, one part stamina training device and seven parts torture.
I haven't had the chance to try this out myself yet, but I'm certainly looking forward to it in a terrified kinda way. Because how. HOW are your balls meant to fit through this?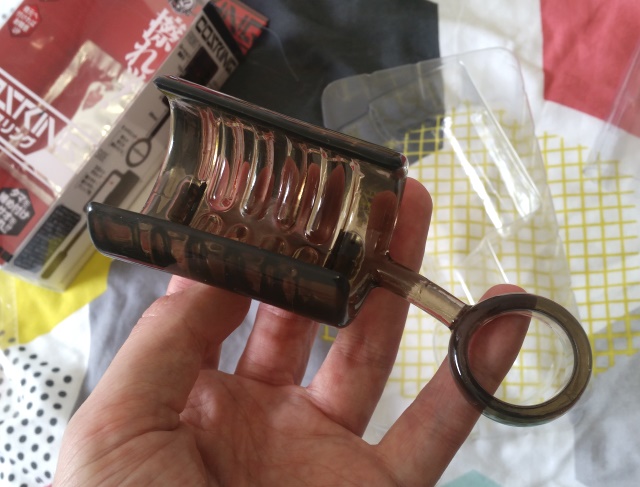 Look, I've used cock rings before where you have to scoop up your testicles and flop 'em through hoops like you're doing a circus act, but COSRING doesn't seem to budge at all. This material is tough.
Here's a penis I prepared earlier.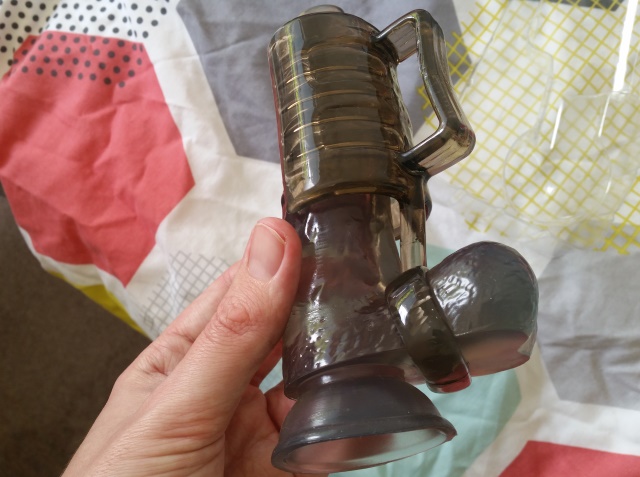 And even on this, it's like the taut rubber band would completely destroy a 'sac. Can't wait!
Overall, I'm pleased with the contents in the March edition of J-List's Adult Box. Heck, the DVDs alone are a massive improvement. There's more of a focus on quality rather than little bits of filler content this time.
If this looks like something you'd be keen on grabbing, you can purchase it here (or by clicking the image below). Don't forget to add the coupon code MOE-Q30-JP6VAK to save 5% on your order (works for anything on the site).
Thanks again, J-List!