Product: Puni Fuwa Mochi 2000
Manufacturer: EXE
Measurements: length – 17cm, weight – 2kg / 4.4lbs
Retailers: Motsu Toys / Kanojo Toys* / otonaJP / Queen Cat / J-List*
Header image: Puranpuman
– This product was provided by Motsu Toys for masturbation review purposes
– Retailers marked with * are affiliate links
There I was lazily browsing the internet, halfway through a bottle of bourbon that I'd been mixing/destroying with Pasito (a very traditional Australian soft drink because it's cheap, kind of resembles passionfruit dipped in a lethal amount of sugar and it has some colourful bird fucks on the can) when suddenly there was movement in my pants. Ah. What was I even get erect over?
Was it the Pasito?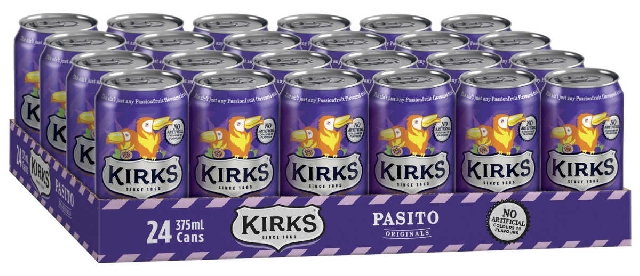 Look, maybe it was, but there was no time to care – gotta find something to slam into my groin.
Drunk erections are a very fickle thing. One minute you could be throbbin' away, the next you might be waking up on the floor unsure if the darkness outside means it's late at night, early in the morning, or the world is currently in the process of ending and your last hazy memory will be that of passing out in pre-cum and Pasito.
So I reached for EXE's plump handful of ass and vag called the Puni Fuwa Mochi 2000. This onahole has been in production for about two years now, so it's obviously been quite a hit for them. I'm glad to finally have one to review and hadn't tried it out much at that point.
However during my state of mind I'd already forgotten how messy it can be.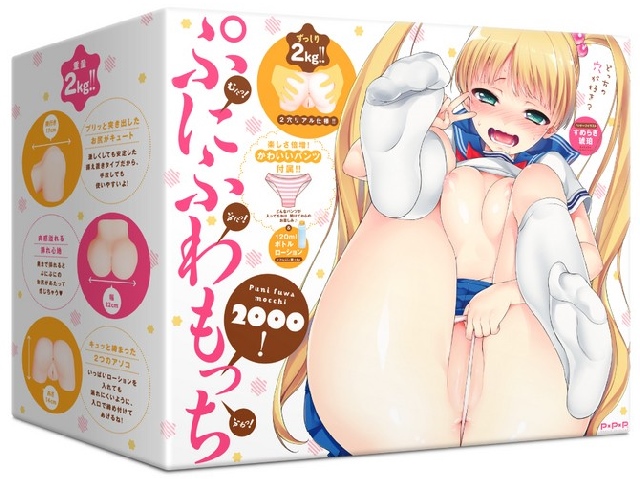 Puni Fuwa Mochi 2000 is noooooot really something you wanna be just slapping away at without any preparation. Bring a towel, because the design of this futuristic dessert does everything in its inanimate power to transform the look of any room into some kind of erupted sex volcano.
Too late though, I'd already aggressively squeezed some lube into both holes and slam dunked it down on my dick. Whichever tunnel happened to give way was good enough. Within seconds, Puni Fuwa Mochi 2000 was leaving gooey ass prints on my thighs and sounded like I was fisting a bucket of quicksand.
But I was fuckin' gone – didn't care. I was rapidly opening all my hentai folders, anything went. Couldn't focus on a single image and still wasn't sure what brought on masturbating in the first place.
To make matters better and/or worse, there's a handy 'flush hole' at the top of Puni Fuwa Mochi 2000. It makes cleaning a breeze and means you can push your cock all the way through for maximum thrusting…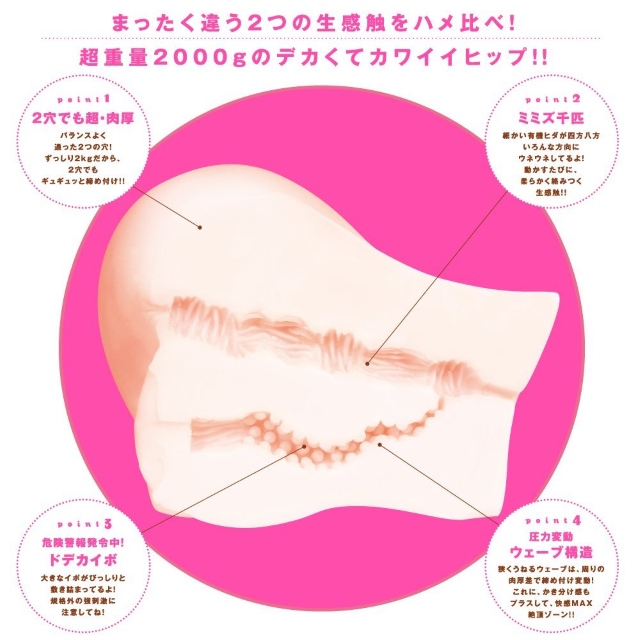 See, both holes end up leading to the exact same place. That's about as realistic as life can get.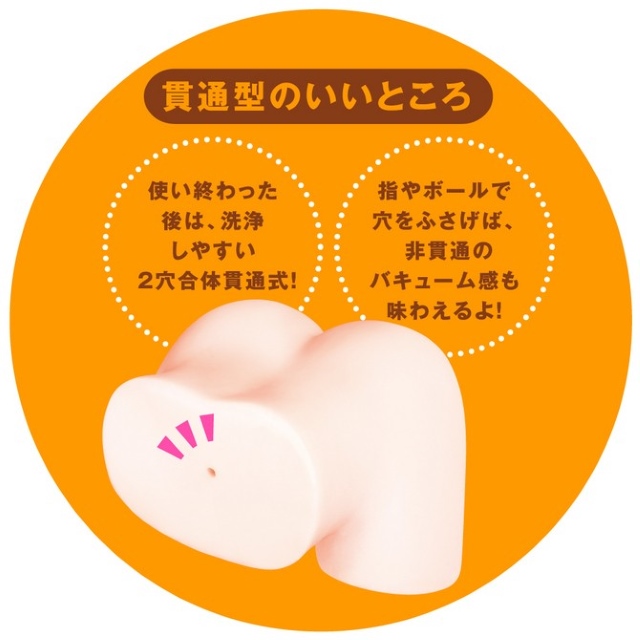 However this also doubles the chance of making a fucking disaster zone. Quadruples it even; some mathematical equation related to cumming all over yourself. Having a hole at the top almost guarantees you'll end up shooting a load out into the cruel world.
And by this stage it'd been maybe… I dunno, five minutes? Still didn't know what I was wanking to, but whew was I already close to finishing. 'Hey this is a thing I wanted to bring up in the review' I thought, intending to try and capture a photo of myself having a sad orgasm right through the flush hole. 'Surely everyone wants to see an awkward puddle of cum'.
I remember this so well because I was trying to reach for my phone whilst still thrusting into Puni Fuwa Mochi 2000. It's a decently sized onahole not exactly designed for single-hand use, and now I had enough lube over both hands to start a Soapland.
'Mmmmhmmmhmm' I chuckled, smearing fuckin' god knows what all my phone, waiting for the camera app to actually open because the touch screen can't tell what I'm trying to tap anymore.
'This is gonna be gooOOOOOOOOO' – oh no, my dick explodes. There's no warning, no final pulsing jolt, it's just had enough.
A single strand of cum sprinkles out like an incorrectly developed firework, followed by a bubbling ooze.
Some noise escapes my mouth which can't be explained, like a mix of pleasure and unreasonable frustration. My phone can't focus in the dull light and lube-coated lens; I'm just getting blurry messes comparable to that of a zero megapixel 3DS camera.
The phone drops right on top of the onahole. Right into the cum.
"FUCKIN' HELL" I yell, tossing the phone across the room while yanking Puni Fuwa Mochi 2000 off with a sickening pop. Everything goes everywhere.
That's not how you review an onahole.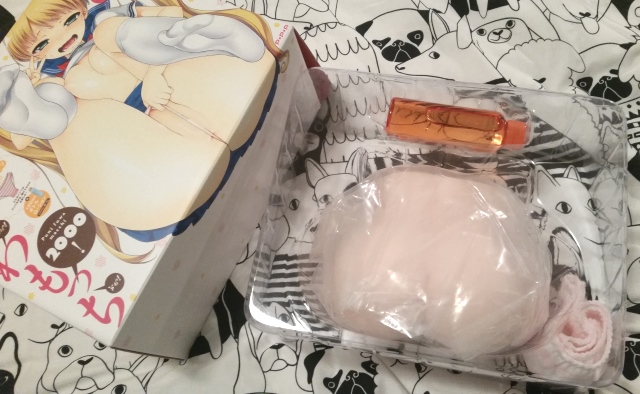 But yes! Puni Fuwa Mochi 2000. There's a lot to like about this onahole from EXE, and I really wish I was more into it, but I was left kinda just… shrugging my shoulders at the entire thing. Even whilst sober.
Still, let's take a closer look at what we've got here. Finally.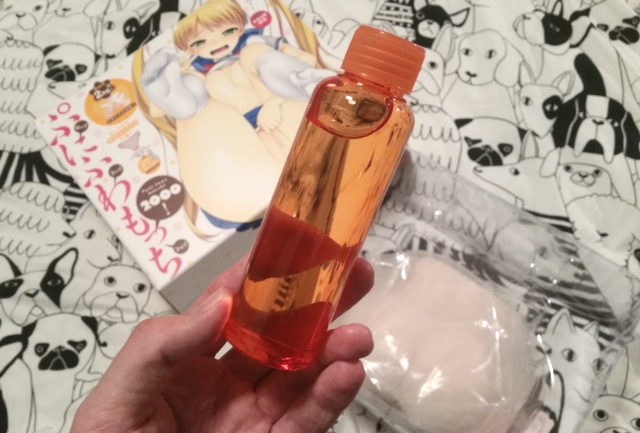 There's a really nice bottle of lube! EXE have typically been outstanding when it comes to packing in lube with any of their products, and Puni Fuwa Mochi 2000 is no exception. Because really, if you're spending a heap on a large-ish product like this, why not feel like royalty?
Helps that the lube itself is quality stuff, if a little bit too thick. At least they've improved it from the days where one drop could fill a pothole. Regardless this bottle should last a while.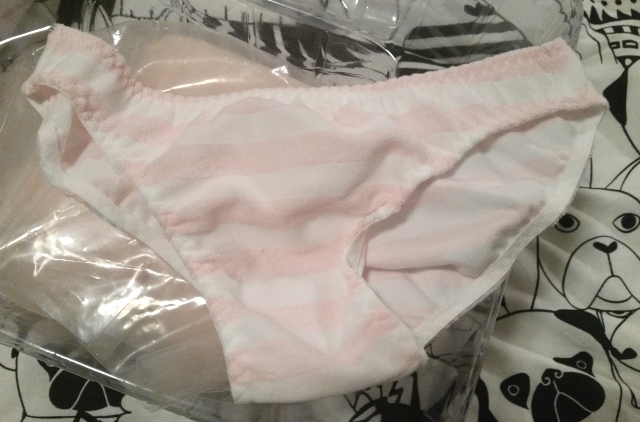 And underwear! Gotta give props to any hip onahole that bundles in a pair of panties. It's just such a nice touch. Apparently they're randomised, but I've seen promo pics of other designs including strawberry patterns and stuff. Everyone's a winner.
Just a shame they don't really 'fit' the onahole. Or do they?
NICE TITS
I did see the images below in a Amazon.jp user review though, where he simply tied a knot in the panties to make them fit better: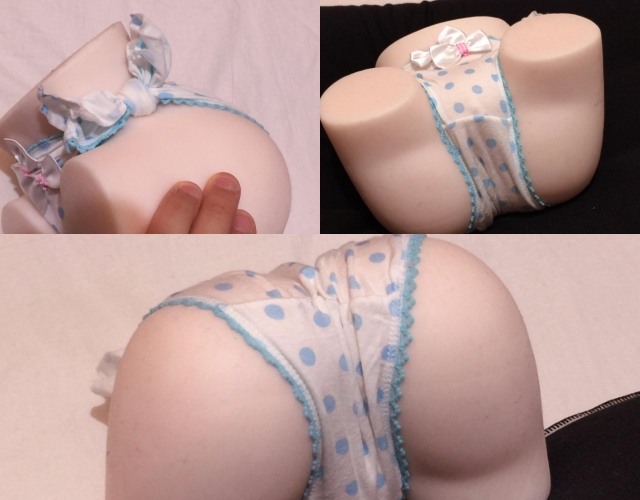 Oh my.
Completely naked, Puni Fuwa Mochi 2000 looks really damn good. It's about everything I'd hope for in a mid-sized hip. EXE haven't gone overboard with detail or anything, but the focus on a generous amount of arse is very much appreciated.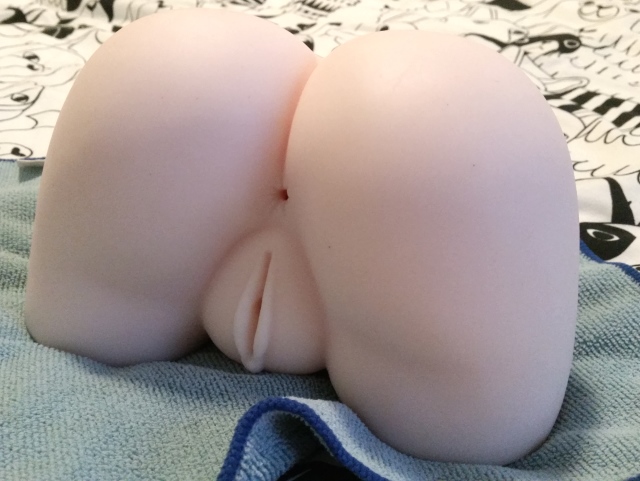 Sometimes I just like to sit in on my desk.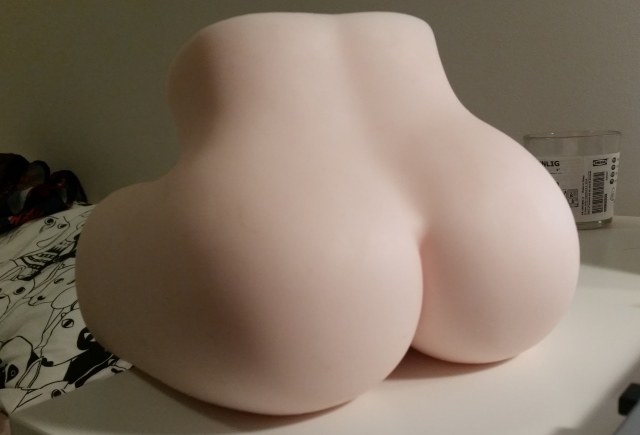 … Like some kind of ghost butt, except the butt is clearly there and made of rubber. Please enjoy the upcoming Hollywood remake of that last sentence.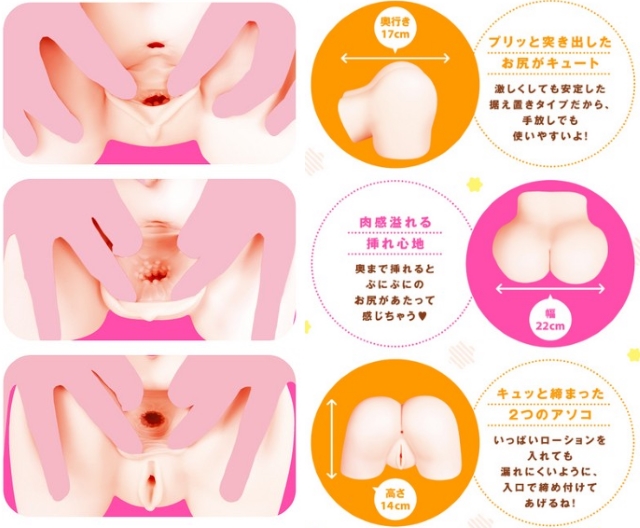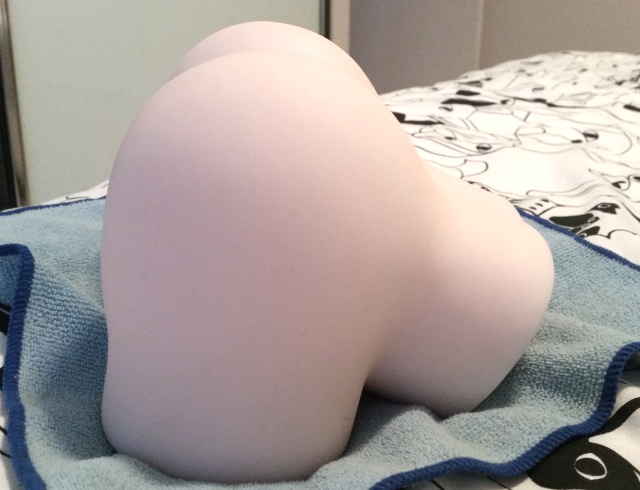 With the way it naturally rests, Puni Fuwa Mochi 2000 is meant to tackled doggy style. Not exactly the most comfortable position in the world when you're merely grasping an oversized stress ball, but it's the recommended method from EXE.
That said, there's no stopping you from using the onahole however. Sitting down and bouncing it on my lap seemed to work just fine and I avoided getting any cramps. (I am six hundred years old please do not make me do a weird crab-crouch thing on the bed).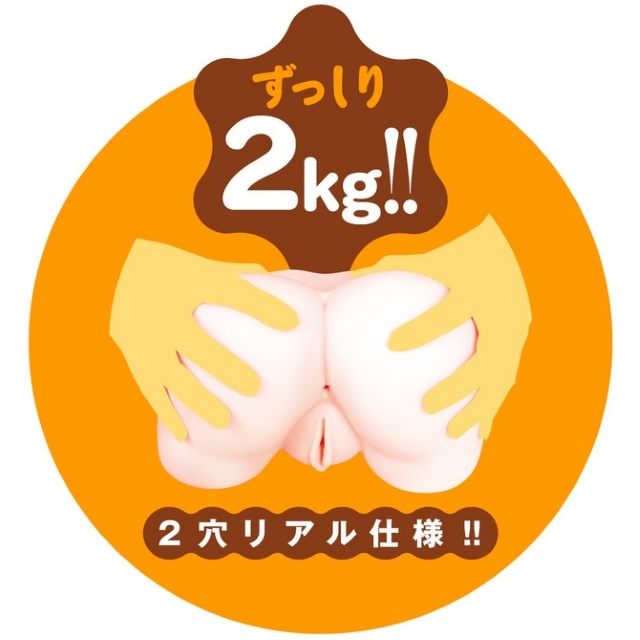 Unfortunately I just wasn't impressed with how the onahole felt. Going for the vagina first, the tunnel was nice and tight, but nothing actually grabbed me. I know it's supposed to be littered with bumps and shit, but too often I found myself simply gliding through with very little stimulation.
The only noticeable notch of pleasure I'd get was when my dick poked through the top hole, acting as a satisfying little break until suddenly getting yanked back down into the squishy interior below.
No matter the angle, I was still left feeling unsatisfied. Worse still (what could be worse than getting bored while masturbating), this tunnel is curved in a way that forces your dick to push against the front wall pretty hard as it passes through. Even during lighter use I could see this thin material getting pretty stressed, and I'm kinda concerned that one day it'll all burst open and make a bigger mess than usual.
I mean, it's not bad, I just expected more sensation.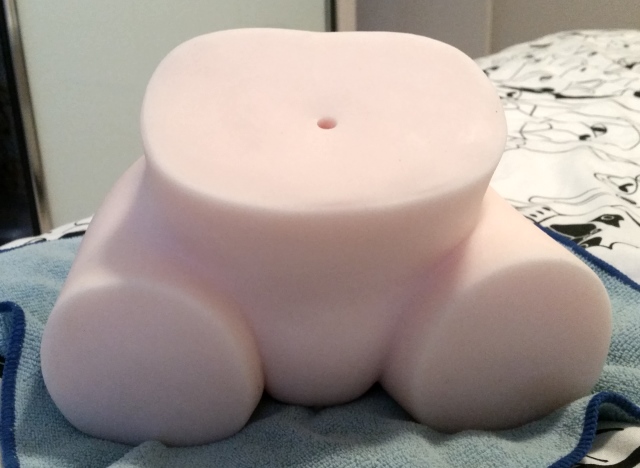 That's the 'flush hole' on top. And yes, you could fuck that hole if you really wanted!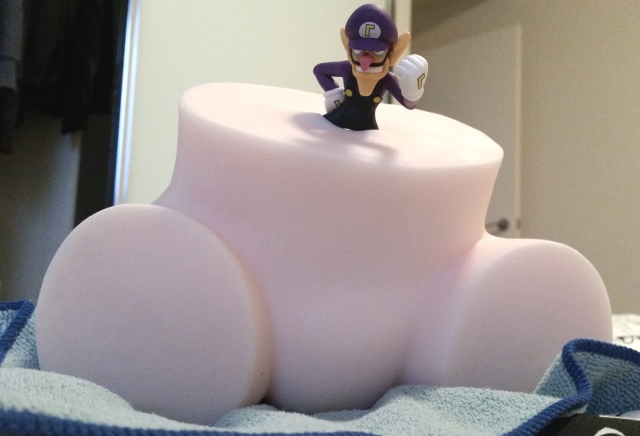 Switching to the anal tunnel then, and yeeeeah, this seems to be where all of EXE's love went. Not only is it tighter and longer than the vagina, the walls are textured in a way that ends up hugging and dragging across your shaft during use. Good stuff. But again, still lacking some punch.
I dunno, feels like something's missing when I'm not hitting the end of a rubber hole and instead keep seeing my dick pop out like some lubed up whack-a-mole abomination. Guess I'm not a big fan of open-ended onaholes.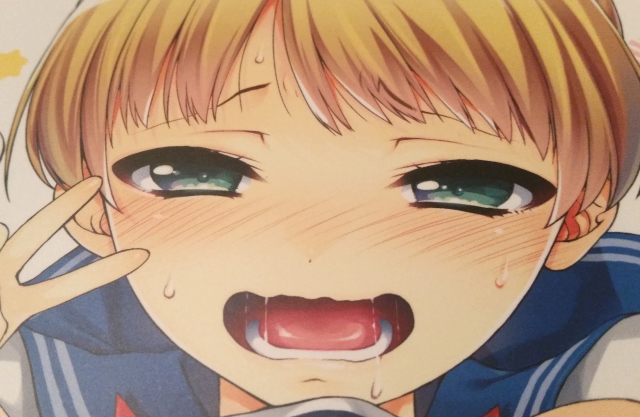 Nostrils are forbidden.
Personal preferences aside, Puni Fuwa Mochi 2000 is visually appealing (especially seeing it jiggle about as it slaps down), a good solid weight at 2kg and ridiculously easy to clean. Like, if I could relate 'joy' to the act of washing sperm out of a toy vagina, this would be as close as possible.
The flush hole at the top connects everything together, meaning you just need to run it under the tap and let 1/5 of Captain Planet do all the work. The material dries quickly too, inside and out. Maintenance is minimal and that alone could be a big selling point.
That and user various reviews on retail listings have been positive for Puni Fuwa Mochi 2000. EXE wouldn't have kept making the onahole for two years now if this wasn't the case.
I think if you're after a hip onahole with easy-going minimal stimulation and allows you to ram all the way through, Puni Fuwa Mochi 2000 might be worth a look. It's just not for me.
Puni Fuwa Mochi 2000

+ Visually, the onahole is on point. It looks fantastic just sitting around entertaining guests on the coffee table, or in use. The material's jiggle is addictive
+ Incredibly easy to clean
+ Comes with a good supply of lube and a pair of panties
– Very basic stimulation from both holes
– Vagina could very well rip open in the long-term
– Makes an absolute mess and can be quite noisy. Lube and cum spillin' everywhere
[Related onahole reviews]: 
KABEJIRI
 / 
Wonder Ring
 / 
Virginal Bloom