In a surprisingly sudden update, NLS (almost short for their full business name of '1Night Love Story') have announced they're taking an 'indefinite break' from international shipping.
Effective immediately, no new orders can be placed and customer support has ended. You can't even view their once gigantic selection of products anymore. It's especially bizarre considering they were still adding new stock up until just a few days ago.
Thankfully they've promised to fulfil all outstanding orders, and account details can still be accessed until January 18 to finalise any payments or cancel shit.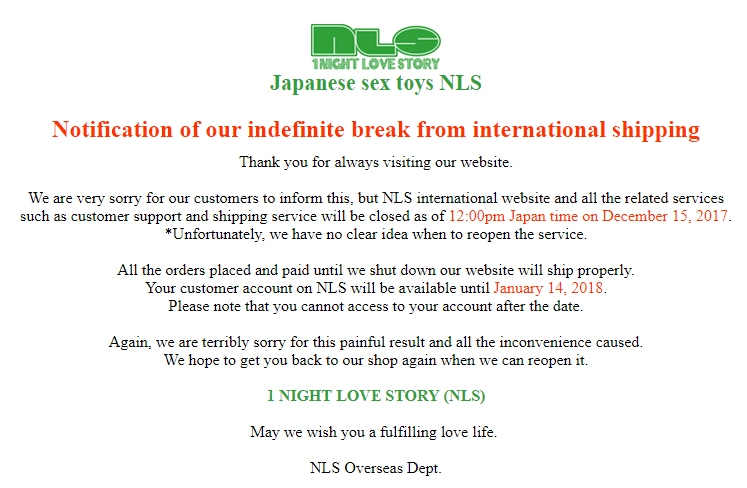 NLS' international store was once like, the only real option to import new release Japanese sex toys. I know several of the guys from Onahole Review made their first onahole purchases from 'em a million years back, and when I started this blog I used to order everything through NLS.
That's how I experienced my first ever mouldy foam cup vagina and everything. P-precious memories.
Maybe they couldn't keep up with all the competition anymore? Maybe they just want to focus on their Japanese-exclusive site instead? Dunno. It's a bit sad, but at the same time we're lucky there's a whoooole heap of onahole retailers out there these days.
I'll miss their Engrish descriptions for everything though.