Product: Seventeen Evo Soft
Manufacturer: Toy's Heart
Retailers: NLS / Toy Demon / otonaJP / Kanojo / Motsu Toys / Love Merci
Artwork: ぁぁぁぁ
Almost one year ago to not quite this month, I thoroughly inspected the Seventeen Bordeaux onahole and managed to put an Earthworm Jim toy inside it. Being just the third review on this blog – back when it was just a default WordPress layout – I think that was the exact moment I knew I'd actually found my calling in life. Putting things in stuff.
'Twas also the first time I'd tried anything in the popular 'Seventeen' series (along with discovering Moisty-branded lube) but wow! Toy's Heart threw a Seventeen Evo Soft my way the other week, so I had a toss right back in response. Then I started a new paragraph with "'twas" and felt like a knob.
Also it's kinda supposed to be written as '17evo Soft', but I'll blend in with society by typing it out the long way.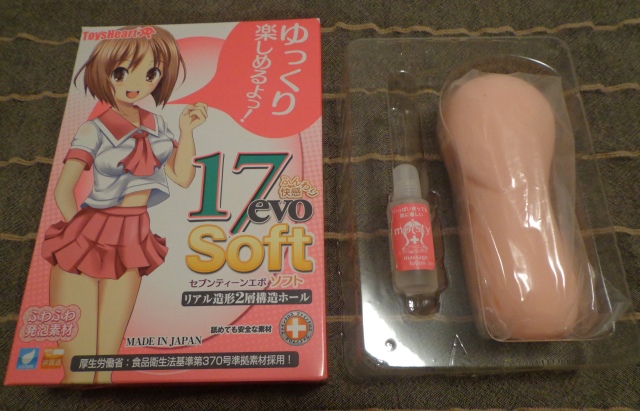 Okay! Everything's going well so far. We've got some happy bright pink packaging…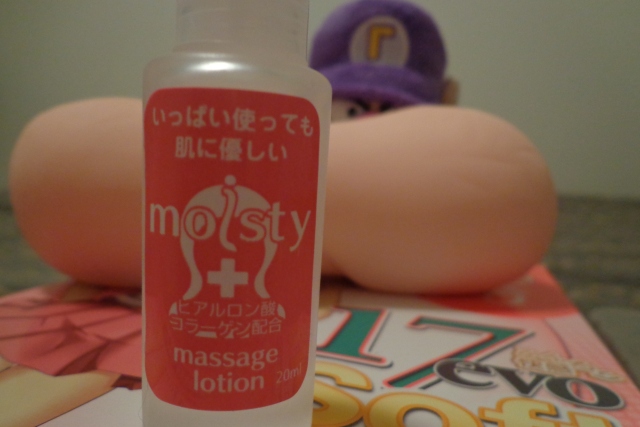 … A bottle of Moisty (cats love it!)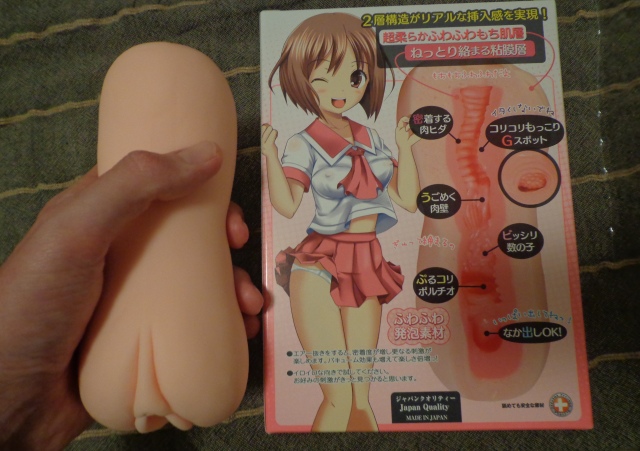 And the onahole itse-whoa! Flip the box over and suddenly the girl's caught in a bit of an updraft. It's alright though, she appears to be delighted that a giant masturbation sleeve has appeared by her side. See, now there's a hint of futa mystery. The best kind of ry.
Living up to its logic puzzle name, Seventeen Evo Soft is a softer version of Toy's Hearts' existing Seventeen Evolution hole (from 2012, I believe). I haven't tried the original, but this one is the same internal design encased in cushier padding. That said, it doesn't exactly flop all over the place. Just seems fairly normal to me. Was the first one carved from a brick, perhaps?
It's almost as smooth as My Classmate's Baby Skin (there's an out of context quote waiting to happen), buuuut this hole is made from 'Fine Cross' material. Toy's Heart have so many different types, I swear. Overall, tiny bit more spongy and stretchy.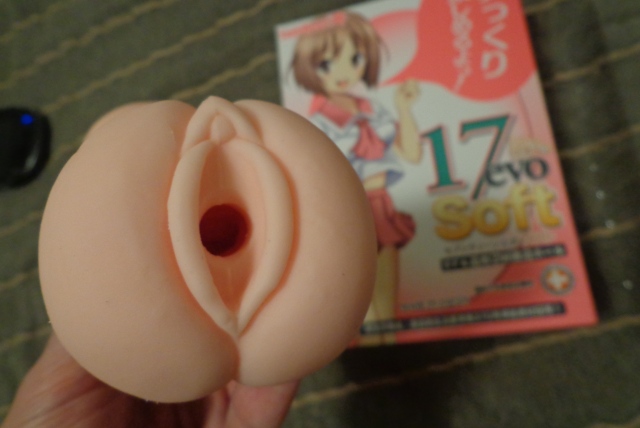 I could only get my camera to focus on this with the Vita in the background. Poor Vita.
But yes, nothing really to complain about on the outside. Entrance looks vagina-ish enough and it feels nice. I think I say that just about every single review (but it does – nice/10). The underside even has a little butt groove which does a good job keeping your hand in place. There's no overpowering odor either. The last thing you'd want with your arse cheeks is matching smell.
Everyone hop in The Magic School Bus now. Blast off!
Length: 17.5cm (14.5cm inside) / Width: 7cm
At first I was surprised how easy it was to get in there; the initial opening point is pretty deceptive. But now you're in the real (rubber) deal. Just like Bordeaux, Seventeen Evo Soft is dual layer, meaning the guts are a fair bit tougher than the rest – and older DVD players might have trouble reading it.
You're met with some fairly thick ribs to begin with, which are enhanced by the tunnel's sheer tightness. Right after that it'll open up with some brief breathing room, only to suddenly slam you up against a low-hanging cluster of bumps. Pushing your way under this – rubbing across your head – is so fucking good. Squished fun times ahoy.
Then comes the most interesting part, Evo Soft's faux cervix. Oh! I guess now is probably a good time to mention that it's best to give this onahole a bit of a squeeze before your dick's in there. You don't have to, but doing so really helps with the end-zone's suction effect. Instructions printed on the box explain this better than what I've word-mangled so far.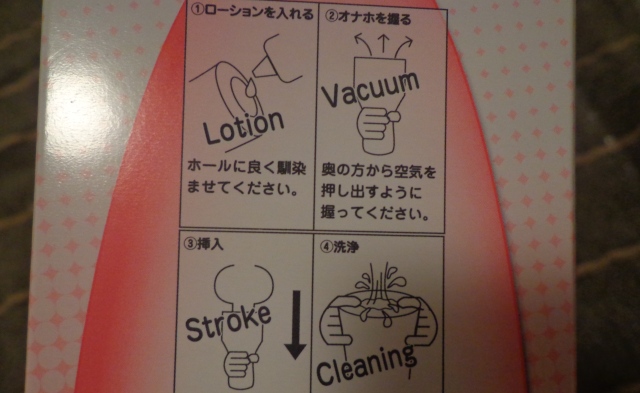 Those sure are some interesting looking balls. Basically the end acts as a vacuum chamber which leads to some dizzying results. Seventeen Evo Soft's cervix is like… really well designed.
Each time your head hits it, it'll sort of wrap around the tip slightly. So the harder you thrust, the better the sensation. And then more and more instances of 'the' appear all over the place. Meanwhile there's some strong-ass suction going on down there and whoa holy shit what's happening.
Final score: Masturbation. Masturbation's happening. Evolved!