This is kind of incredibly late considering it's been two months since stumbling around the streets of Japan on holiday, but I was going through my photos recently and there he was. Obama-kun. With his world famous catchphrase and everything. Turns out that was exactly the inspiration I needed to not get off my arse and write about all these tourist attractions.
Honestly, while I knew what to expect from Akihabara and actual dedicated adult stores littered across the country, what I didn't predict was finding onaholes… pretty much fucking everywhere. Hobby shops, book stores, whatever.
Admittedly these places usually sold material worthy of a crippling fap-attack, but it still took me by surprise. It wasn't even uncommon to be browsing a department store and then suddenly oh hey, foam cups™ near the rice cookers or something. A perfect combination.
My favourite was this run-down little joint, completely out-of-place on a street otherwise lined with fancy restaurants. The fact that they had pantyhose and an advert for gastro medicine at the entrance was extra perfect.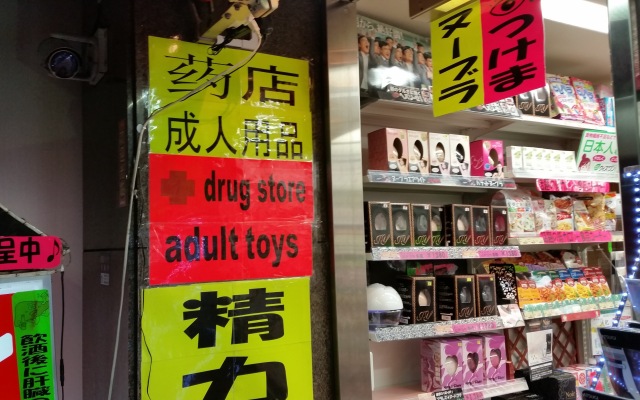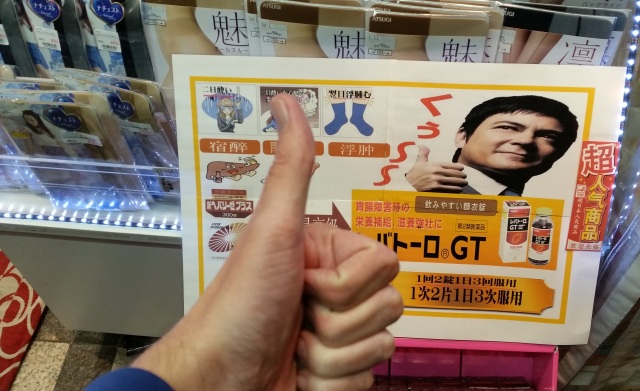 I just like that Japan's so casual about it all. Naturally if a 'normal' store had a decent supply of porn, it'd be in a special section sealed off by a black 18+ curtain of doom-shame, but yeah. Sometimes street level shops would even fill their window displays with toys or… anything other than what they actually sell.
Like this Soft On Demand (a porn video chain with a baffling name) in Sapporo, which was RIGHT NEAR sculptures from the annual snow festival. So many tourists wandering by to have a look at all the uh, Evangelion figures?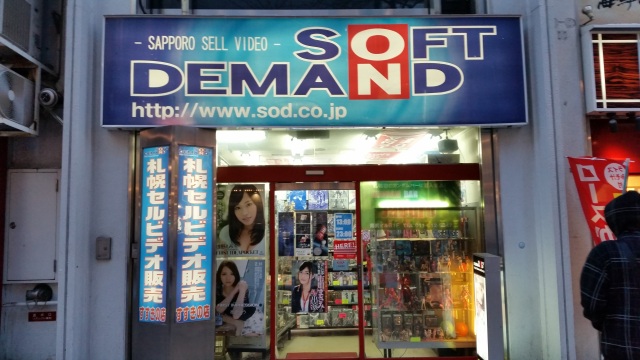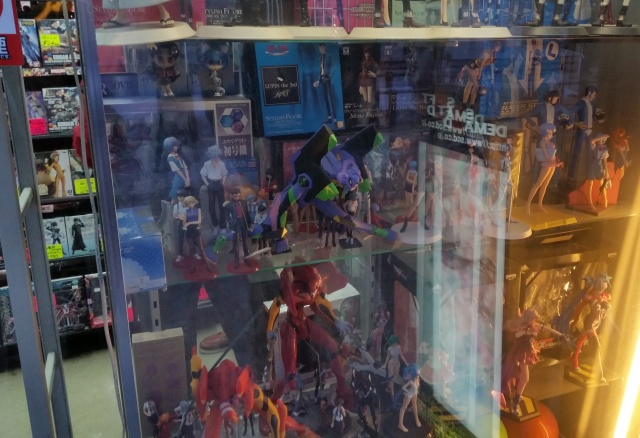 That Gendo and gigantic Rei, too hot. Couldn't buy 'em – not for sale. Likewise the initial wall of goods behind them consisted of faded model kit boxes. These were literally just props.
Once you're inside and turn the corner though… broken spines and sex toys galore.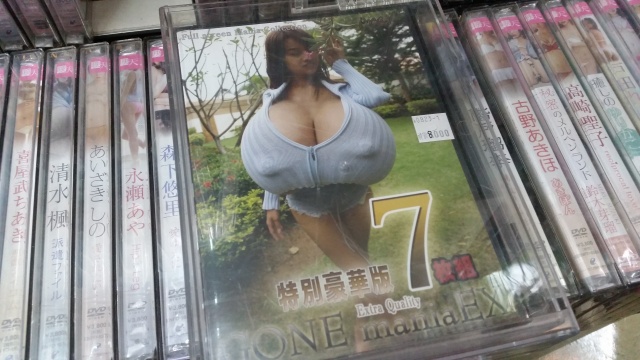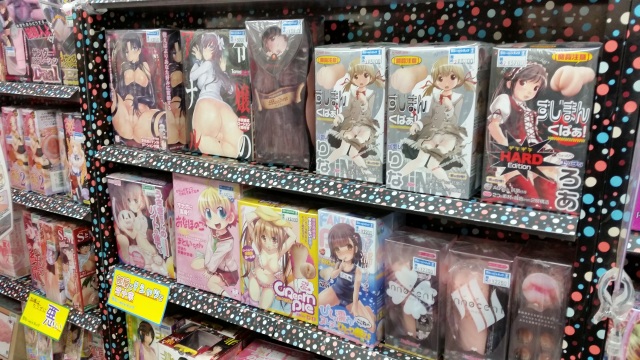 Yeah, that DVD was eight thousand yen. Bargain! But there's the thing; outside of Akihabara or Tokyo in general, porn and sex toys suddenly become a looooot more expensive due to less competition. One store (rather, the only one I even came across) in Nagoya was selling mid-range onaholes like Maiden for well over double the recommended retail price. Guess that's what Amazon.jp is for.
… Meanwhile a single Tenga egg goes for like $25 in any of Sydney's vomit-inducing sex stores. They have to roll a long way under the sea to get here, you know.
So in an attempt to make this wordbag less of a disjointed jumble-fuck, I'm just going to focus on the two big stores in Akihabara – Love Merci and M's Pop Life Department. Or maybe they're just called M's, I dunno. Either way, both of these places are massive and conveniently located near a Club SEGA, so it's easy to get your bearings.
Legend has it if you press your ear to the wall of either store, you can hear someone not winning a Love Live! claw machine figure.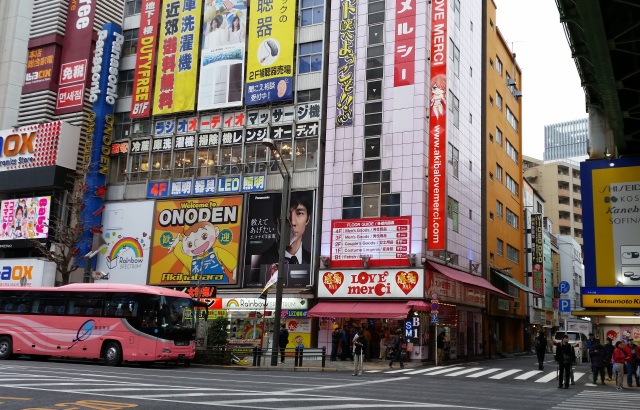 Love Merci
Website (with map): http://www.akibalovemerci.com/storeinfo.html
Twitter: https://twitter.com/akibalovemerci
Just look for the ship from Space Invaders shooting a stream of bullets, and you've got the front of Love Merci. It's hard to miss. There's an elevator hidden up back, but it's easier and faster to just take the stairs. If there's one thing Japan's absolutely perfected, it's painfully slow elevators.
"Okay team, it took four minutes to reach the ground floor after pressing the button. That's a start, can you make it a bit slower?"
"We're researching advancements in the field of snail-like elevator speed right now boss"
"Good, take your time"
Should you happen to head down to their basement first, you'll find some of the more hardcore goods. Whips, ball gags, nipple clips (just buy a bag of clothes pegs yo), that sort of thing. Bunch of family-friendly-fetish DVDs down there too. The first level is filled with costumes like school uniforms and general sex doll accessories – undies, leggings, smell fetish stuff. Fairly standard (?) But then go upstairs and you'll reach the 'couples' floor. Dildos, lube, condoms, suspicious stamina pills and butt plugs ahoy. If an 18 inch double-ended horse cock doesn't spice up a couple's sex life, I don't know what will.
Up to the third floor, then!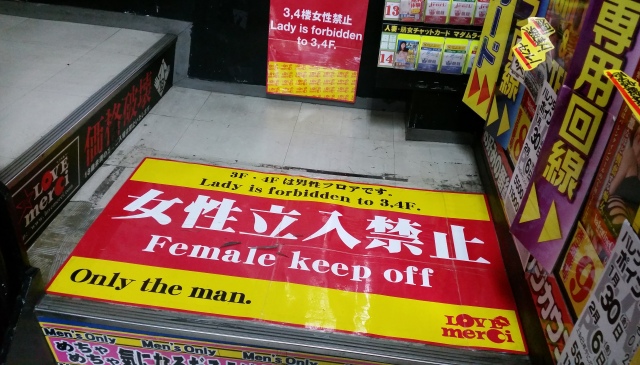 There's an added bonus of having to jump over the stern floor warning if you're not the man. The lava game is alive and well. Level three and four are all onaholes and sex dolls basically, along with the excitement of moldy-ass hentai playing loudly.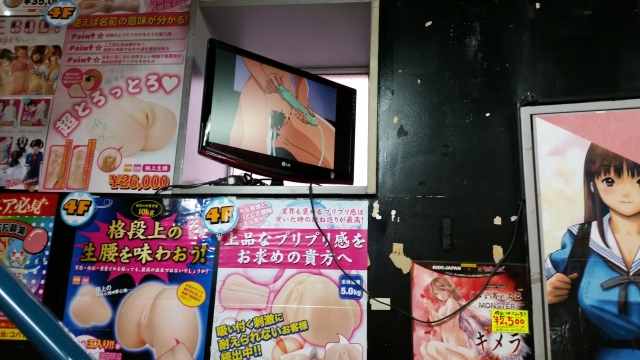 I think this was Cool Devices? Man, I remember trying to download that shit on KaZaA back in the 56k days. Get with the times, Love Merci. All the kids are watching Futabu! now. ( ͡° ͜ʖ ͡°)
The sheer amount of onaholes this place has on offer is simply staggering, and they're sorted by manufacturer which is really handy. New stuff is randomly mixed with the old though. Lots of discontinued products still available too. They're basically NLS in brick and mortar form.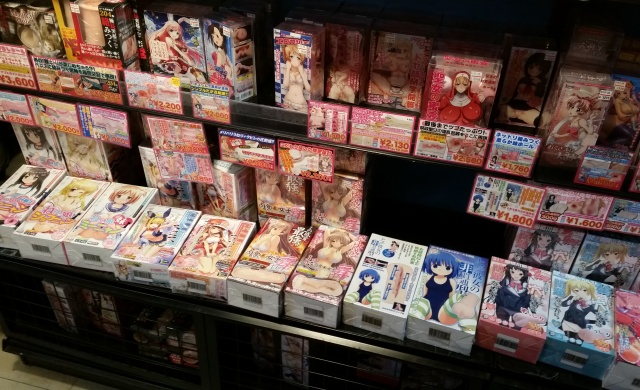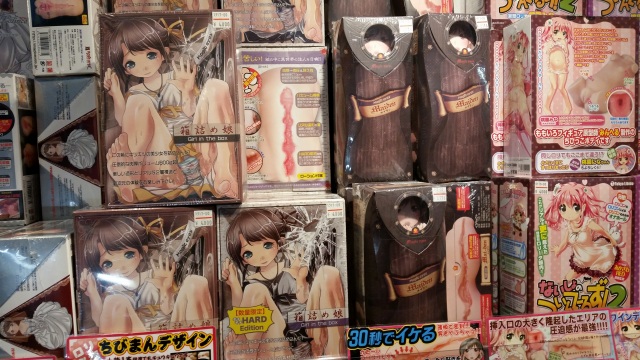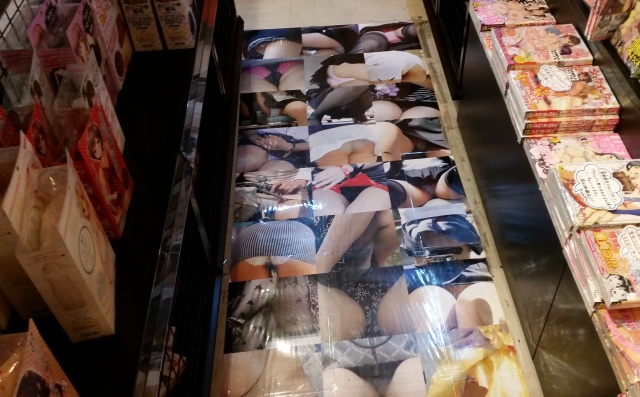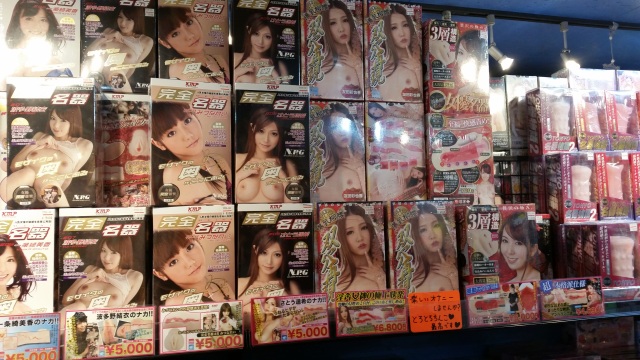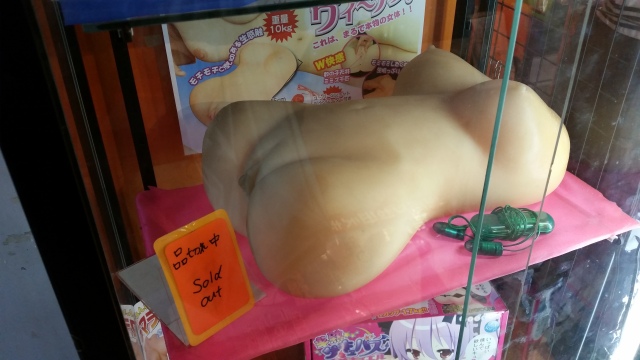 TEN. FUCKING. KILOS.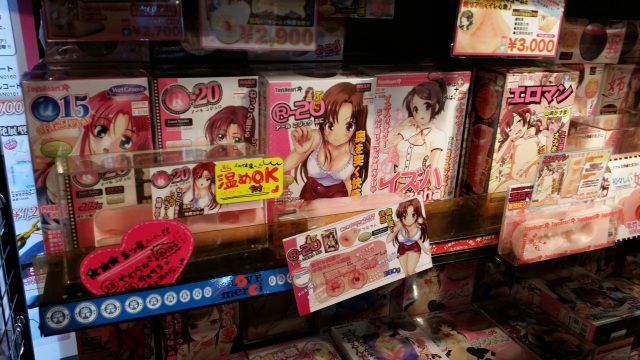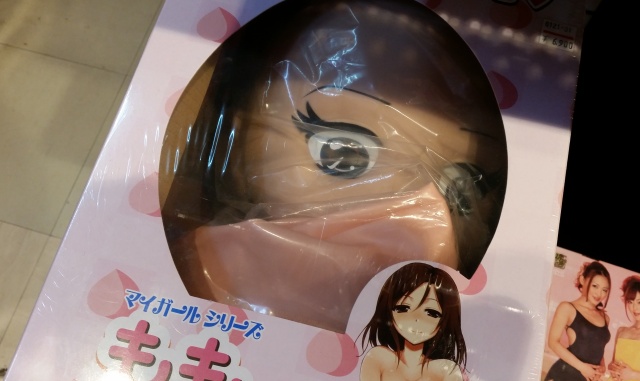 Aaauuuuughh!
Fun store! Again, great selection and nice prices on most stuff (tax isn't included on the sticker though which is shit). But it's a bit dark and cramped. There was one awkward moment on level four where I was looking at the cock rings and got trapped in the aisle with two other guys. We were all left fumbling with the stuff because nobody could figure out how to smoothly solve the side-stepping situation. Good times, great classic hits.
So while I knew about Love Merci beforehand, I actually managed to forget about M's existence until @KgPravda suggested it while I was tweeting about inane video game stuff in Super Potato. It was even on my phone's to-do list, which is usually just 'have a toss'. And honestly, his analogy on the two retailers is absolutely perfect.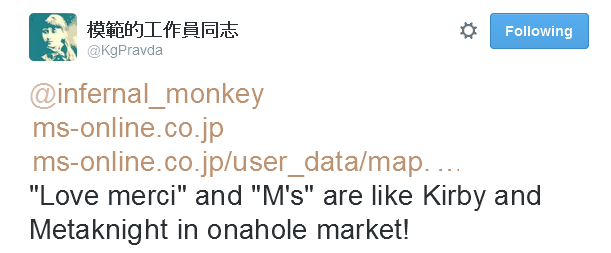 They really are! M's is Kirby here, in that they're instantly more bright and happy. Not that they eat everyone, kill trees and crash stars into the sunset. The best part is I'd even walked into the bloody store before without even realising they sold onaholes. I mean, when you first step foot in there it's just vanilla porn DVDs, so I shrugged my way back out again thinking it was the same as most shops in Akihabara.
Step back a tad and oh, the Tenga adverts probably help.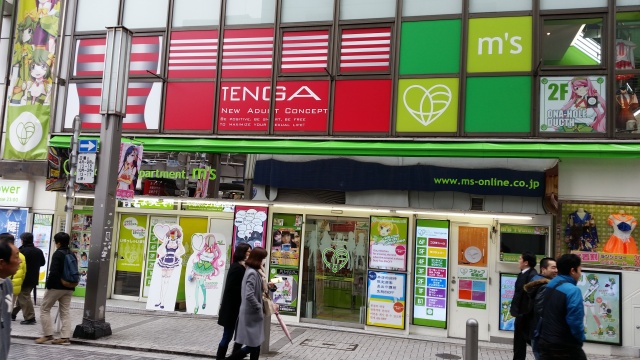 M's Pop Life Department
Website: https://www.ms-online.co.jp/
Twitter: https://twitter.com/poplifems
It's basically impossible not to find M's from the train station. It's like, right there, down a tad from the Club SEGA which is the first thing you'll see from the main exit. RIGHT THERE. That obviously didn't stop me! Hell, if you've played Akiba's Trip: Undead & Undressed – Akihabara's official guide – M's is even the first store you'll come across.
DID YOU KNOW GARMINS? Acquire, the developer behind Akiba's Trip, is literally located across the road from M's.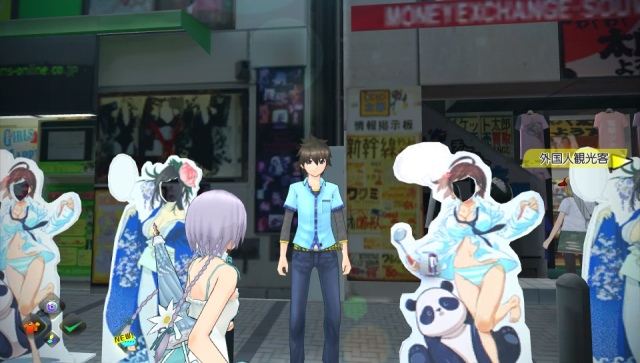 The cardboard cutouts aren't quite the same, but hey.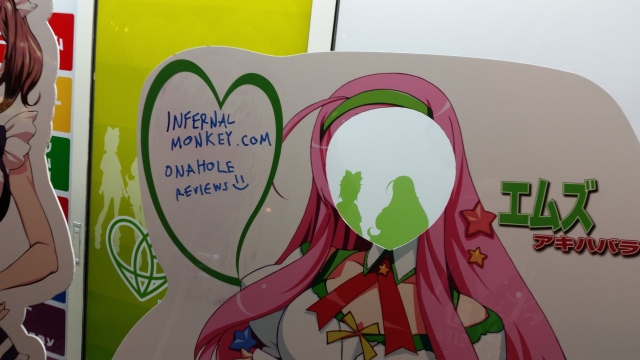 So yeah, from the street level, M's just sell fairly generic porn DVDs. Go upstairs though and holy crap, onaholes galore. Like Love Merci, the store has four floors, but these guys go straight to the rubber wank goods.
And it's… suffocating. M's doesn't have as much space to work with, so everything is crushed together a bit tighter which makes browsing at your own pace more difficult. Don't even try to bother after 5pm unless you're in the mood for some surprisingly unremarkable dry humping. The toys are displayed by 'type' too, which kind of works? I mean, it was sorta nice seeing a big stack of various oral holes from different companies to see who had the best mouth. I think.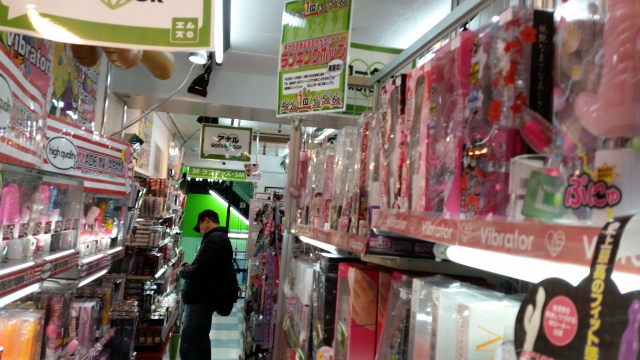 (Staff don't approve of photos, but I am a tourist hurr duurr)
M's also don't have as much stock as Love Merci, however their overall presentation is soooo much nicer, wow. If only because of the lighting! That and they dedicate a proper section to newly released goods instead of making guess-work.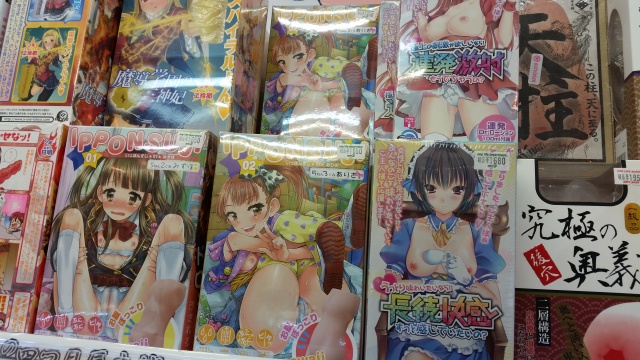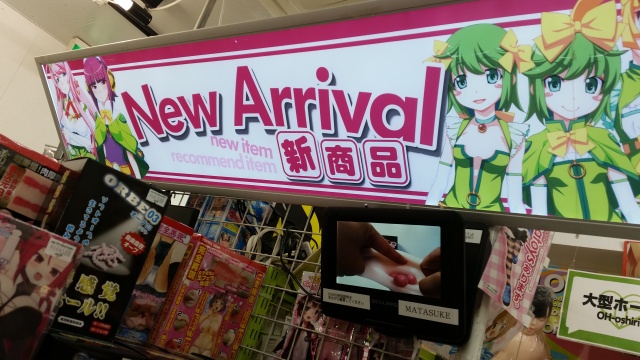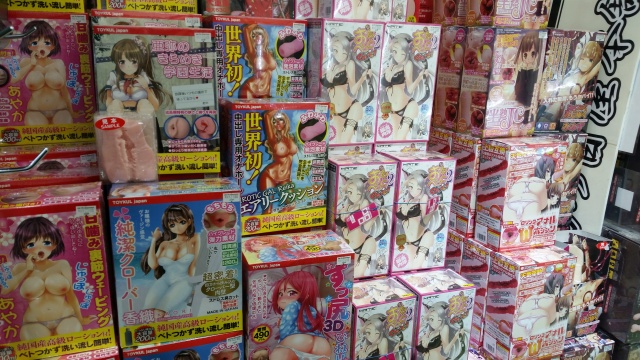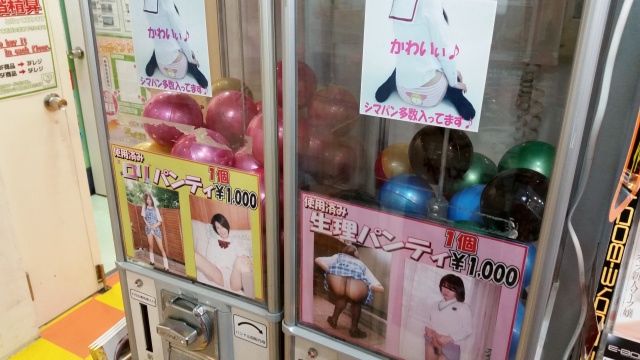 I can only assume these were 'legit' used panties at 1,000 yen (as in some guy's probably just rubbed some new undies on the floor of a public toilet whilst smoking seven cigars and adjusting his rainbow suspenders).
But you know what's more exciting than spending that much on some potentially vagina-stained blobs of fabric stank? Basically anything.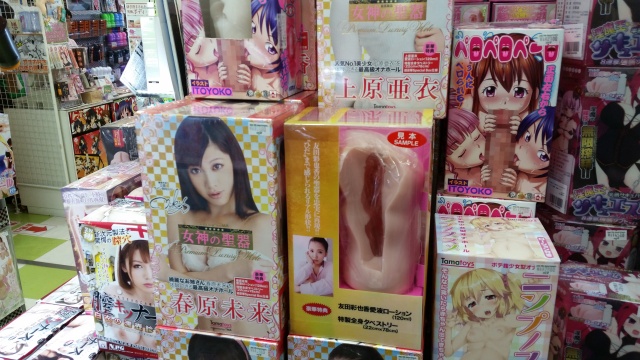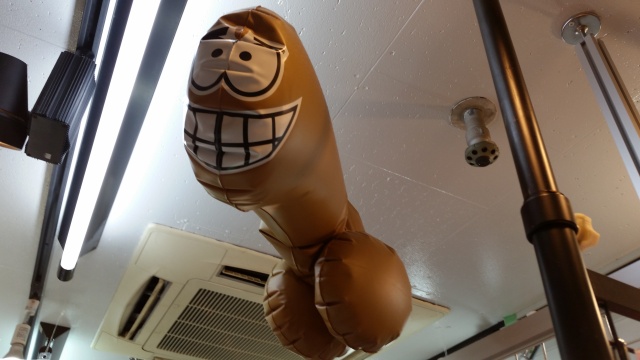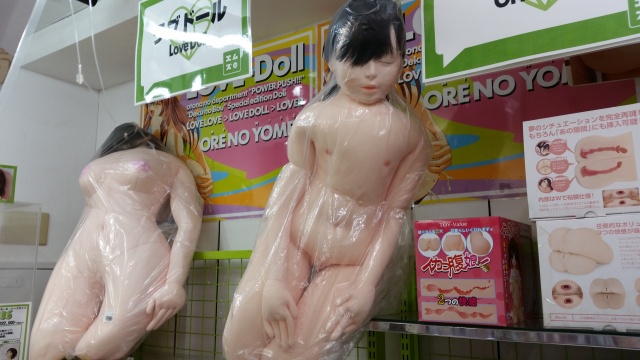 RIP.
By far the biggest advantage M's have over Love Merci is that they do tax-free if you show 'em your passport. This is huge. And better yet, they offer this on any purchase. There's no minimum amount unlike most places in Akihabara which require you to spend at least 10,000 yen ($100-ish) before claiming tax-free.
That said, there were still certain products which were cheaper at Love Merci even after tax. All part of the fun, really! I might have even scared several employees by appearing over and over again to compare prices. Saving about three bucks on a USB warmer is pretty crucial.
Correction update thingy: Love Merci also offer tax-free on purchases. I guess I just didn't have much luck! Thanks, Anon!
Overall I enjoyed my time simply browsing the many shelves full of anime fuck toys. Total cultural experience. Seeing customers nonchalantly grope a sample display of rubber breasts, or carefully study the back of a DVD with such determination. It was amazing – like I'd finally found my place in life.
When I grow up, I want to be an onahole store.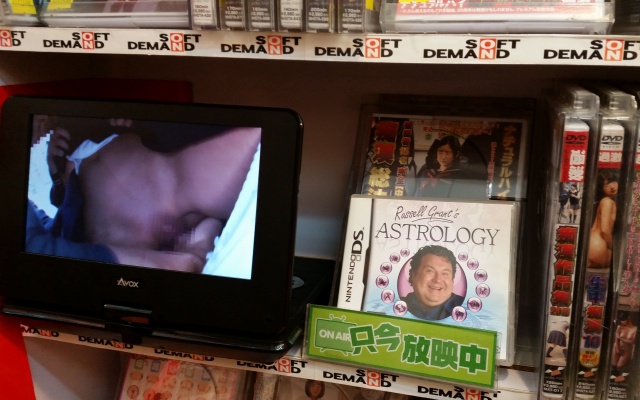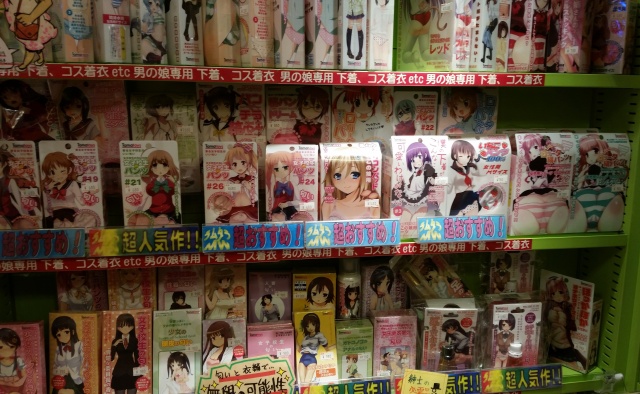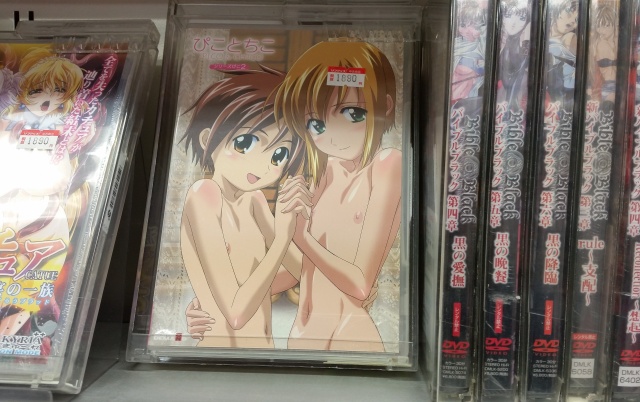 YOOOOOOOOOOO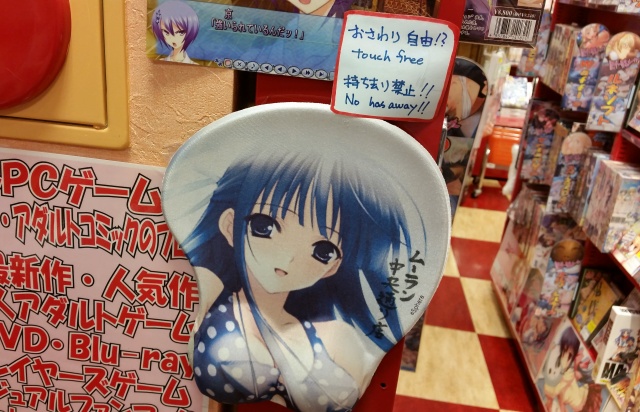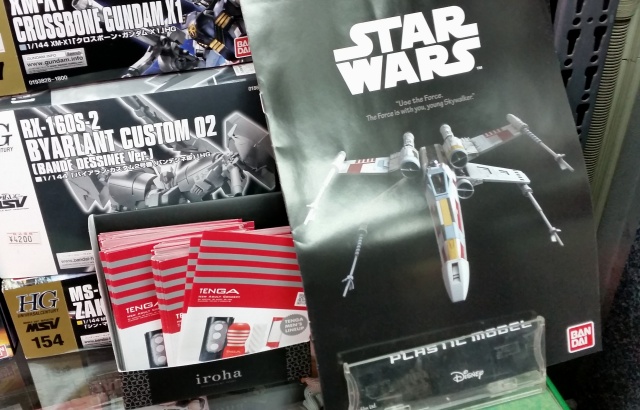 Also big thanks to Za Kyu-Aa for recommending the Hotpowers store near Nakano Broadway! Unfortunately they were in the middle of relocating (I think their new store is in Shinjuku), but this was a great area to explore regardless.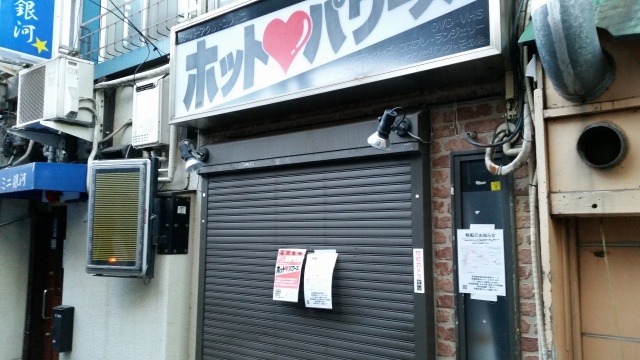 There was even an interesting book store close by.