Product: Real Deep Throat
Manufacturer: Toy's Heart
Measurements: length – 15.5cm, weight – 215g
Retailers: NLS / Amazon / CoolMST* / Kanojo Toys* / Toy Demon* / J-List*
Artwork: Wokada
– This product was provided by Toy's Heart for masturbation review purposes
– Retailers marked with * are affiliate links
"Pffppptt, this Deep Throat sex toy doesn't feel anything like the X-Files character!" A disgruntled sigh fills the room as a well-used onahole is flung against the wall, sticking for several seconds before descending in a Slinky-type fashion. "I need more realism; more conspiracies!" Never fear, person that probably doesn't exist – Toy's Heart is here to give it a go.
According to the box, Real Deep Throat invites you to "enjoy extreme bliss of deep throat-like feeling". Deep throat-LIKE, mind you. So the technology's not quuuiiiite there just yet.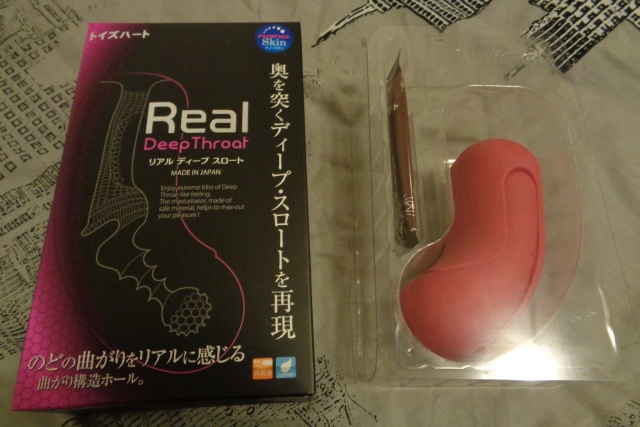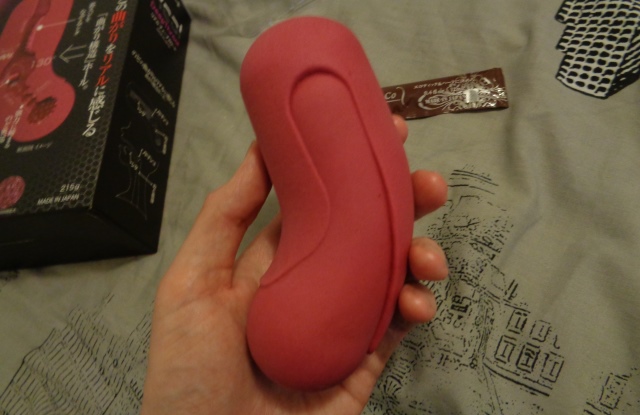 Well I'm not sure about extreme bliss so far, but I was certainly hit with some extreme déjà vu. See, this is the companion product to Toy's Heart's Real Erotic Play which I reviewed almost a year ago. Same weird kidney bean look, same Nano Skin (foam) material, same serious box art, same lack of Moisty lube.
Real Deep Throat has a nice pink-ish colour to, however. True megaton. Of course, the actual design inside is a bit different. Otherwise they'd just be selling the equivalent of a palette swap. Not only that, but where Real Erotic Play worked best by holding it curved up, Real Deep Throat should be held with the curve going down.
There's nothing stopping you from holding it the other way though; upside down gagging is also a thing. Especially at theme parks.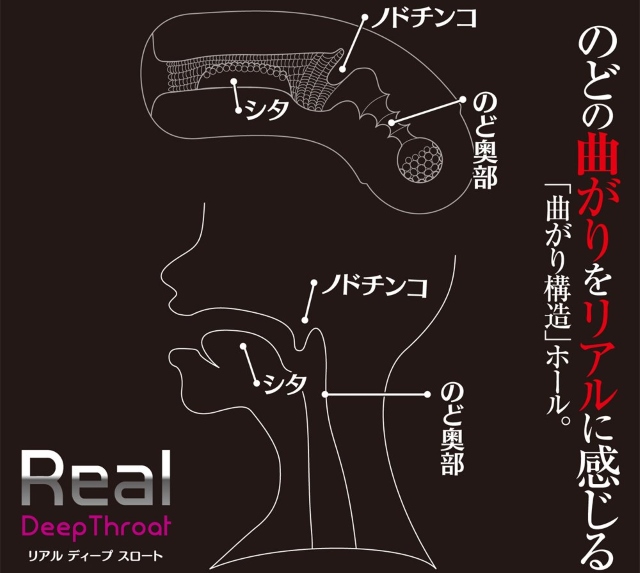 Everything's here! There's the tongue, the dingly-dangly at the back of the mouth and the golf ball.
I liked the Nano Skin material back then, and I still like it now. Zero smell, ridiculously simple to wash, and basically dries off just by looking at it. Toy's Heart rarely use this stuff which is a shame, but there might be visual limitations to it or something. Anyway, Real Deep Throat sits well in your hand and – essentially being a lump of fancy foam – the onahole morphs back into shape no matter how hard you're squeezing. Don't cut off your blood circulation though.
Similar to its erotic sister, Real Deep Throat won't ease you into things. Even the entrance itself puts up a fair bit of resistance, only to immediately lead to the massively raised tongue section. Shit definitely gets pretty real trying to ram your dick over this blob, it's like fucking a garbage truck compactor right before it closes. I was sweating.
Basically, just like a real mouth, the tongue in here is a chunk of hard rubber littered with thick jagged bumps. Dizzying stuff. I'd say this opening act is too tight, honestly. This absolutely isn't an onahole you can one-thrust all the way down on the first go. Often I found myself getting stuck before even reaching the 'throat', having to pull out and wiggle back in, each time inching a bit further.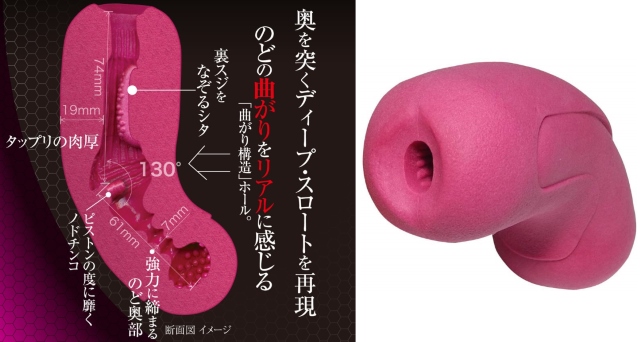 Then once you get down there, the weird golf ball-like part acts as a stupidly powerful vacuum chamber. This doesn't just create a lot of fun noise, it pretty much just fucking traps you even more. Which can be fine and all if you're in the right mindset, but having the onahole unable to budge can get tiring when all you want to do is wrap things up. What if it gets stuck around my shaft one day forever. A judge will kick down the door and declare my new legal name as Foamy McFoamdick. :'(
So Real Deep Throat probably absolutely takes the oral onahole crown for sheer tightness. As a result… it's just too much for me to fully enjoy. Focusing my head on the tongue part works well, buuuut I can't see myself keeping this product in rotation for that alone. And by rotation I mean I keep my onaholes in an unorganised nightmare pile; Real Deep Throat will likely end up on the bottom of it.
I'd recommend the Real Erotic Play over this, easily. Almost the same thing, except that one's pretending to be a vagina instead of a mouth and there's actually room to move.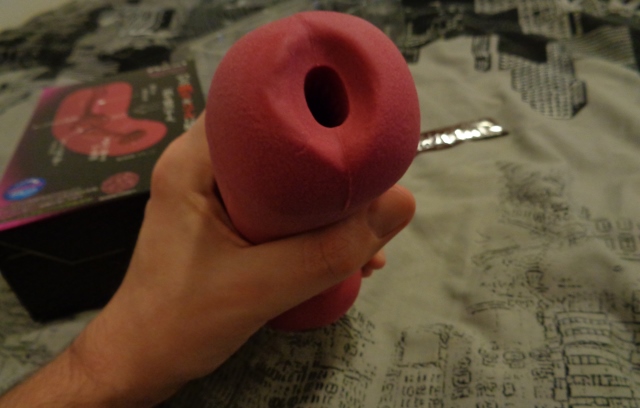 One thing though, the generic design seemed a bit odd to me. I mean, I'm so used to blowjob toys at least having lips, or a nose… anything to help the fantasy of that opening being a mouth. But Real Deep Throat just looks like any other bog standard onahole.
So here's a simple suggestion, Toy's Heart!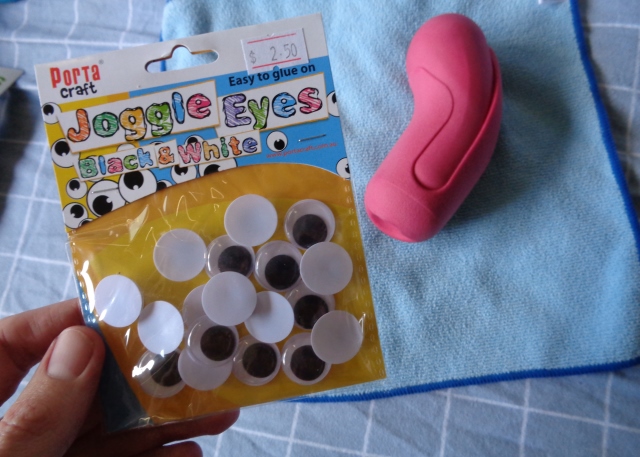 Bam, the Rare Deep Throat is born.