Product: Squeeze Spiral
Manufacturer: Toy's Heart
Measurements: length – 10cm, weight – 395g
Retailers: NLS / J-List* / otonaJP / Toy Demon*
Header image: Chikku
– This product was provided by Toy's Heart for masturbation review purposes
– Retailers marked with * are affiliate links

I've often wondered if the past two years of frantically masturbating into a smorgasbord of rubber holes has dulled my senses, but every now and then something comes along to thankfully confirm my penis hasn't in fact turned to stone. Something like Squeeze Spiral. Hoooo-ly crap, one wank with this onahole could result in a near-death experience.
It's absolutely full on, and that's exactly what Toy's Heart had in mind. 'Entangles your stick' with a 'big wave of pleasure' they promise. If your idea of pleasure just barely skirts the boundaries of pain, then here's an onahole probably worth looking into.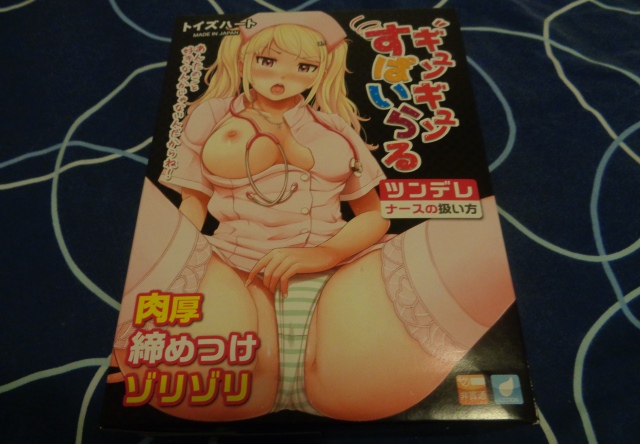 Man, I'd gotten so used to Toy's Heart sticking with tame box art. It's almost weird to see an EXPOSED NIPPLE. I'm trembling.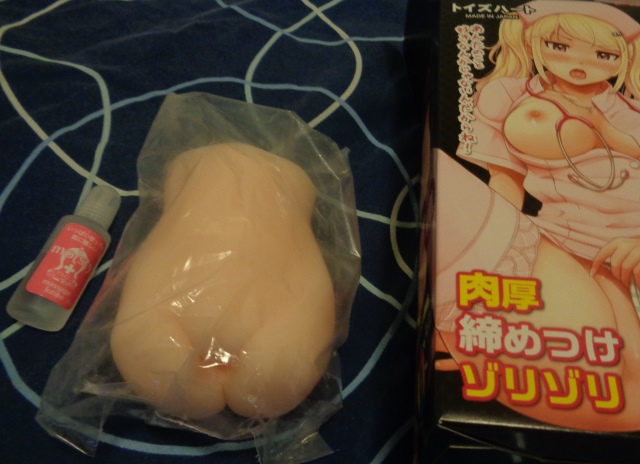 Likewise, it feels like forever since they've included a bottle of Moisty lube, too!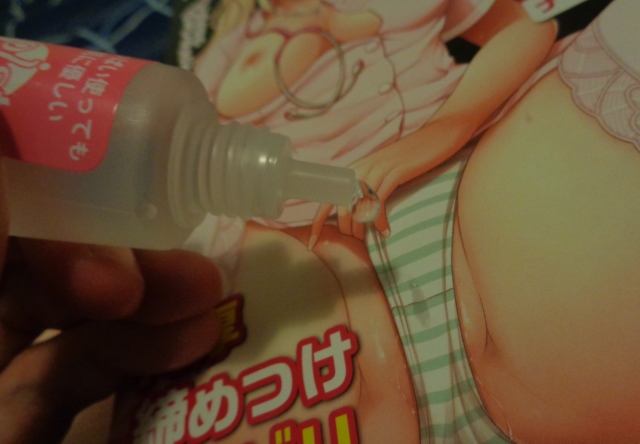 Ah hyuah hurr hurr moist.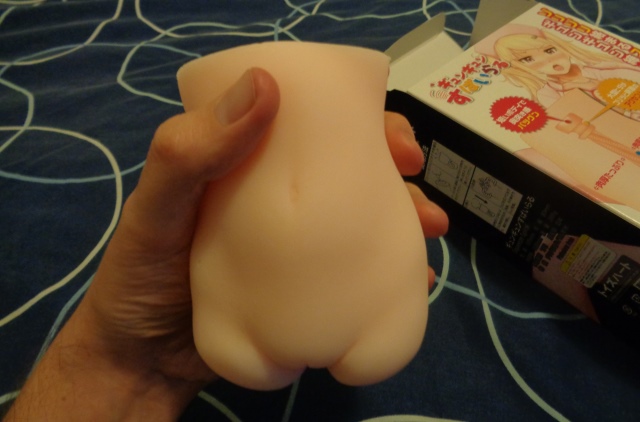 But alrighty! First off, the major stumbling block. Squeeze Spiral is kinda small.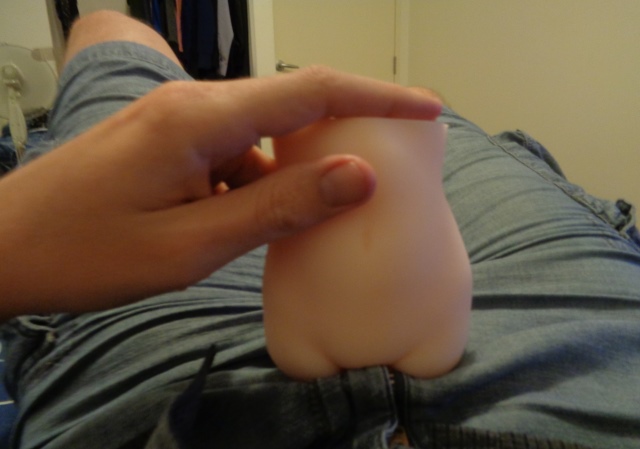 Kinda really small.
There's just 10cm – roughly under four inches – of room inside. And while the onahole is definitely focused on shredding your dick's glans, some (depending on your size and all) might find it disappointing that it'll leave the shaft high and dry.
Toy's Heart aren't stupid though; the roof of this onahole is 'patched' with a slightly different chunk of material that'll stretch out to Buzz Lightyear's catchphrase. Looks cheap, but it works. I'll get back into this a bit later on.
Aside from that, Squeeze Spiral feels… rugged? Almost as if the onahole just went to cut down some trees on the side of an active volcano whilst in the middle of free-falling from a helicopter it constructed out of twigs and the skin of a tiger killed by Squeeze Spiral's very own lack of hands. This is some tough shit, and at 395g it manages to weigh more than some onaholes twice its size.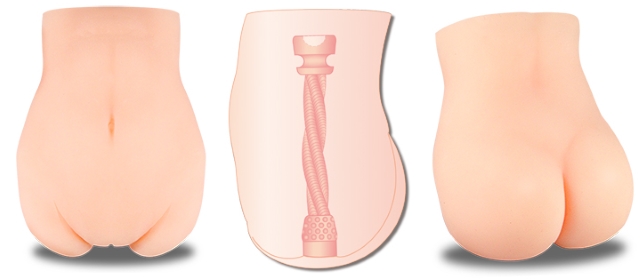 That's some fine sculpted ass right there.
Better believe this absolutely extends to the inside. It's unlike anything Toy's Heart have used before, complete with tiny little grains embedded along the walls to really mess you up. Imagine trying to hump a beach. Jesus sandpaper fuck factory – the first time I pressed my dick in here I was practically biting right through my bottom lip.
There's no warm up here; the tunnel twists around from the get-go resulting in a massive shock of stimulation. There's little resistance going in, however those tight walls suddenly curl back around putting an insane amount of pressure on. The onahole basically grapples you into place, and by this point its rough material is grinding each and every little coarse grain into the tip of your cock.
A few times there one of them caught right across my fuckin' urethral opening. I really had to question if I was enjoying the sensation.
Then I came.
Sure solved that dilemma pretty quick.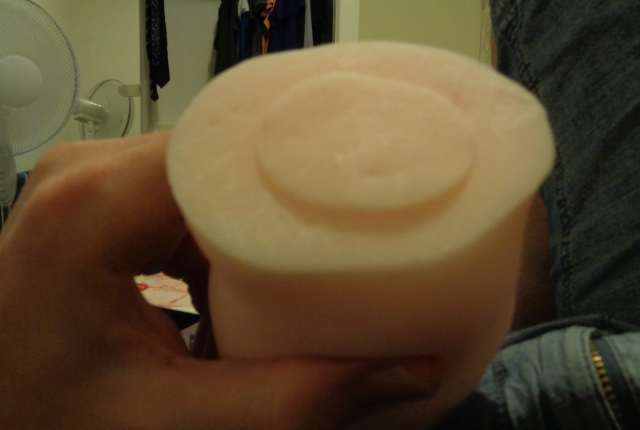 So going back to the top of this thing, it's been bulging out okay with no sign of wear and tear (so far). I've only got so much to 'test' with though, if you know what I penis. At roughly 6.5 inches on a particularly erect day I've had no issues, even during orgasm when my instinct is to forcibly yank the onahole down.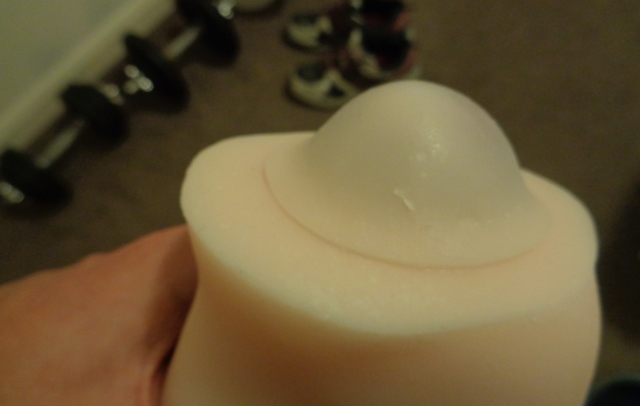 I was tempted to do a short video, but that might get my YouTube account shot into the sun.
Again, I can't guarantee the durability. If you're super hung there's probably a chance you might accidentally bust the onahole open, or maybe not! Either way, the big question here is do you really want something this hardcore? Seriously, Squeeze Spiral is purposely brutal. If this were a Hideo Kojima production, it'd be set to EUROPEAN EXTREME difficulty.
It might not look like much on the outside, but damn. Good for the occasional toss maybe – certainly nice in the right mindset – but I couldn't imagine this as a casual 'every day' onahole.