Product: Gokkun Athlete
Manufacturer: Shuichi / Tamatoys
Measurements: length – 13cm, weight – 225g
Retailers: Otona-Sekai / otonaJP
Artwork: Gokkun Athlete (game CG)

– This product was provided by otonaJP for masturbation review purposes
So around mid-last year, a relatively obscure company by the name of Utsuten went ahead and launched a bloody gigantic onahole simply called The Athlete, and I've kinda been obsessed with it ever since.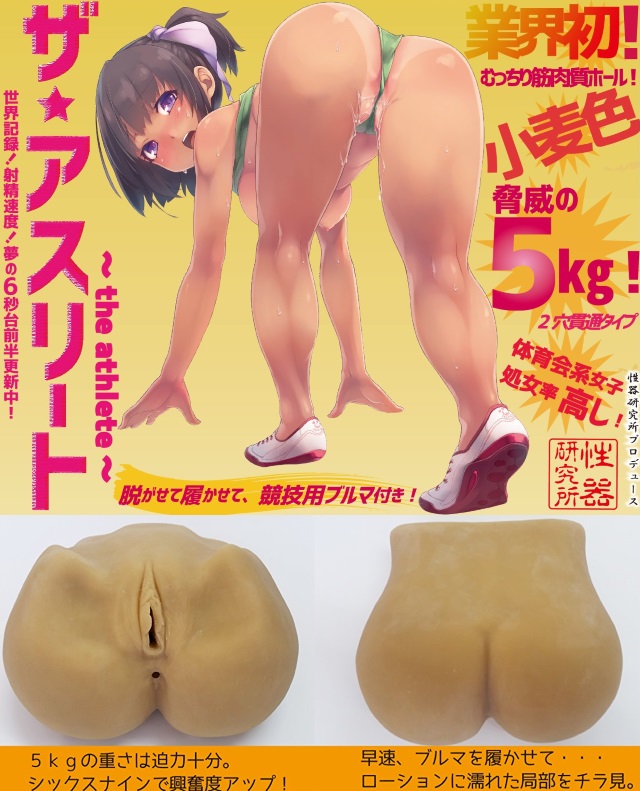 Weighing roughly 5kg and requiring a home loan to afford (along with detailed reasoning to the bank as to why I'd be living inside a sex toy), this huge chunk of tanned arse will have to wait a few thousand years until I can get my hands on it, but that's fine. Really.
See for now, there's the considerably cheaper Gokkun Athlete alternative from Shuichi.
They're… really not even close, but try telling that to my raging hormones. Try telling that to a misleading opening paragraph! "Oh, he's going to review this large hip ona-hooooold up, what's all this then".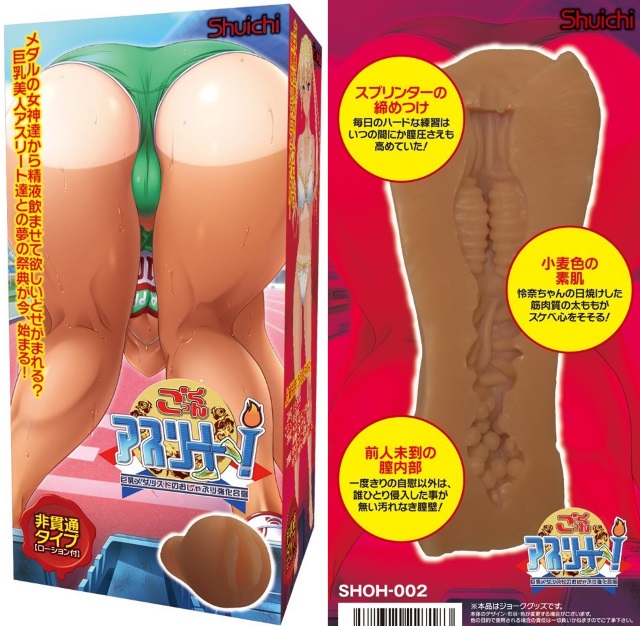 Yeah, Gokkun Athlete. It's a bronze athletic themed onahole at less than twenty bucks. Close enough.
Turns out this is also directly based on a game by developer Marine – Gokkun Athlete! Kyonyuu Medalist no Oshaburi Kyouka Gasshuku. I don't think there's an English translation, but you can find CG galleries out there which get the plot across just fine.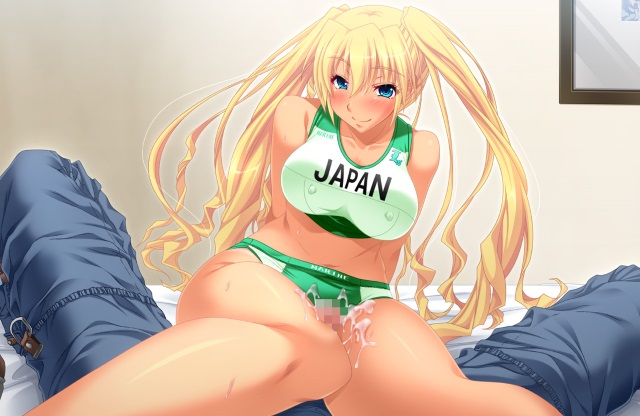 That's right. Sweaty thigh jobs.
So if you've ever dreamed of getting your dick locked between two slick, meaty thighs then perhaps Gokkun Athlete will hit the spot better than whacking two chicken drumsticks across your crotch in the KFC car park.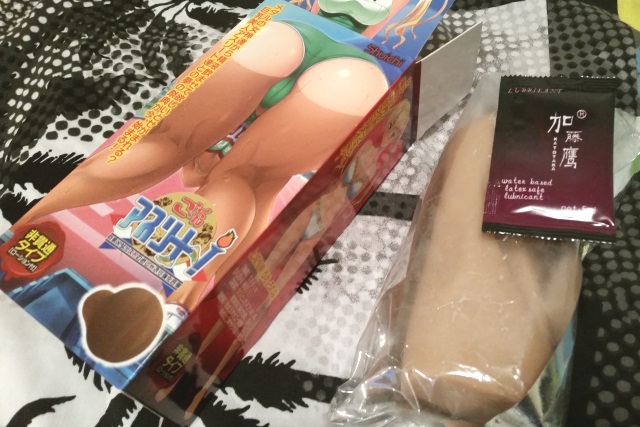 Opening up the box, you're treated to a whopping 5ml of lube with some of the most elegant Engrish ever.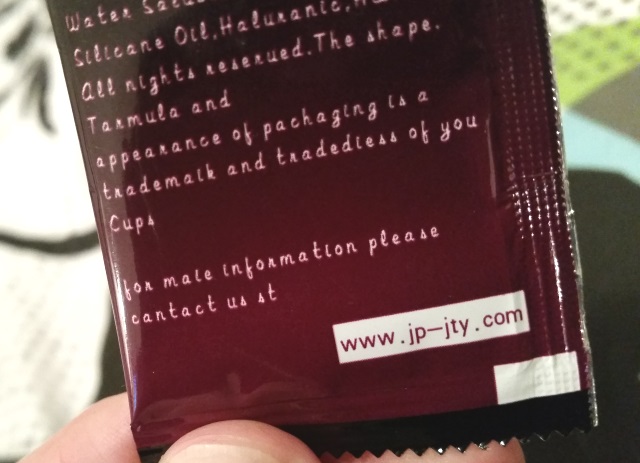 "All nights reserued. The shape. Tarmula and appearance of packaging is a trademalk and tradedless of you Cups. For male information please cantact us."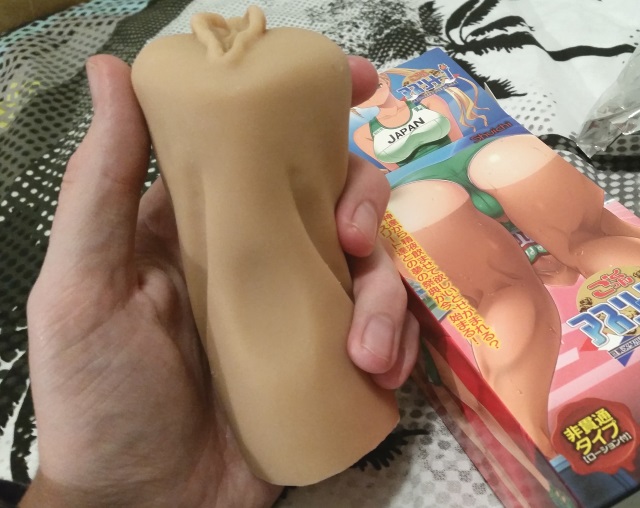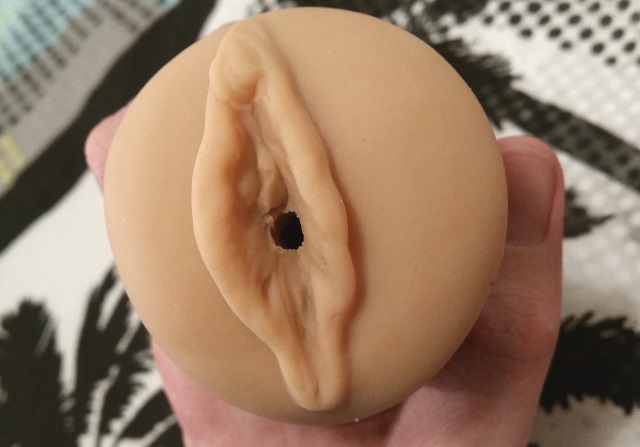 Aside from the nice tanned colour which my shithouse camera turned into sickly shade of spew, Gokkun Athlete pretty much looks like just about any other budget onahole in the $10-$15 price range. That's not a dig or anything, I'm just struggling to pad out a paragraph.
Unfortunately right out of the box this product is absolutely caked in talcum powder, inside and out.
Companies sprinkling on a small amount isn't uncommon (helps keep the rubber from leaving greasy residue all over the box), but Shuichi – apparently part of Tamatoys? – fucking drowned Gokkun Athlete in it.
Basically, prepare for powder all over your dick the first time. But again, it's probably still better than the Colonel's mysterious herbs and spices in your urethra, yeah?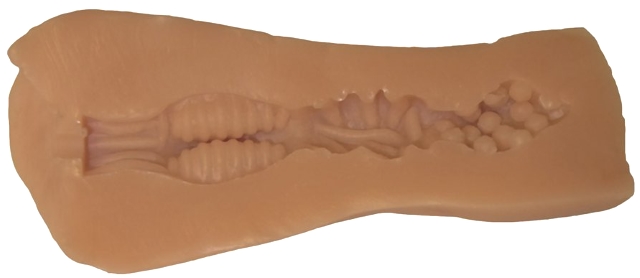 Gokkun Athlete is easy to get into and tends to deliver its biggest stimulation right from the beginning. Two very large ribbed nubs immediately greet your head as it pokes through, pressing in from both sides and gently catching as they move onto your shaft.
I was kidding about this being a thigh job simulation, but I think this actually adds to the theory. The GAME theory. Is Waluigi's nose his penis? Perhaps.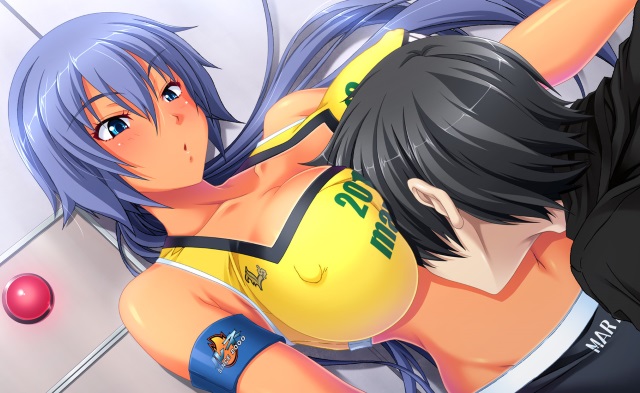 And is this an olympic event? Sans confirmed.
It's a shame then; the build design is just too flimsy to really drive home those crushing textures. It feels like everything after the initial entry point is lost. The harder you grip the onahole, the more its thin rubber spreads over your dick like a condom.
This is especially apparent towards the end zone where I could literally see my penis bulging out the wall. There isn't nearly enough padding to absorb the impact, instead forcing you out at a slight angle.
Very technical.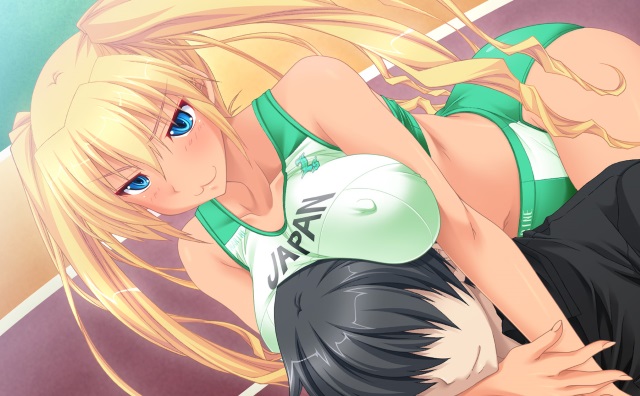 As such I found myself being more laid-back with my stroking, which is fine, but knowing one heated thrust could potentially stab right through Gokkun Athlete kinda sours it for me.
With some thicker walls, Gokkun Athlete might have been a real good recommendation for a more gentle, all round level of feedback. It's not terrible or anything, but I simply don't see this onahole lasting too long with anyone.
More tanned stuff though, onahole industry. Please. Onaholes.
Gokkun Athlete
+ The box art is pretty hot
+ Easy to clean
+ I managed to spell it as 'Goku Athlete' every single time until proofreading

– Very thin walls, fragile design won't take much punishment
– Feels like mush for the most part
– Using it sounds like you're masturbating with a cake or something. Fuck knows how these noises even happen