Product: Gokusai Monster Alraune
Manufacturer: Magic Eyes
Measurements: length – 16cm, weight – 451g
Retailers: Motsu Toys / otonaJP / NLS / Kanojo Toys* / Otona-Sekai / Cool MST / J-List* / Toy Demon* / Love Merci
Header image: Kame
– This product was provided by Motsu Toys for masturbation review purposes
– Retailers marked with * are affiliate links
What a treat! At first glance this onahole is like some sort of gory horror movie prop. All covered in a thick red layer of wrinkles and warts, just what the hell happened to this body? By that second glance though, hwwoooo watch out. It'll probably look exactly the same.
But just think, if it looks like this on the outside – how's it going to feel on the inside?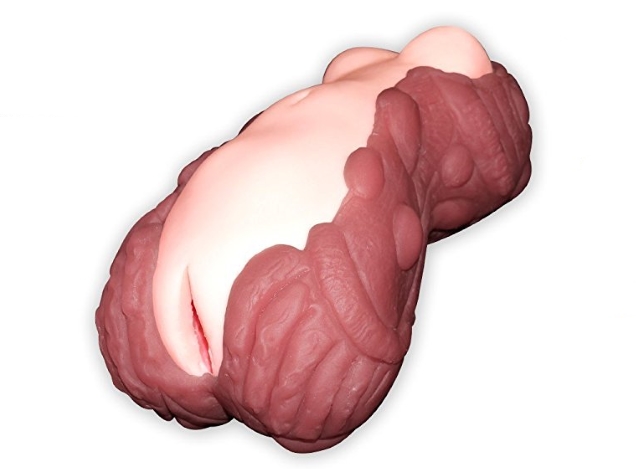 … Like a thick red layer of wrinkles and warts, basically. Pretty fuckin' nice! Gokusai Monster Alraune is classic Magic Eyes goodness, a return to form for their purposely grotesque 'monster' themed products.
After all, it's not like they just whacked this sunburnt ballsac suit together for the hell of it, oh no. There's a backstory to consider as you're masturbating!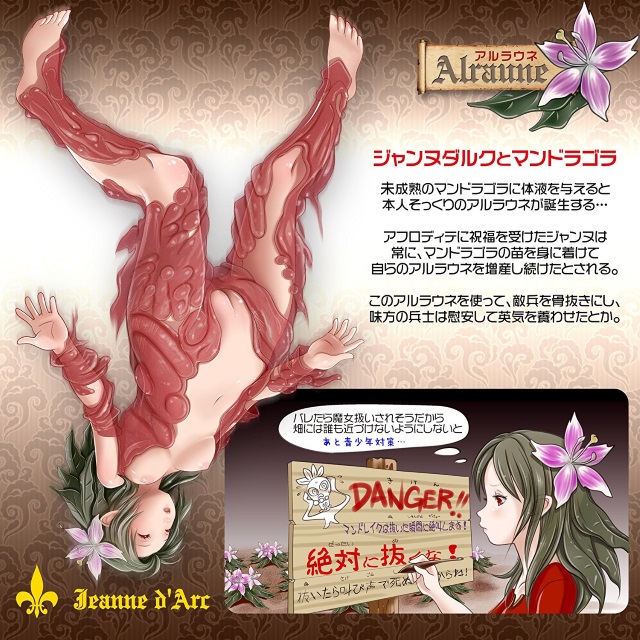 One day a girl was stumbling through the forest and saw a mandrake flower. "That'll look good in my hair" she yelled, pushing a small child out-of-the-way and off a cliff. Peacefully ripping the entire plantation up whilst salting the Earth, she found the best one.
"What is this even called again, M-Ma… oh, that's right! Marmaduke! The Marmaduke flower, like that dog", the girl laughed, recalling absolutely no fond memories of the Marmaduke comic strip.
This comment enraged the mandrake flower, causing it to sprout roots which quickly tangled in the girl's hair.
Legend has it the mandrake root was heavily involved with witchcraft, granting plant-like control of a host and essentially replacing their human existence. That witch's name? Albert Einstein. I mean, Jeanne d'Arc. Apparently.
Within seconds the girl's clothes mysteriously vanished – not for onahole marketing purposes or anything – only to be replaced with a chunky coating of red goop. She fell into a deep sleep, unable to move, unable to remember if she locked the front door before heading out.
The mandrake root leaves her with just one memory to hang onto. That of Marmaduke, the cartoon dog.
Eternal hell.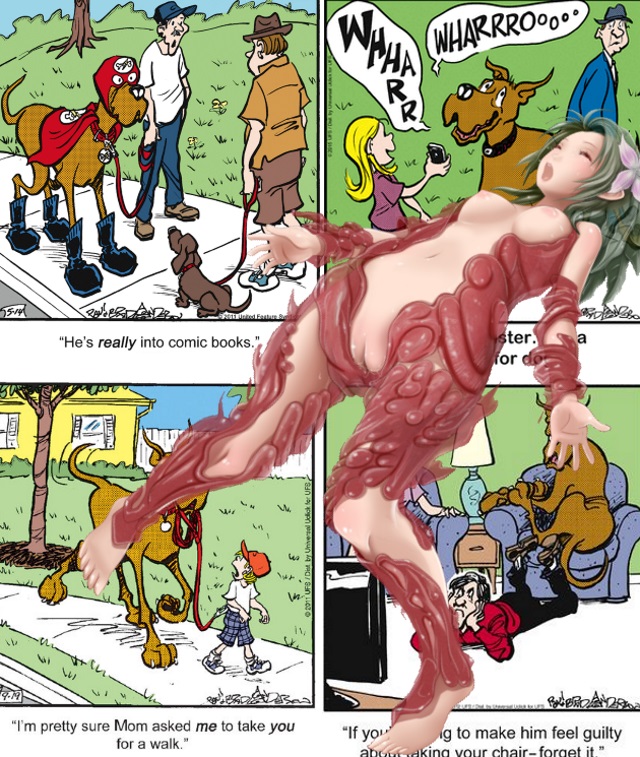 And that's what you're fucking. Simple!
The actual backstory might be sliiiightly different. Only a tad. Motsu Toys' product listing has the full explanation.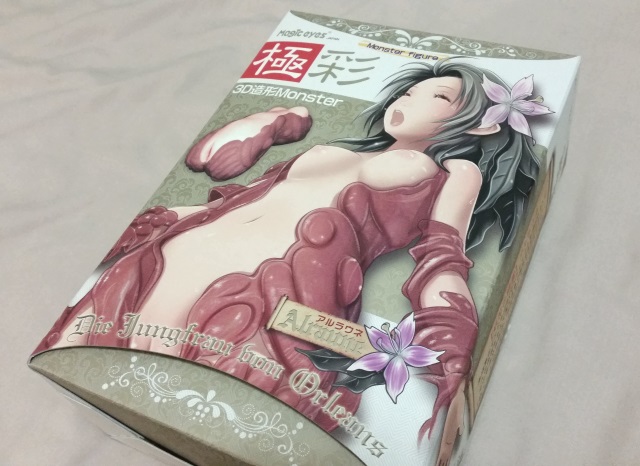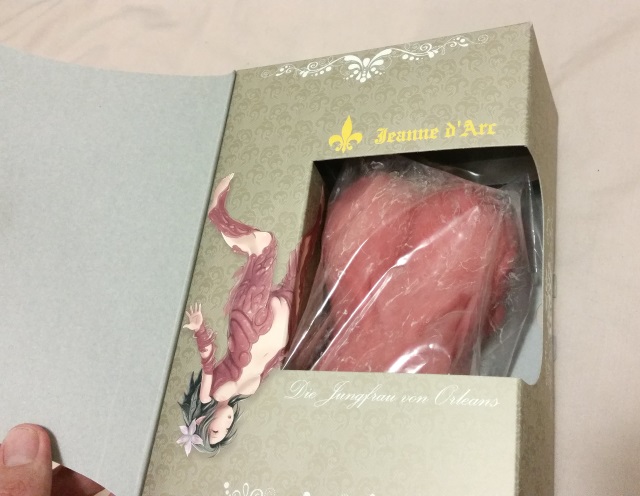 As usual with Magic Eyes, the packaging is pretty special. Open it up and there's your greasy bag of red mysteries along with a single-use packet of lube. Pulling the box further apart will reveal some hidden artwork and information.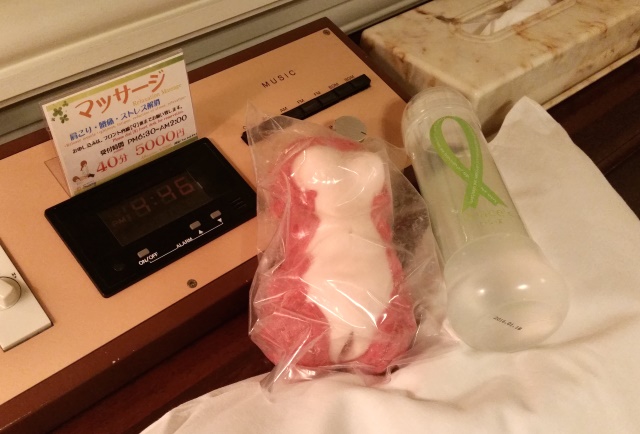 And now we're in a hotel room! The perfect place to cheat on the last onahole I reviewed with a new onahole. Gokusai Monster Alraune arrived just a few days before I went on holiday, so I figured I might as well just take it with me?
Also that lube is Peace's by Rends. Quick review on that: it's infuriatingly thick stuff. Decent enough and long-lasting, but oh my god we're talking at least seven thousand years to get a single drop out of the bottle.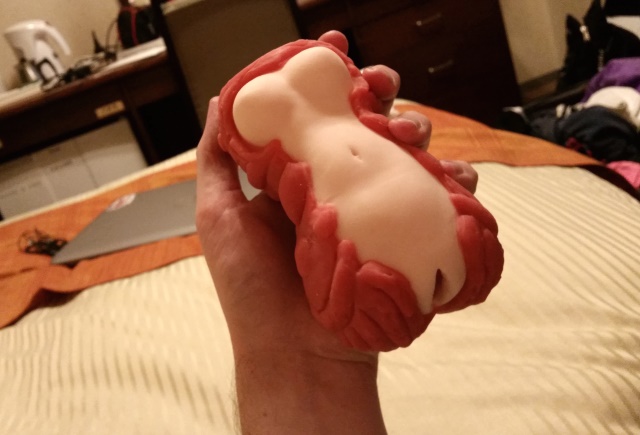 Gokusai Monster Alraune's bizarre exterior makes this onahole a joy to hold. Really! The material is pretty tough and all those chunky bits give you a weirdly comfortable grip. My fingers have never been more entertained near my penis before.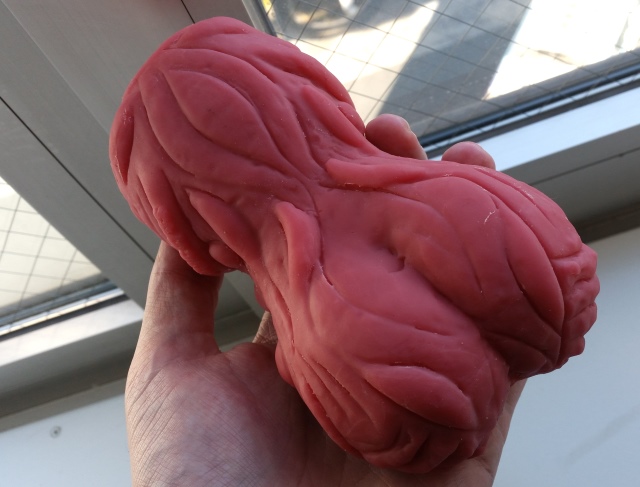 But yeah, I don't blame you if this is just too off-putting.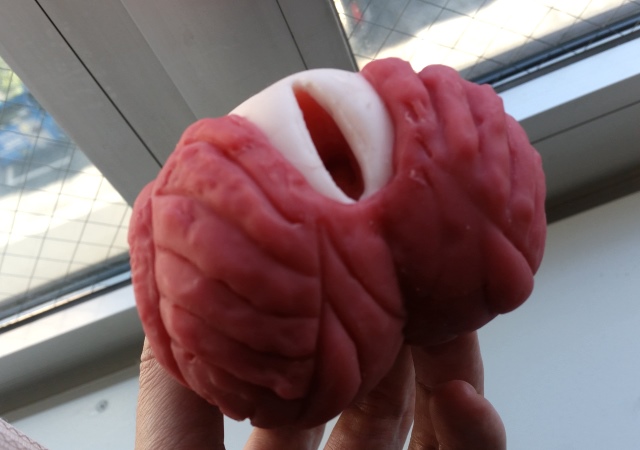 As you can see here, the entrance is strategically placed between the tougher back wall and soft stomach. It's typically where you'd find a vagina-like hole in an onahole, but sssh. Gokusai Monster Alraune is a triple layered threat.
Even the internal tunnel itself is completely different, and when you get inside you can really feel these three types of material putting their differences aside to team up in squeezing your dick to death. Feel-good story of the year.

And unsurprisingly Magic Eyes didn't pull any punches with the onahole's feedback. Gokusai Monster Alraune comes at you fast and hard, instantly scraping the underside of your head with a thick textured strand. Maybe that's supposed to be the actual mandrake… root? Or maybe I'm just reading into a rubber wank toy too much.
Maybe.
Either way as you push ahead the walls only get narrower, further enhancing the sensation. This shaft-shuffle peaks around the halfway mark as the tunnel makes a sharp dip only to rise back up again. It creates an immense choke point forcing you to yank down harder to get past.
The aggressive jolt of pleasure from this section is unbelievable.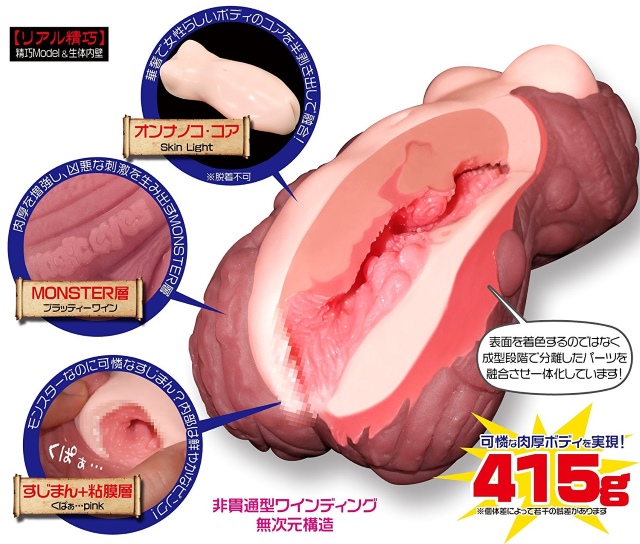 Though aside from that initial strand, there doesn't seem to be a whole lot actually going on in terms of textures. Gokusai Monster Alraune instead makes incredible use of suffocating tightness and a few well placed notches. The focus is on pleasing your head in short bursts as you shove through the choke point again and again. I love what Magic Eyes have done here.
Also if you've got a thing for stomach bulges, you'll probably enjoy this one. The 'skin' material on top is a lot stretchier than the chunky red back, so expect to see the belly and chest area distort over your dick. I'm faaairly certain Magic Eyes did this on purpose.
Sparrow: The Onahole, essentially.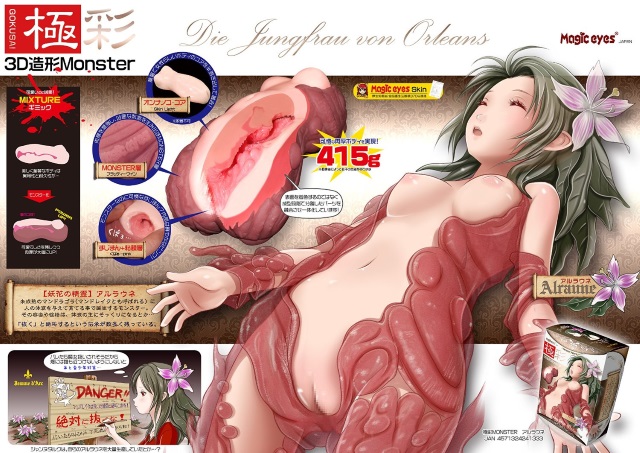 I sure wish Magic Eyes had more than one piece of character art.
My only concern is the long-term durability of the outer layer. I've noticed some flaking (after extensive testing), but nothing too serious so far. Might end up looking like rat shit eventually.
… Because it totally looks so beautiful to begin with and all that.
If you're after something tight with actual thought behind that aspect – and don't mind the whole radioactive mutation visual design – then Gokusai Monster Alraune is excellent.
This onahole targets the underside of your glans and does it damn well. I've had some toe-curling times with this one.
Gokusai Monster Alraune
+ Incredibly tight without being overwhelming, excellent feedback
+ Stomach bulge is pretty hot
+ Feels really nice to hold
– Not much happening at the end of the tunnel
– Visual design coooooould be too much for some
– 'Root' is Aussie slang for 'fuck' and I used that in the review title because it's almost 2AM and I couldn't think of anything better, sorry!