Product: Cum Maid Uterus Sex
Manufacturer: Toy's Heart
Measurements: length – 14cm, weight – 360g
Retailers: otonaJP / Kanojo Toys* / Love Merci / Motsu Toys / J-List* / Otona-Sekai / Toy Demon*
Header image: Rozen5
– This product was provided by Toy's Heart for masturbation review purposes
– Retailers marked with * are affiliate links
Fuck, could you imagine the kind of household that'd even need to employ a 'cum maid'? I mean, damn – if your shelves need constant dusting for sperm instead of actual dust, then maybe you should look at hiring a can of petrol and a box of matches instead. Just cut your losses and run.
Oh well, the cum maid is here now and I guess she must have put uterus sex on her resume. Inspired by this unique skill set, Toy's Heart have released an onahole based around the forbidden fantasy of womb fucking.
Just check out their official product description.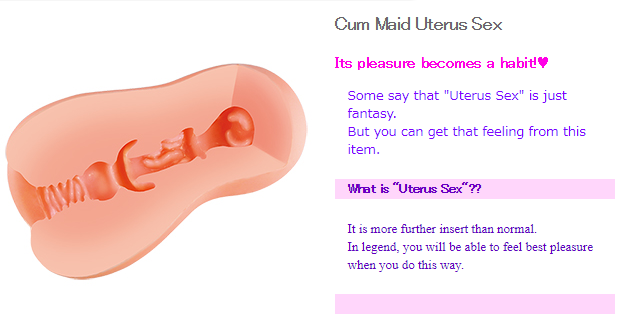 Now you can act out 99% of sex scene dialogue in hentai.
"Where are you going, you're in my womb?"
"We're having the sex! Here comes a baby"
"I am now going to be 140% pregnant"
"I can't stop cumming from my penis!"
"I'm so full. Full of babies"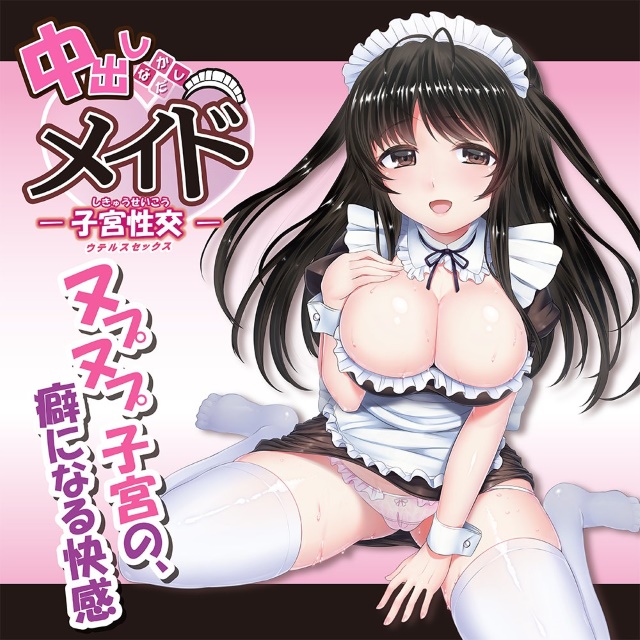 Meanwhile I think I have a fetish for Cum Maid Uterus Sex's box art. Holy shit man, Toy's Heart have been absolutely killing it. Nothin' too extreme; just some big 'ol sweaty tits. Really puts your imagination into overdrive. 'Mmm, where are her nipples?'
Please release an artbook or something, Toy's Heart. Seriously. Make it waterproof.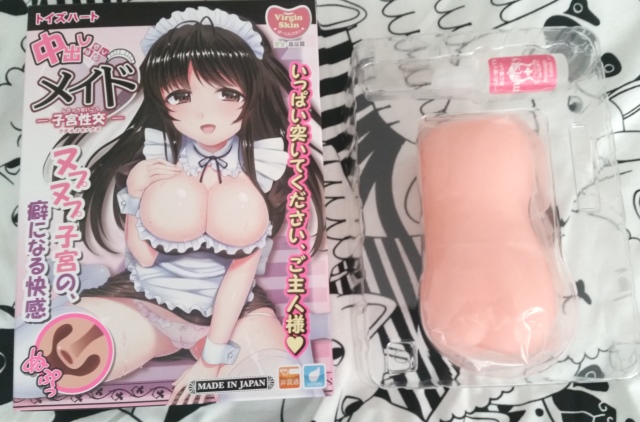 Eveything's cleanly presented inside the box. There's the usual little sample bottle of Moisty lube and a bonus plastic tray to throw at someone's face.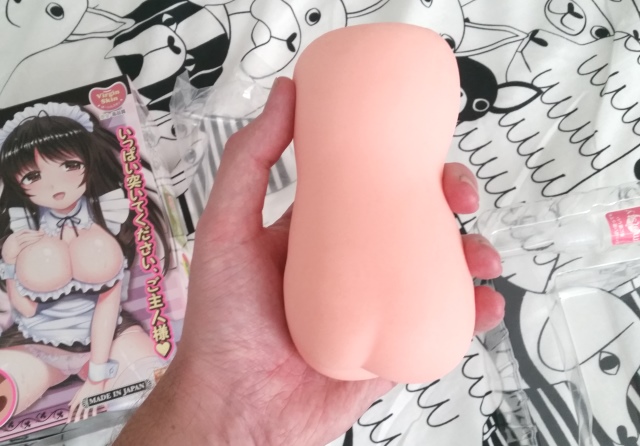 Visually, the onahole is very… uh, Toy's Heart?
At first glance it's almost impossible to distinguish from countless other onaholes they've released, and maybe so in the second and third. Not a bad thing (unless you've got a collection of Toy's Heart products all sitting together) since it clearly works, but don't expect an exciting looking blob of vagina rubber here.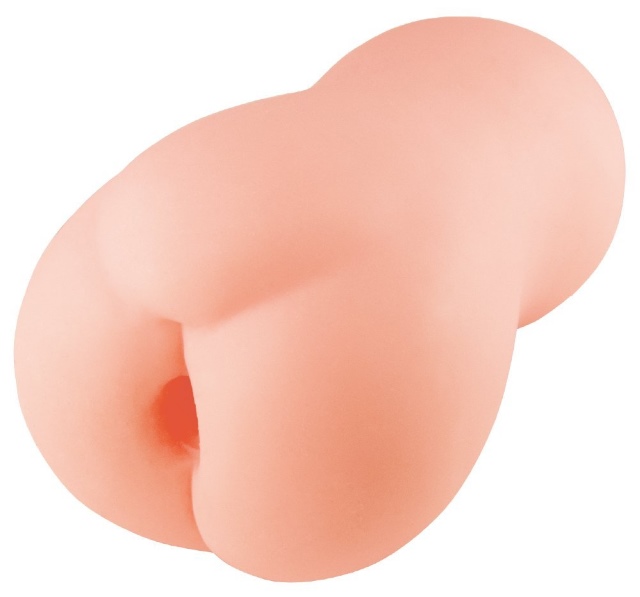 The material is absolutely top-notch though.
Using an updated version of 'Virgin Skin', Cum Maid Uterus Sex feels incredible in your hand. It's thick and fluffy so you can put serious pressure on without fear of crushing your own dick, and there's a slightly coarse texture applied all over to prevent the onahole from becoming a slippery mess.
Plus being a slightly stubby build, the onahole can free stand.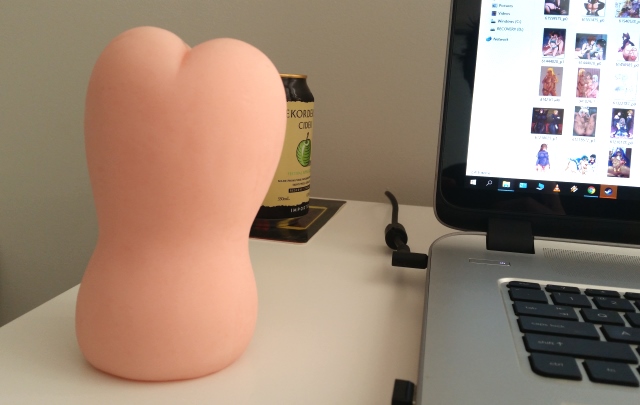 Perfect for applying lube, submitting as an art project, or fucking while you're dangling from the ceiling.
I tried being clever and putting the can inside it for this photo, but didn't want to break it. :'( Cum Maid Uterus Sex is not recommended as a can holder or for dicks that are as thick as a can and also made of tin.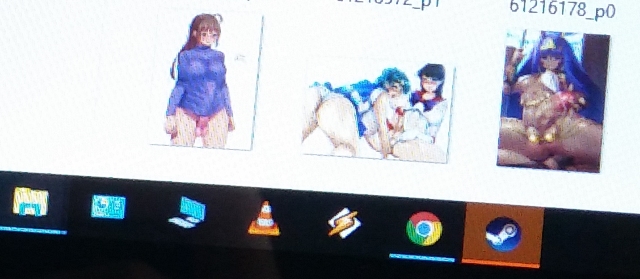 Secret's out: I still use Winamp.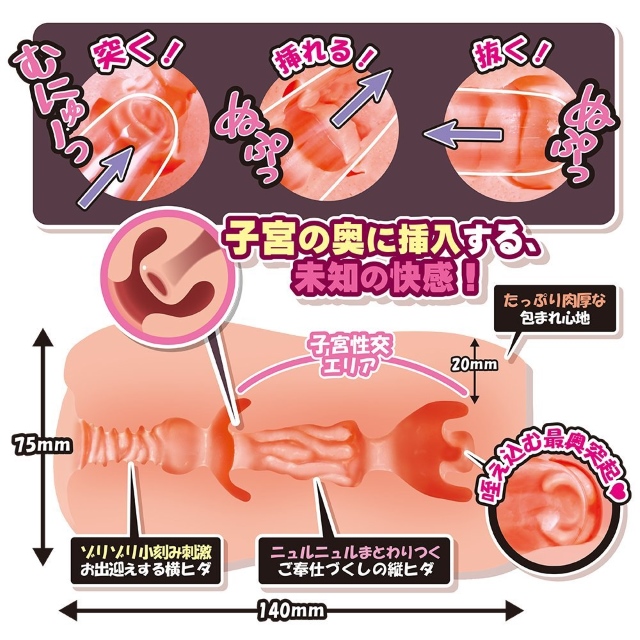 As soon as you enter, Cum Maid Uterus Sex begins your Magic School Bus journey at the cervix. The walls are tight yet quite soft, so there's an oddly gentle squeeze on your head right from the very beginning. It's like an instant satisfying reward for doing the bare minimum, and I can appreciate that.
From here, after you've popped through the entrance and started exploring the mid-section… there unfortunately isn't a whole lot going on. The tunnel is perhaps a bit too forgiving for its own good, and any sense of feedback is muted.
Looking at the diagram – or even spreading the actual onahole open and havin' a peek inside – you can see there's some wavy texture work going on. It's just uh, not really doing anything?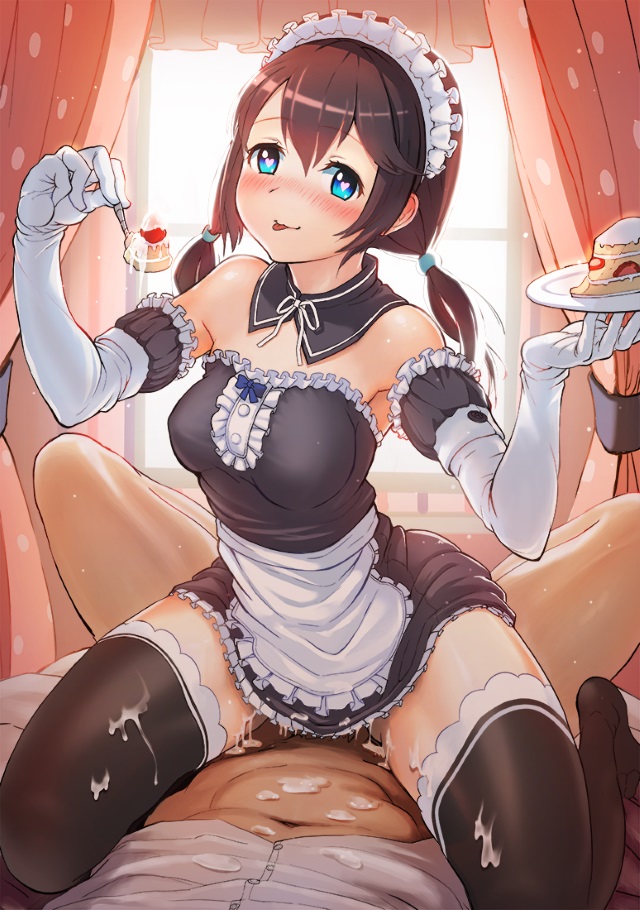 Source: Bakara
However the main gimmick of this onahole is the whole uterus part, and that awaits at the very end through a narrow opening. The material is much firmer here, and at times it feels like you're trying to pass through a cock ring over and over. It'll really tug under the glans when you yank out.
The very end chamber is fairly open, resulting in a decent suction effect. Then if you hit the wall there's a small cap which sorta encases the very tip of your penis (depending on how hard you hit it). Bit like those test of strength games you find in arcades where you swing a hammer as hard as possible to get enough tickets to win a fake moustache.
In fact, it's exactly like that.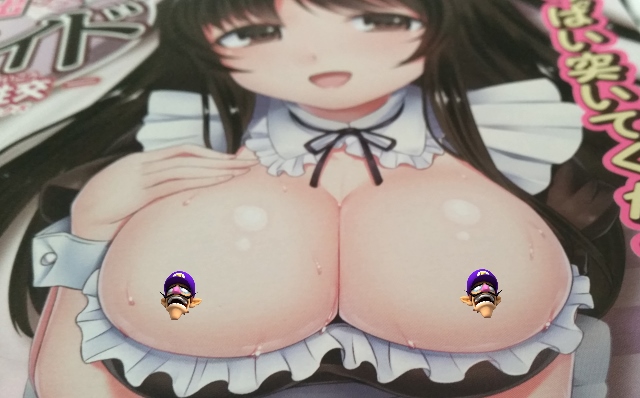 What I especially like about the end zone is how soft it manages to feel, while actively encouraging you to thrust as hard and deep as possible. The onahole is built to take some pretty rough punishment, so don't be afraid to smash it down.
And yet, overall…  there's nothing particularly noteworthy about the stimulation here.
You'd think an onahole designed around ramming into an anime (cum) maid's poor fuckin' uterus would have everything going for it. Instead, the tunnel comes across as a fairly bland run with an extra tight ring near the end. And even that quickly becomes annoying the more you push past it.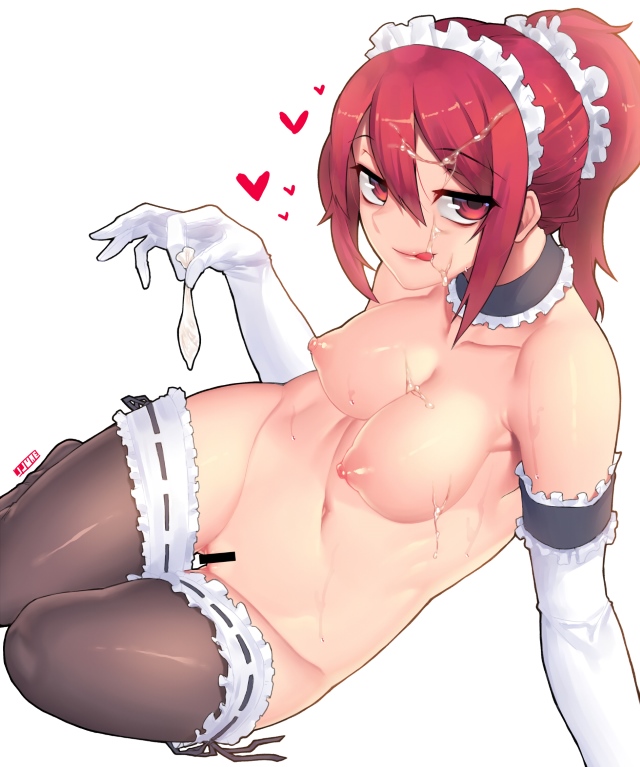 Source: JJune
Being able to aggressively yank Cum Maid Uterus Sex right down to cum into the end zone is fun, but getting there almost feels like a chore. Often I just got bored while wanking and started watching some YouTube shit halfway through.
It's not a bad onahole by any stretch of the imagination – I just wish it had more to offer. Something like this needs to be more extreme, and it seems Toy's Heart tried to strike a softer balance which simply falls flat.
Cum Maid Uterus Sex
+ Incredibly durable. Thick and stretchy high quality material
+ Easy to clean. The open section at the end means everything flushes out nicely
+ Entrance feels lovely to squeeze through
+ Big sweaty tits
– Bland, repetitive stimulation for the most part
– The tight ring leading into the uterus feels clumsy rather than exciting
– Doesn't do enough with the concept
– Manages to absorb lube like crazy
[Related reviews]: Tight Virgin / Seventeen Bordeaux Soft / Real Erotic Play / Sujiman Kupa Lolinco Virgo