Product: Assfolto Kyun
Manufacturer: Tamatoys
Measurements: length – 14.5cm, weight – 280g
Retailers: Otona-Sekai / otonaJP* / J-List*
Header image: asdek18
– Retailers marked with * are affiliate links
So straight up, I have no clue about the Fate franchise. I've somehow managed to completely avoid watching, reading, gacha-rolling-to-bankruptcy or even playing any of its various incarnations that have a forward slash somewhere in the title. Fate/under☆a☆rock, am I right? Ehehehurr.
Usually I like to review parody onaholes where I'm familiar with the character (just so I can ramble on a bit more), but in this case I've wanked to Astolfo art so much it doesn't even matter. He's real fuckin' cute and breathed new bulging life into the lost art of striped panties. Those are all the important character traits I need to know.
Tamatoys took a bit longer than I expected to make an Astolfo onahole – as in more than three seconds – but here it is. Assfolto Kyun.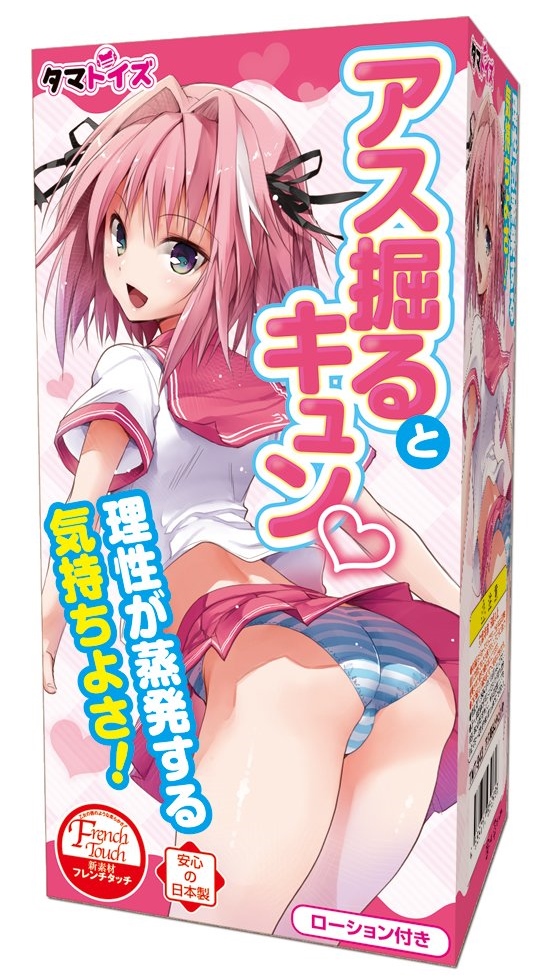 The box art is very good!
Very. Good.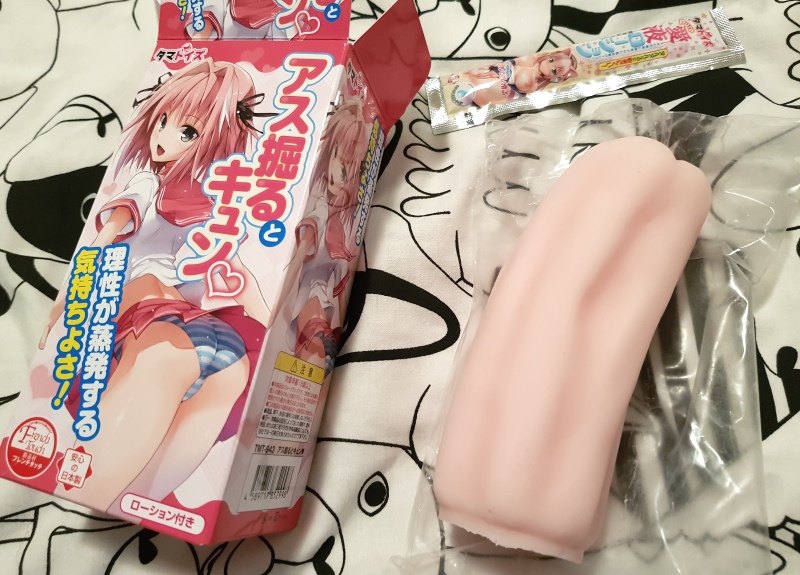 Now to Tamatoys' credit, they've actually just made a 'normal' anal onahole. Who knew. No weird gimmicks this time, no giant floppy rubber penis where you have to insert yourself into its urethra. Nope. Assfolto Kyun is plain and simple.
Kinda bodes well for when they eventually release an onahole based on Hideri from Blend S, because you knooow that's already in the works.
Sadly though, maybe this is uh… a bit too plain.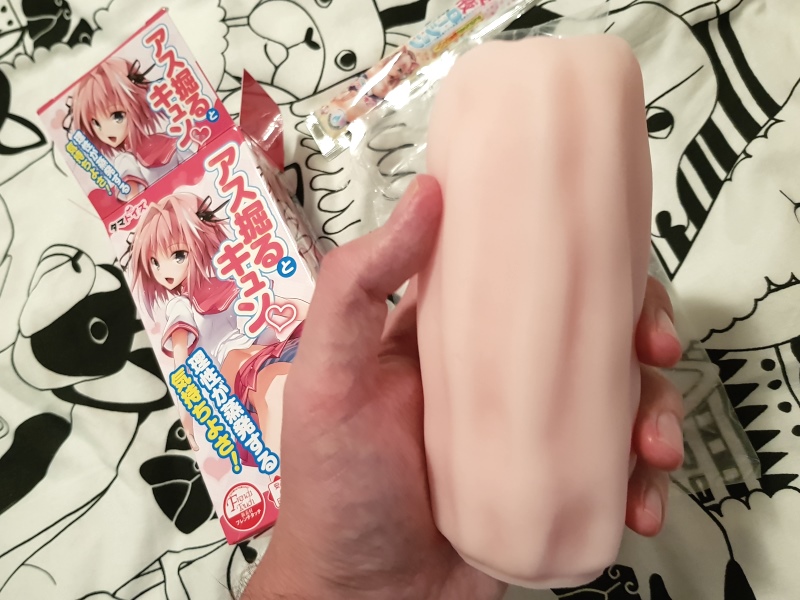 The onahole is a decent length and sure looks like a rubber dick sleeve, but jesus it leaves a poor impression the moment you wrap your meaty-grippin' fingers around it.
Tamatoys reckon they've dug up something called 'French Touch' for the material, but I'm not entirely sure the French feel like blobs of sticky melted goo? I want to see their research papers. Assfolto Kyun basically requires a constant level of talcum powder before use to keep it from absorbing into your hand.
Just feels tacky and unpleasant to hold, especially after a few washes.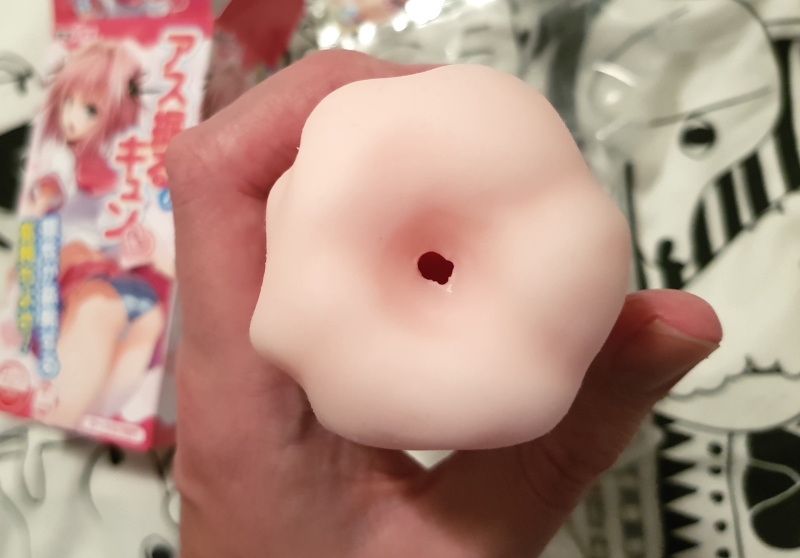 Wow, yeah. That sure is a hole which could be an anus or a really thick donut – either one is good.
While that entrance might look tiny, getting inside Assfolto Kyun is incredibly smooth. The opening easily stretches apart with pretty much no resistance whatsoever, so you can (maybe accidentally) thrust it down to your base in one shot.
If you're after the thrill of squeezing into a tight hole, this won't deliver. Not unless you fill the onahole with glue first, but no don't do that! Instead everything about the sensation here is more of a gentle mush. As if you've filled it with mashed potato?
Combine the glue with the mashed potato and you've got yourself a guaranteed frowny face at the dinner table.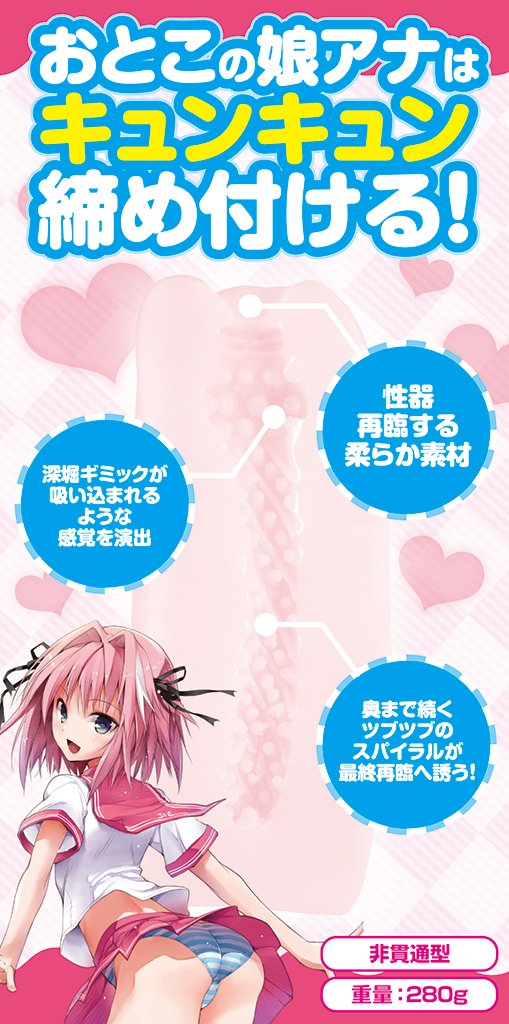 Tamatoys have basically just littered the tunnel with nubs and a few ribs which spiral around. It offers a steady, even amount of feedback down the length of your shaft which is really nice for slower sessions.
Not so great if you want to go at it hard and fast, but for an extended chill-out wank? Assfolto Kyun's surprisingly decent. The walls also tend to clamp down like a suction cup after a while too, that's kinda pleasant at times. Especially if you're close to finishing.
Otherwise you'll just have a tube somewhat fused to your dick and in need of more lube. It's a mystery.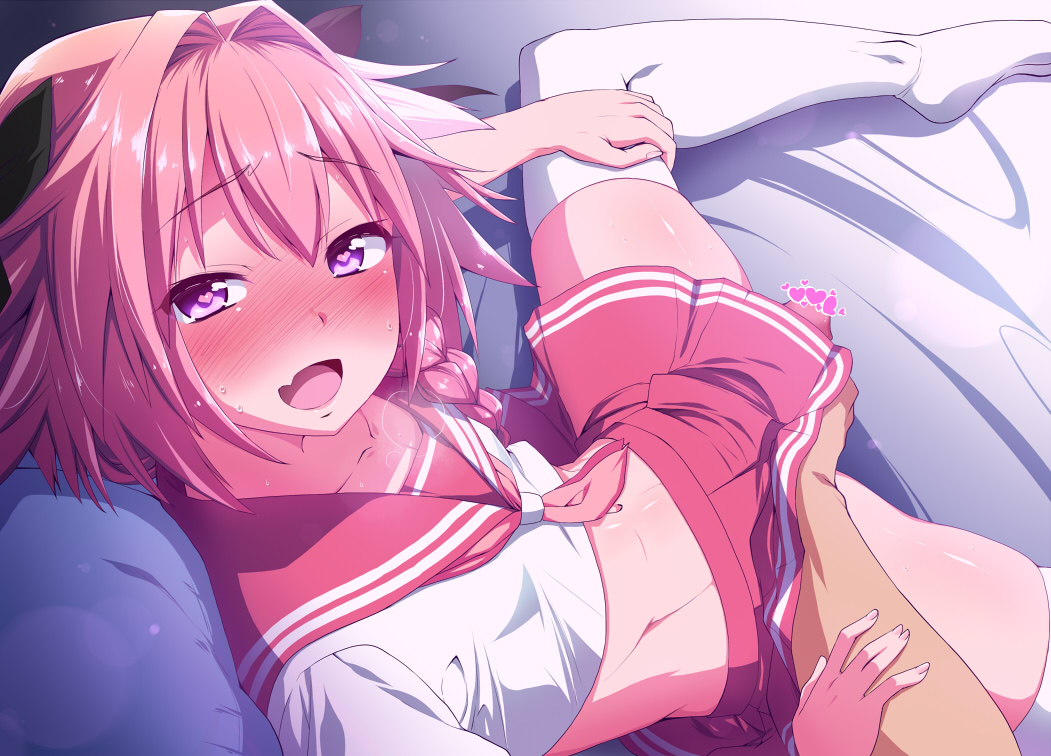 Source: Natsumi Akira
At the end of the day, Assfolto Kyun is just another generic, slightly overpriced Tamatoys parody hole. It's just… I dunno, average? Not much I can really say. The material feels like crap on the outside, but it's okay inside, with a high level of stretchy durability and simple to wash.
Just seriously, you'll need to powder it fairly often.
Onaholes based on male characters are insanely rare though, so if you're really keen on the fantasy of fucking Astolfo then hey, $18-ish for some top-tier box art, a cheap rubber anus and some erection-fueled imagination is a winning combination.
Assfolto Kyun
+ That cover
+ Very stretchy
+ Nice, gentle sensation. Good for taking things slow (or even stamina training I suppose)
+ Easy to wash out
– Material feels sticky and 'cheap' in your hand
– Opening is too loose which could take away from the initial excitement of getting inside
– Not suited for fast and rough stroking – stimulation is not hard enough